Gretel and Hansel is a horror movie for kids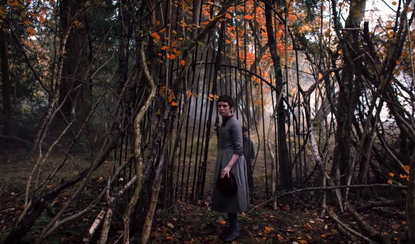 (Image credit: Screenshot/YouTube)
Sign up to our 10 Things You Need to Know Today newsletter
A free daily digest of the biggest news stories of the day - and the best features from our website
Thank you for signing up to TheWeek. You will receive a verification email shortly.
There was a problem. Please refresh the page and try again.
Once upon a time, fairy tales were for children. The stories, though, were not the sweet, saccharine, happily ever after versions that have since been cleaned up by Disney. The original tales of heroines like Snow White, Cinderella, Sleeping Beauty, and the Little Mermaid were much darker, full of witches that devoured livers, birds that pecked out stepsisters' eyes, and princesses who were ordered to murder their princes or face death themselves.
Such stories today would largely be considered unsuitable for younger audiences; it's fair to say that traumatizing kids is frowned upon. But Osgood Perkins, the director of Gretel and Hansel, out Friday, isn't concerned about spooking young people with the occasional jump scare or liver-munching witch. While Gretel and Hansel is another contribution to this year's better-than-average crop of January horror films, it is also a movie that you could — and maybe even should — show your kids. Really.
Hansel and Gretel has always been meant to entertain children. There are countless picture books that recall the story of the pair of siblings who outwit the cannibalistic witch that lives in a candy house. Made famous initially by the Grimm Brothers, whose version was published in 1812, the story was actually one of the cheerier fairy tales in circulation; sure, the children are abandoned in the woods by their starving parents, and Hansel is almost cooked to death, but the kids also manage to kill the witch and escape back to their loving father. It was reality, in this case, that was more disturbing; folklorists believe the Grimm Brothers took inspiration from preexisting tales of poor parents who would abandon their children in the woods if they couldn't feed them, or even rumors from the time of Europe's Great Famine, when some people were said to have eaten their own kin in order to survive.
Subscribe to The Week
Escape your echo chamber. Get the facts behind the news, plus analysis from multiple perspectives.
SUBSCRIBE & SAVE
Sign up for The Week's Free Newsletters
From our morning news briefing to a weekly Good News Newsletter, get the best of The Week delivered directly to your inbox.
From our morning news briefing to a weekly Good News Newsletter, get the best of The Week delivered directly to your inbox.
As is suggested by the inversion in the title, Gretel and Hansel is doing things a bit differently than any version of the story you might have heard before. Described by its tagline as "A Grim Fairy Tale" (inviting the possibility of an extended Brothers Grimm universe?), the movie actually opens with a direct address to kids: "Come, children, and listen, for my story has a lesson," an unseen narrator invites. While the intro is an obvious nod to Hansel and Gretel's oral origins, it also deliberately tells anyone young in the audience that this movie is for them specifically. Several more times throughout the opening monologue, the voice refers to its auditors as "children," too.
Gretel and Hansel proceeds to organize itself in the style of a feminist coming-of-age story. The title, after all, repositions Gretel as the more significant of the two characters. Here she is played by the immensely talented 17-year-old Sophia Lillis (It and It: Chapter Two), who is shadowed everywhere she goes by her younger brother, 8-year-old Hansel (Sammy Leaky). Chased out of their home by their mother after Gretel refuses to prostitute herself to get food, Hansel and Gretel take to the woods just as they do in the original story, sans perhaps that most famous detail, the trail of breadcrumbs. But when they finally get to the witch's house (made of black wood, not candy), the crone (Alice Krige) seems less interested in locking up Hansel to eat than in liberating Gretel from caretaking so she can become her own woman. As the witch observes during a game of chess, "The king is afraid, and he should be, because the queen can do whatever she wants." The empowerment message carries through to the end, even after the witch is defeated. "I will trust myself," Gretel resolves, and while it's an important lesson for a woman of any age, it seems one especially keyed toward teens navigating their own independence.
Still, there is no mistaking that Gretel and Hansel is a horror movie. It is scary, so much so that the littlest audience members are barred from entry without a chaperone; the typically overly-cautious MPAA gave it a PG-13 rating for "disturbing images/thematic content and brief drug material." Yet that will likely raise eyebrows of regular horror moviegoers, where an R is far more typical. Perkins told ScreenRant the low MPAA rating was the aim: "The power of the PG-13 rating for a picture like this is ... kids want to peek behind the curtain," he explained. "They want to see what's dark around the corner." Indeed, Gretel and Hansel is built more on a foundation of dread and spookiness than traumatizing imagery (the worst bits are almost all in the trailer, making it come across in the marketing as scarier than it is). And while there are a handful of traditional jump scares and some occultist imagery that gives it a menacing tone, it's all manageable. Even when Gretel fights back to save her brother, there is practically no gore at all.
But still: Witches? Monsters? Magic? That super-tense score? For kids? "I think [horror movies are] a powerful gift to give to a child, the quality of, it's okay," Perkins added to ScreenRant. "It's okay to be really freaked out sometimes, it's okay. That builds resilience, emotional intelligence, all the good stuff." While Perkins is admittedly a bit biased — he is, after all, the son of Anthony Perkins, better known as Norman Bates — I second the sentiment. As I've written before, horror helped me grow up, too. Other critics agree: "As Tim Burton or Guillermo del Toro — both jumpy kids who have grown up to love monsters — have shown, the world of an imaginative child is full of wonders and terrors, and if you strip out the latter by insisting on a diet of just Peppa Pig, you risk raising a generation unable to cope with the slightest trauma," claimed The Guardian. And hey, besides, even movies that are meant for kids can be terrifying.
You probably won't see Gretel and Hansel featured in The Week Junior anytime soon. Still, while the movie is going to be creeping out plenty of fully-grown adults this weekend, I hope a few kids have the chance to get in on the scares, too. Nightmares are temporary; the gift of horror is forever.
Want more essential commentary and analysis like this delivered straight to your inbox? Sign up for The Week's "Today's best articles" newsletter here.
Continue reading for free
We hope you're enjoying The Week's refreshingly open-minded journalism.
Subscribed to The Week? Register your account with the same email as your subscription.
Sign up to our 10 Things You Need to Know Today newsletter
A free daily digest of the biggest news stories of the day - and the best features from our website
Jeva Lange was the executive editor at TheWeek.com. She formerly served as The Week's deputy editor and culture critic. She is also a contributor to Screen Slate, and her writing has appeared in The New York Daily News, The Awl, Vice, and Gothamist, among other publications. Jeva lives in New York City. Follow her on Twitter.