Tim Burton created the monster under my bed
He is the master of traumatizing children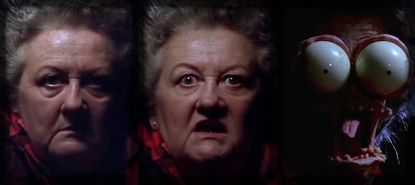 (Image credit: Illustrated | Screenshot/YouTube, jakkapan21/iStock)
Tim Burton messed me up. I'm willing to bet I'm not the only one.
It always started innocently enough: Oh, I'll just put on James and the Giant Peach for you, they said. It's a nice movie for children, they said. But did the grown-ups trying to keep me entertained while they gossiped in the kitchen know about the Rhino?
Then there was that time my dad put on Pee-wee's Big Adventure, another movie ostensibly "for kids." Did he have any idea he was about to scar me for half a decade with Large Marge?
Subscribe to The Week
Escape your echo chamber. Get the facts behind the news, plus analysis from multiple perspectives.
SUBSCRIBE & SAVE
Sign up for The Week's Free Newsletters
From our morning news briefing to a weekly Good News Newsletter, get the best of The Week delivered directly to your inbox.
From our morning news briefing to a weekly Good News Newsletter, get the best of The Week delivered directly to your inbox.
Almost everyone once had That Scene, the one that was too scary to get through as a child, be it the shark attacks in Jaws or the trash compactor scene in The Brave Little Toaster, which, I maintain, is one of the scariest movies ever made. Perhaps the greatest engineer of the wickedly sadistic genre of "children's horror," though, is Tim Burton, who is back in theaters today to give a new generation of youngsters nightmares with his stylistic take on Disney's Dumbo. Yet I don't resent the childhood nightmares — and there were many! — for which Burton is solely responsible. Instead, I credit him with helping me grow up.
With the exception of Burton and, perhaps, 2009's Coraline, children's movies tend to shy away from being "scary" these days. That concern was clearly not on anyone's minds in the 1980s and 1990s, when Burton was coming into his own as a director. While my mom and dad were scarred by the flying monkeys in The Wizard of Oz and H.G. Wells' The Time Machine adaptation respectively, and my brother and I by Burton, current generations of children are tormented by ... Wonder Park? Part of this shift is likely due to the fact that with the internet, it's become far easier for discerning parents to discover that a movie marketed for children is, in fact, extremely terrifying. One need look no further than the hilariously alarmed warnings for other parents filed to Common Sense Media.
Still, when it comes to scaring children, no one is as consistent as Burton. Pee-wee's Big Adventure, his first film, might be the most famously terrifying, if only for the scene in which Large Marge, a truck driver, bugs her eyes out at Pee-wee to illustrate the human carnage of a gruesome car crash. Pee-wee later learns that Large Marge herself was the victim, and he'd unknowingly hitched a ride with a ghost (I will say, the scene did wonders for insuring I never hitchhiked). The moment is referenced by our friends at Common Sense Media, with one alarmed viewer reporting: "There is a truck driver whose eyes pop out of her head — a moment that was scary to ages 7, 10, and parents." Fair enough: Burton's inclusion of the shot in a kid's movie is baffling, while also being extremely Burton.
Pee-wee's Big Adventure doesn't scare me now, of course. And to any adults previously unfamiliar with Large Marge, the scene is probably amusing to watch; the animation is so obvious that it's hard to believe anyone could be scared by it. But to many kids (and, I guess, parents!), Large Marge led to sleepless nights, tears, and truck driver-filled dreams. After my initial exposure as a young kid, I would flinch away from Pee-wee when I came across it in the children's section of the Safeway video store. When friends wanted to put it on at sleepovers, I was the obstinate protester.
It was only as a preteen that I eventually returned to Pee-wee, drawn as much by my memories of it being disturbing as by my curiosity. When it finally got to That Scene, I remember giddily bracing myself. Large Marge bugged her eyes, as she always did. And while I felt a little thrill of terror — I was okay. I finished the movie, unduly proud of my accomplishment.
Because that's the great thing about That Scene, whatever yours might have been — the part when you realize you've grown up to not be afraid of it anymore. And with Burton, I had that sort of encounter over and over again. Take James and the Giant Peach, a movie I refused to see for years because of my terror of the Rhino. After reading Roald Dahl's novel in fourth grade, I had a renewed interest in seeing the movie. On my revisit, while the Rhino was still scary, I felt buoyant about being able to finish the film. I was just like James, shouting back at the animation, "You're just a lot of smoke and noise! I'm not afraid of you!"
Burton's Nightmare Before Christmas was another rite of passage. While the film is beloved by many children, I was — if it isn't yet clear — not remarkably brave. The "This Is Halloween" sequence in particular, in which the denizens of Halloween Town get up to spooky high jinks, absolutely petrified me. It wasn't until junior high, when my friends' obsession with the film got the better of my curiosity, that I revisited it. How, I wondered, could I have thought this was scary?
Tim Burton is a master of making That Scene. His films are always a bit on the borderline, with 95 percent of the movie perfectly endurable, while there are just a few moments of true scariness for the target audience. For a not-so-brave child to realize she has conquered her nightmares is one of those small but, at the time, significant moments in realizing you've almost imperceptibly shifted from being a little kid to a big kid.
While blogs and parent review sites will tell you to protect sensitive kids from Burton's movies, I still say have at it. As traumatized as I was by Large Marge and skeletons marching around Halloween Town, all these years later it is the experience of discovering my own growing up with Tim Burton that has remained far more memorable.

Continue reading for free
We hope you're enjoying The Week's refreshingly open-minded journalism.
Subscribed to The Week? Register your account with the same email as your subscription.