10 things you need to know today: June 2, 2021
Biden honors victims of 1921 Tulsa race massacre, ransomware attack shuts down giant meat producer, and more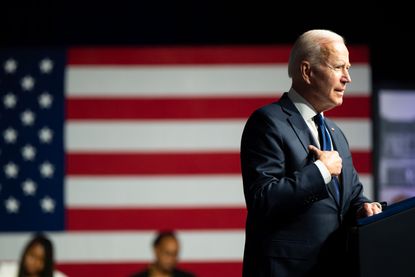 (Image credit: Brandon Bell/Getty Images)
1. Biden honors Tulsa race massacre victims 100 years later
President Biden delivered an emotional address in Tulsa on Tuesday to mark the 100th anniversary of the Tulsa race massacre, in which a white mob killed as many as 300 Black people in the affluent neighborhood of Greenwood, also known as Black Wall Street. Biden said he had "come to fill the silence" after decades of denial in a city that deputized and armed many of the attackers. "Some injustices are so heinous, so horrific, so grievous, they cannot be buried, no matter how hard people try," Biden said. "Only with truth can come healing." The commemorations came as the nation grapples with a reckoning on racial justice. Biden also met privately with three surviving members of the Greenwood community, including Viola Fletcher, 107, who testified before Congress on the need for reparations.
2. Cyberattack shuts down meat producer JBS
Hackers believed to be from Russia forced Brazilian meat producer JBS to shut down its U.S. beef plants, which provide nearly a quarter of the American supply. The cyberattack disrupted operations at all of JBS's meatpacking facilities in the country, Bloomberg reported, citing an official at the United Food and Commercial Workers International Union. JBS, the world's top meat producer, didn't immediately comment. One of Canada's biggest beef plants also shut down, although it was not immediately clear how many of the company's other facilities around the world were affected by the ransomware attack, the latest in a series of attacks by hackers demanding ransom to restore compromised computer systems. The attack came three weeks after hackers forced the shutdown of the biggest gasoline pipeline in the U.S.
Subscribe to The Week
Escape your echo chamber. Get the facts behind the news, plus analysis from multiple perspectives.
SUBSCRIBE & SAVE
Sign up for The Week's Free Newsletters
From our morning news briefing to a weekly Good News Newsletter, get the best of The Week delivered directly to your inbox.
From our morning news briefing to a weekly Good News Newsletter, get the best of The Week delivered directly to your inbox.
3. Biden ends Trump 'remain in Mexico' policy
The Biden administration has officially ended former President Donald Trump's "remain in Mexico" policy that required Central American asylum seekers to wait in Mexico while their cases were considered, according to a Tuesday memo issued by Department of Homeland Security Secretary Alejandro Mayorkas. President Biden paused the program shortly after taking office in January as he reviewed or reversed many of Trump's harsh immigration policies. Since then, more than 11,000 migrants who had been enrolled in the program have been allowed into the United States to pursue asylum claims. Apprehensions by Border Patrol have reached the highest levels in 20 years over the last three months. Mayorkas said in the memo that increased border arrests showed the "remain in Mexico" program did not adequately "enhance border management."
4. Florida governor signs ban on transgender females in school sports
Florida on Tuesday became the latest state to ban transgender women and girls from competing in school sports. Gov. Ron DeSantis (R), a close ally of former President Donald Trump, signed the bill into law after Republicans, who control the state legislature, attached the ban to a charter school bill. Supporters said the measure was necessary to keep competition fair, arguing that transgender female athletes have an advantage over cisgender women and girls. Democrats and civil rights advocates opposed the legislation, calling banning transgender women and girls discriminatory and accusing Republicans of using the issue to stir up right-wing support. Lawmakers in Alabama, Arkansas, Mississippi, Montana, Tennessee, and West Virginia have passed similar measures. South Dakota's governor issued an executive order backing a similar ban.
5. Peru coronavirus death rate now highest in the world
Peru has become the country with the highest coronavirus-related per capita death rate in the world. The South American nation reached the grim milestone this week when Prime Minister Violeta Bermudez revealed that the country's March 1, 2020, to May 22, 2021, coronavirus death toll had been revised to 180,764 from the previous estimate of 67,807 after a government review. "It [is] our duty to make the updated information public, not only as part of our commitment to transparency, but also to comply with our obligations as a State," Bermudez said. Peru already had one of the worst per capita death rates before the revisions, but the review pushed it from more than 200 deaths per 100,000 people to more than 500, surpassing Hungary's 305 deaths per 100,000.
6. Vatican clarifies church laws on sex abuse
The Vatican announced Tuesday that Pope Francis had approved changes to the universal Catholic Church internal penal system that will clarify penalties against priests for the sexual abuse of minors. The revisions, part of the church's response to its abuse and financial scandals, give church authorities from the Vatican to parishes a template for responding to sex crimes, stating that clerics who abuse minors will be punished with "deprivation from office." The new rules also explicitly criminalize the grooming of minors for pornography. "It is necessary that these norms be closely related to social changes and the new needs of the People of God," the pope wrote in a letter accompanying the revisions, the first significant changes to canon law in four decades.
7. Texas governor signs bills penalizing cities for defunding police
Texas Gov. Greg Abbott (R) on Tuesday signed a series of four bills spelling out penalties for cities and counties that defund police departments. The state's Republican-controlled legislature approved the new laws to withhold property tax revenue from cities of more than 250,000 people that dismantle police funding. The profits will then go to the Texas Department of Public Safety to cover "state resources used to protect residents." Abbott said the law was needed because attempts "to defund the police are downright dangerous." Austin cut its police budget by a third last August after months of protests over police brutality against Black citizens across the country. Austin Mayor Steve Adler (D) said city leaders would "fight to protect and defend all who live here."
Fox News Austin American-Statesman
8. Biden suspends oil and gas leases in Arctic National Wildlife Refuge
The Biden administration on Tuesday suspended Arctic National Wildlife Refuge oil and gas leases, President Biden's latest move to negate actions former President Donald Trump took not long before leaving office. The Interior Department's decision would undo nearly a dozen leases Republicans and Democrats have battled over for decades, likely triggering a legal fight. Interior Secretary Deb Haaland said a review of Trump's leasing program in the wildlife refuge uncovered "multiple legal deficiencies," such as "insufficient analysis" required under environmental laws. Haaland ordered a temporary moratorium pending "a new, comprehensive analysis of the potential environmental impacts of the oil and gas program." Biden has paused new federal oil and gas leases and promised to sharply cut greenhouse gas emissions.
9. Democrat wins New Mexico special House election
Democrat Melanie Stansbury won a special House election in New Mexico by a landslide on Tuesday. Stansbury, a state representative, took 60 percent of the vote, defeating Republican Mark Moores, who had 36 percent. Stansbury's dominant victory to claim the seat previously occupied by Deb Haaland, who left to become President Biden's Interior secretary, was seen as a reassuring sign for Democrats as they head into the 2022 midterm elections with control of the White House and narrow majorities in Congress. Stansbury's district, which includes Albuquerque, is heavily Hispanic and reliably votes Democratic. Moores, a state senator, ran a campaign focused on crime. His loss was widely interpreted as a sign that Republicans can't stress crime alone to win over suburban voters in Democrat-leaning districts.
The New York Times Santa Fe New Mexican
10. Biden proclamation recognizes June as Pride Month
President Biden on Tuesday issued a presidential proclamation designating June as Pride Month, promising to push for laws guaranteeing full equality for the LGBTQ community. The announcement marked the latest in a series of stark reversals of policies under former President Donald Trump, who last year refused to acknowledge the month of marches, parades, and celebrations by gay rights groups and LGBTQ Americans. The White House called attention to the change by saying that "after four years of relentless attacks on LGBTQ+ rights, the Biden-Harris administration has taken historic actions to accelerate the march toward full LGBTQ+ equality." Republican-controlled state legislatures have been advancing bills seeking to limit those rights.

Continue reading for free
We hope you're enjoying The Week's refreshingly open-minded journalism.
Subscribed to The Week? Register your account with the same email as your subscription.