10 things you need to know today: July 23, 2021
Biden administration increases spending on COVID-19 testing, Mississippi asks Supreme Court to overturn Roe v. Wade, and more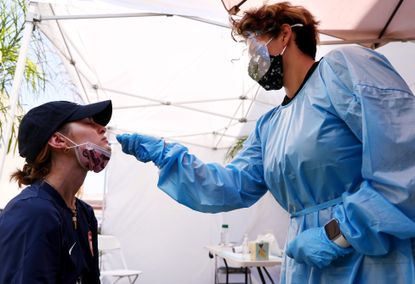 (Image credit: Mario Tama/Getty Images)
1. Biden administration to hike spending on COVID-19 testing
The Biden administration is increasing spending on COVID-19 testing to counter a fourth wave of infections that is breaking out in regions with low vaccination rates and increasing cases stemming from the highly infectious Delta variant of the coronavirus, NBC News reported Thursday, citing three administration officials. The White House is steering $1.6 billion to the effort in prisons, homeless and domestic violence shelters, and other high-risk institutions. The news came after the administration announced last week that it was sending $398 million to help small rural hospitals boost testing and other measures aimed at curbing new infections. Testing "is a key pillar of our response" to rising infections, said Carole Johnson, the White House testing coordinator.
2. Mississippi asks Supreme Court to overturn Roe v. Wade
Mississippi on Thursday filed a brief asking the Supreme Court to sweep aside the landmark Roe v. Wade decision and uphold the state's new restrictions on abortion access. With the Roe decision, the court ruled that the Constitution protects a woman's right to obtain an abortion. Mississippi's Republican attorney general, Lynn Fitch, said in the filing that Roe and the subsequent 1992 endorsement of abortion rights in Planned Parenthood v. Casey were "unprincipled decisions that have damaged the democratic process" and "poisoned our national discourse." Nancy Northup, president and CEO of the Center for Reproductive Rights, said Mississippi was employing an "extreme and regressive strategy" to outlaw abortion nationwide. The court, with a newly strengthened 6-3 conservative majority, will hear arguments this fall.
Subscribe to The Week
Escape your echo chamber. Get the facts behind the news, plus analysis from multiple perspectives.
SUBSCRIBE & SAVE
Sign up for The Week's Free Newsletters
From our morning news briefing to a weekly Good News Newsletter, get the best of The Week delivered directly to your inbox.
From our morning news briefing to a weekly Good News Newsletter, get the best of The Week delivered directly to your inbox.
3. FBI: Most 'compelling' Kavanaugh tips sent to Trump White House
A new letter from the FBI said the agency referred the most "compelling" of the 4,500 tips it received about Supreme Court Justice Brett Kavanaugh to the White House in 2018, making it unclear how the background check was handled, The New York Times reported Thursday. Kavanaugh faced allegations of misconduct in high school and college. The FBI letter, sent June 30, came in response to a 2019 inquiry from Sens. Sheldon Whitehouse (D-R.I.) and Chris Coons (D-Del.), who said in a Thursday reply that the FBI's "admissions" showed it "was politically constrained by the Trump White House." Lawyers for Christine Blasey Ford, who testified in Kavanaugh's confirmation hearing that he sexually assaulted her in high school, said the revelations showed the FBI's handling of the allegations was "a sham."
4. Biden condemns Cuba 'sham trials' of protesters
President Biden on Thursday condemned Cuba's "mass detentions and sham trials" of anti-government protesters. Biden ordered sanctions targeting the Communist-run Caribbean nation's military generals and a special forces unit behind a violent crackdown on demonstrators who have taken to the streets recently. Biden issued a statement criticizing the Cuban government for "unjustly sentencing to prison those who dared to speak out in an effort to intimidate and threaten the Cuban people into silence." He added: "The Cuban people have the same right to freedom of expression and peaceful assembly as all people. The United States stands with the brave Cubans who have taken to the streets to oppose 62 years of repression under a communist regime."
5. House passes bill that would increase visas for Afghan interpreters
The House on Thursday overwhelmingly approved a bill seeking to expand a visa program for Afghans who worked with American troops and face possible retribution from the Taliban for it as the U.S. withdraws. The House voted 407-16 to increase the number of special immigrant visas for Afghans to 19,000 from 11,000. The legislation also would make a wider group of people eligible for the visas, and increase protections of eligibility for surviving spouses and children if an applicant dies. "Many of us have expressed grave concerns about the challenges our allies face in navigating the application process," said Rep. Zoe Lofgren (D-Calif.), chair of the Administration Committee. "Afghans stepped forward to serve aside our brave military" and deserve U.S. support now.
6. Common colds bounce back from early pandemic-era lows
Parainfluenza viruses and common human coronaviruses that cause colds are making an out-of-season resurgence after dropping to historic lows last year, according to a new Centers for Disease Control and Prevention report. Levels of influenza also dropped to the lowest level since 1997, the first year of available data. Public health experts attribute the decline to widespread mask-wearing, social distancing, and other measures taken to curb the spread of COVID-19. The CDC warned that the flu season this fall and winter could be more severe, now that far fewer people are wearing masks, and many individuals and businesses are returning to something close to their pre-pandemic routines.
7. U.S. supports Afghan forces with airstrikes targeting Taliban
The U.S. military conducted overnight airstrikes against the Taliban, targeting captured equipment, CNN reported Thursday, citing multiple Defense Department officials. "I can say that in the last several days, we have acted through airstrikes to support the ANDSF (Afghan National Defense and Security Forces), but I won't get into technical details of those strikes," Pentagon Press Secretary John Kirby said at a press briefing. The U.S. has launched six or seven airstrikes against Taliban targets in the past 30 days, mostly using drones. The U.S. is withdrawing its last troops from Afghanistan but reserving the right to support Afghan forces with airpower.
8. Internet outage briefly knocks corporate websites offline
A broad internet outage briefly knocked numerous corporate websites offline, including those for FedEx, Delta Air Lines, HSBC, and McDonald's. The problems came as two key infrastructure service providers, Akamai and Oracle, reportedly faced system disruptions. Oracle said Thursday afternoon that its outage was the result of Akamai's Edge DNS service disruption. "We are monitoring a global issue related to a partner Edge DNS that is impacting access to many internet resources, including Oracle cloud properties," Oracle said. Akamai, whose Edge DNS service helps route web browsers to their desired destinations, said it had "implemented a fix" for a software update that triggered a bug in its system.
9. Jobless claims jump unexpectedly
Weekly jobless claims unexpectedly rose last week, fueling fears about the state of the economic recovery. Initial applications for unemployment benefits reached 419,000 in the week that ended July 17, the Labor Department said Thursday. The total exceeded the 350,000 estimated by Dow Jones and the upwardly revised figure of 368,000 the week before. The news rattled Wall Street and fueled fears that rising coronavirus cases stemming from the highly infectious Delta variant could disrupt the recovery from the past year's damage from the pandemic. Still, several factors suggest strong potential for hiring gains. Job placement site Indeed estimates there were 9.8 million job openings in mid-July; there were 9.5 million workers unemployed through June.
10. Tokyo Olympics to officially start with opening ceremony
Fans gathered Friday outside the Tokyo Olympic stadium ahead of the opening ceremony for the Summer Games, which were delayed a year due to the coronavirus pandemic. The event will be held in a nearly deserted stadium, because Japanese authorities have barred spectators from the Olympics to reduce the threat of spreading COVID-19, which prompted critics to call for canceling the Games. New coronavirus cases in Tokyo approached record highs this week. "'The festival of peace' is now starting in an unimaginably disastrous state," the Asahi newspaper said in an editorial, citing "confusion, distrust, and unease." Although the Olympic flame won't reach the stadium until the ceremony, competition began earlier this week in some events, including softball and soccer.

Continue reading for free
We hope you're enjoying The Week's refreshingly open-minded journalism.
Subscribed to The Week? Register your account with the same email as your subscription.