10 things you need to know today: December 24, 2021
Ex-officer Kim Potter is convicted of manslaughter for Daunte Wright killing, the FDA authorizes another COVID-19 pill, and more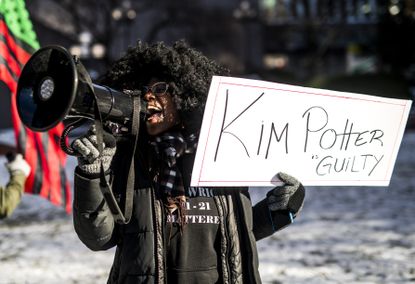 (Image credit: Stephen Maturen/Getty Images)
1. Ex-officer Kim Potter convicted of manslaughter in Daunte Wright shooting
A jury on Thursday found former Minnesota police officer Kim Potter guilty of manslaughter for fatally shooting Daunte Wright, a 20-year-old Black man, during an April traffic stop. Potter shouted "Taser! Taser!" before shooting Wright. Video of the incident showed her saying, "Holy s--t. I just shot him." Wright testified that she mistook her gun for her Taser. She said she was "very distraught" after the shooting, and "didn't want to hurt anybody." Attorneys for Wright's family said the "argument that she mistook her firearm for her Taser is simply beyond comprehension and a damning indictment of both her and the Brooklyn Center Police Department's practices and training protocols." Potter could be sentenced to up to 15 years in prison on the most serious manslaughter charge.
The Associated Press The New York Times
2. FDA approves a 2nd COVID-19 pill for emergency use
The Food and Drug Administration on Thursday granted emergency-use authorization for Merck's pill to treat COVID-19 in adults at high risk of severe disease and who don't have access to alternative FDA-approved and appropriate treatment options. Merck's drug, Molnupiravir, was approved a day after Pfizer's COVID-19 antiviral pill became the first at-home coronavirus treatment to receive emergency-use authorization. Patients are supposed to take Molnupiravir within five days of their first symptoms. The pill is only authorized for people age 18 and up. The FDA stressed that neither drug should be considered a substitute for vaccination in fighting the coronavirus pandemic.
Subscribe to The Week
Escape your echo chamber. Get the facts behind the news, plus analysis from multiple perspectives.
SUBSCRIBE & SAVE
Sign up for The Week's Free Newsletters
From our morning news briefing to a weekly Good News Newsletter, get the best of The Week delivered directly to your inbox.
From our morning news briefing to a weekly Good News Newsletter, get the best of The Week delivered directly to your inbox.
3. Texas pardons board withdraws recommendation of posthumous pardon for Floyd
The Texas Board of Pardons and Paroles has withdrawn its recommendation to pardon George Floyd posthumously for his conviction on charges that he sold $10 worth of crack cocaine in a 2004 sting, a spokesperson for Gov. Greg Abbott (R), Renae Eze, said Thursday. The board will "review and resolve" the errors, but due to the withdrawal, Abbott "did not have the opportunity" to consider pardoning Floyd, the Black man whose killing by Minnesota police sparked nationwide racial justice protests. Floyd's was among 25 clemency recommendations the board pulled back. Allison Mathis, the Harris County public defender who applied for Floyd's pardon, told The Dallas Morning News that "Abbott and his political appointees have let their politics triumph over the right thing to do."
The New York Times The Dallas Morning News
4. Putin says the West is the one threatening Ukraine war
Russian President Vladimir Putin gave a marathon news conference Thursday in which he said the West, not Russia, was stoking the threat of war on the Ukraine border. He said the West's talk of "war, war, war," could indicate that Kyiv is the one preparing to attack in Russia-backed separatist territories in eastern Ukraine. Putin also said in the annual news conference that Kyiv's turn toward the West represents a security threat to Russia. Moscow has sent 100,000 troops to its border with Ukraine, but Putin said he would prefer to settle tensions diplomatically. White House press secretary Jen Psaki said the United States also sees diplomacy as the "best path," and rejected Putin's claim the West was threatening Moscow, saying NATO is a "defensive alliance."
5. Trump asks Supreme Court to block Jan. 6 committee access to his records
Former President Donald Trump on Thursday appealed to the Supreme Court to block the National Archives and Records Administration from handing over documents from his White House to the House committee investigating the Jan. 6 Capitol attack. Trump's lawyers said keeping White House deliberations confidential was crucial for the government to function. "The Constitution, this Court's precedent, and federal statutes invalidate the expansive request at issue here," the lawyers wrote in their 195-page submission to the nation's highest court. Trump says he has the right to keep the documents secret, citing executive privilege. President Biden has waived executive privilege, saying the committee can see the documents.
6. New York City to hold scaled down Times Square New Year's celebration
New York City Mayor Bill de Blasio announced Thursday that the city would hold its traditional New Year's celebration in Times Square, but with a reduced crowd to limit the risk of infection with the highly contagious Omicron coronavirus variant. Viewing areas for the event that normally can accommodate about 58,000 people will be limited to crowds totaling about 15,000 this year. Everyone attending will have to wear a mask and show proof of vaccination. "There is a lot to celebrate and these additional safety measures will keep the fully vaccinated crowd safe and healthy as we ring in the New Year," de Blasio said. The city has been hit hard by the Omicron surge, with a single-day record of 17,200 new cases confirmed on Tuesday.
7. Economy shows signs of damage from Omicron spike
The rapid spreading of the Omicron coronavirus variant across the United States has already started hurting the economy, The Wall Street Journal reported Thursday, citing new data from the hospitality industry. The number of people dining at U.S. restaurants was down by 22 percent in the week that ended Dec. 22, compared to the same period two years ago, according to data from reservations site OpenTable. The rate of the decline grew in December compared to late November, when the new strain was first reported in South Africa. Hotel occupancy across the U.S. was around 54 percent in the week that ended Dec. 18, down slightly from the previous week, according to hospitality analytics company STR. United and Delta airlines said Thursday they had canceled more than 200 flights on Christmas Eve, and dozens more on Christmas Day as Omicron infections affected flight crews.
8. S&P 500 closes shortened holiday week at record high
The S&P 500 closed at a record high on Thursday as investors continued to shake off concerns about economic fallout from the fast-spreading Omicron coronavirus variant. The S&P rose 0.6 percent after the Food and Drug Administration approved Pfizer's antiviral pill for emergency use, making it the first at-home drug to prevent severe COVID-19 cases. The Dow Jones Industrial Average and the tech-heavy Nasdaq gained nearly 0.6 percent and 0.9 percent, respectively. The three main U.S. averages closed the holiday-shortened week (markets are closed Christmas Eve) with a three-day winning streak, led by companies like airlines and hotels that stand to win big as the economy reopens. Carnival Corp. was up by nearly 16 percent since Monday, and Hilton Worldwide rose by nearly 10 percent.
9. Ted Kaczynski moved from Supermax prison to medical facility
Ted Kaczynski, the so-called Unabomber, has been moved from a federal Supermax prison in Colorado to a federal medical center in Butner, North Carolina. Kaczynski, 79, was moved to the Federal Medical Center Butner on Dec. 14, Bureau of Prisons spokesperson Donald Murphy said. Murphy declined to reveal any details on Kaczynski's medical condition or why he was transferred. Kaczynski is serving life without the possibility of parole for a series of bombings that targeted scientists. He was arrested in 1996 at a primitive cabin in western Montana, and pleaded guilty to sending 16 homemade bombs by mail that killed three people and injured 23 others between 1978 and 1995. He spent more than 20 years in the Colorado prison.
10. Writer Joan Didion has died at 87
Author and journalist Joan Didion died Thursday at her Manhattan home from complications of Parkinson's disease, Paul Bogaards, an executive at Didion's publisher, Knopf, confirmed to The New York Times in an email. She was 87. Didion established herself as a trailblazer of highly personalized New Journalism with pieces on California culture and the tumultuous 1960s. In 1963, she published her first novel, Run, River, and she went on to write more fiction, including A Book of Common Prayer and The Last Thing He Wanted, and nonfiction books like The Year of Magical Thinking, which she authored in the aftermath of the death of her husband, John Gregory Dunne. "Didion was one of the country's most trenchant writers and astute observers," her publisher said in a statement.

Continue reading for free
We hope you're enjoying The Week's refreshingly open-minded journalism.
Subscribed to The Week? Register your account with the same email as your subscription.