10 things you need to know today: January 11, 2022
U.S. COVID-19 hospitalizations reach record as Omicron spreads, Georgia beats Alabama to win national college football title, and more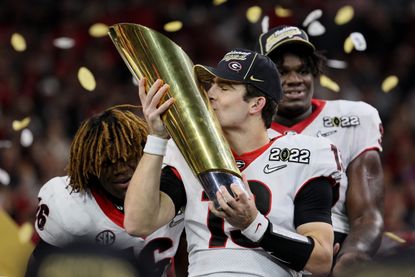 (Image credit: Andy Lyons/Getty Images)
1. U.S. COVID-19 hospitalizations surge to record high
U.S. COVID-19 hospitalizations rose to 132,646 on Monday, breaking the record of 132,051 set in January 2021, Reuters reported. The number of people seeking care has risen steadily since December as the fast-spreading Omicron coronavirus variant drove new cases to record levels. Hospitalizations have doubled in the last three weeks. The seven-day average for new cases has doubled in just 10 days, reaching 704,000 as U.S. authorities confirmed more than a half-million cases for six straight days. The surge has overwhelmed health systems in hard-hit states such as Delaware, Illinois, Maine, Maryland, Missouri, Ohio, Pennsylvania, Vermont, Virginia, and Wisconsin, which have reported hospitalization records, as have Puerto Rico, Washington, D.C., and the U.S. Virgin Islands.
2. Georgia beats Alabama to win national college football title
Georgia beat rival Alabama in Monday night's College Football Playoff championship game, winning its first national title in 41 years. The Bulldogs came from behind to beat the higher-ranked Crimson Tide 33-18, snapping a seven-game losing streak against Alabama that included last month's SEC championship game. Georgia quarterback Stetson Bennett threw a 40-yard touchdown pass to Adonai Mitchell to put the Bulldogs ahead 19-18 with just over 8 minutes left to play. Tight end Brock Bowers caught a 15-yard touchdown pass with 3:33 left, then Kelee Ringo intercepted a throw from Alabama's Heisman Trophy–winning quarterback Bryce Young, and ran it 79 yards for the final touchdown. The last time the Bulldogs won a national title was in 1980, led by freshman running back Herschel Walker.
Subscribe to The Week
Escape your echo chamber. Get the facts behind the news, plus analysis from multiple perspectives.
SUBSCRIBE & SAVE
Sign up for The Week's Free Newsletters
From our morning news briefing to a weekly Good News Newsletter, get the best of The Week delivered directly to your inbox.
From our morning news briefing to a weekly Good News Newsletter, get the best of The Week delivered directly to your inbox.
3. U.S., Russia hit obstacles in talks on Ukraine
The United States and Russia launched talks in Geneva on defusing a possible Russian invasion of Ukraine, with both sides agreeing to continue meetings scheduled to take place in three European cities this week. Russian Deputy Foreign Minister Sergei Ryabkov said there had been no progress toward Moscow's central demand to bar Ukraine and other Eastern European nations from joining NATO. Deputy Secretary of State Wendy Sherman said U.S. negotiators made suggestions about the nature of American military exercises and the placement of U.S. missiles in Europe, but stood firm against letting the Kremlin dictate who could join the Western military alliance. "We will not allow anyone to slam closed NATO's open-door policy," she said.
4. Evidence links Haitian prime minister to assassination suspect
New evidence in the assassination of Haitian President Jovenel Moïse suggests current Prime Minister Ariel Henry "maintained communications" with a top suspect in the murder, "and that the two stayed in close contact even after" the attack, The New York Times reported Monday. Phone records viewed by the Times, along with interviews with Haitian officials and a top suspect in the case, revealed potentially incriminating ties between Henry and Joseph Felix Badio, a former Haitian justice ministry official being sought on suspicion of organizing the July 7 killing. For example, the two men reportedly spoke before and after the attack, according to the Times. A spokesperson for Henry denied the prime minister speaking with or having any sort of relationship with Badio.
5. Trump calls Sen. Mike Rounds a 'jerk' for saying election was fair
Former President Donald Trump on Monday harshly criticized Sen. Mike Rounds (R-S.D.) for saying on ABC's This Week that the 2020 election was fair and that President Biden was the legitimate winner, rejecting Trump's baseless claim that the election was stolen from him through voter fraud. "Is he crazy or just stupid?" Trump said in the statement. "The numbers are conclusive, and the fraudulent and irregular votes are massive." Multiple state-level audits and other reviews have disproved Trump's claim that widespread fraud influenced the election. Trump called Rounds a "RINO" — "Republican in name only" — and said he would not support the senator when he's up for re-election in 2026. "I will never endorse this jerk again," Trump said.
6. N.C. voters sue in bid to block Madison Cawthorn from seeking re-election
Eleven North Carolina voters filed a lawsuit on Monday arguing that Rep. Madison Cawthorn's involvement in a rally before the Jan. 6 Capitol attack should disqualify him from running for a second term. Lawyers for the group of voters accused Cawthorn of violating the 14th Amendment, which says that no member of Congress "shall have engaged in insurrection or rebellion against the same." The lawsuit says that the mob attack seeking to prevent the certification of former President Donald Trump's election loss "amounted to an insurrection," and that Cawthorn "aided the insurrection" by encouraging the rioters and coordinating with the Jan. 6 organizers. Cawthorn's office said the activists were "comically misinterpreting and twisting the 14th Amendment for political gain."
7. Surgeons successfully transplant a pig heart into human patient
Doctors have transplanted a heart from a genetically modified pig into a 57-year-old Maryland man with life-threatening heart disease. The patient, David Bennett Sr., was doing well Monday, surgeons at the University of Maryland Medical Center said. "It creates the pulse, it creates the pressure, it is his heart," said Dr. Bartley Griffith, who performed the operation. The eight-hour procedure marked the first successful transplant of a pig's heart into a human, a milestone offering hope to patients with failing organs who are in line for transplants. More than 41,000 Americans received transplanted organs last year, including 3,817 who received human donor hearts. But dozens of people on waiting lists for organs die every day, and scientists have been working on developing pigs whose organs human bodies won't reject to increase availability.
8. New York City man charged with threatening Trump
A 72-year-old New York man, Thomas Welnicki, was arrested Monday for allegedly threatening to kill former President Donald Trump. Welnicki was charged with making the threats in several phone calls to the Secret Service. He allegedly made the first call a year ago, and followed up with more in September, November, and December. Authorities don't believe Trump was ever in any danger. Welnicki also was accused of making menacing statements about Trump to the Capitol Police. "I am going to do anything I can to take out [Individual-1]," Welnicki said in a voicemail message to the Secret Service on Jan. 4, according to the complaint. "Oh, yeah, that's a threat. Come and arrest me." In the first call, he repeatedly called Trump "Hitler."
9. Real-estate heir Robert Durst dies months after murder conviction
New York real-estate heir Robert Durst died Monday in a California prison hospital, four months after he was convicted of murder and sentenced to life. He was 78. Durst was found guilty of killing his longtime confidante Susan Berman. He also was suspected in the unsolved disappearance of his first wife, and the killing and dismemberment of an elderly neighbor. Durst's story made supermarket tabloid headlines. He spent years on the run, sometimes disguising himself as a mute woman. He appeared to unwittingly confess to the killings in a 2015 HBO mini-series about his life and the deaths of those around him. He tested positive for COVID-19 shortly after his conviction, and his lawyer, Chip Lewis, said the bout with the virus worsened other ailments.
10. European Parliament President David Sassoli dies at 65
David-Maria Sassoli, an Italian center-left politician and former journalist chosen to lead the European Parliament in 2019, died early Tuesday from serious complications with his immune system, his spokesperson said. He was 65 and had been in a hospital in Aviano, Italy, since Dec. 26. Sassoli left a long career in broadcast journalism to win a seat in the European Parliament in 2009 as a member of the center-left Progressive Alliance of Socialists and Democrats, the second-largest faction in the 705-member European Union legislature. His selection as European Parliament president was a last-minute surprise, and part of an intricate deal among EU leaders that also placed German Christian Democrat Ursula von der Leyen as European Commission president and Belgian free-market liberal Charles Michel as European Council president.

Continue reading for free
We hope you're enjoying The Week's refreshingly open-minded journalism.
Subscribed to The Week? Register your account with the same email as your subscription.