Mini-budget one year on: how the Truss-Kwarteng growth plan lingers
Commentators say 'moron premium' has subsided but UK economy is 'still stuck in first gear'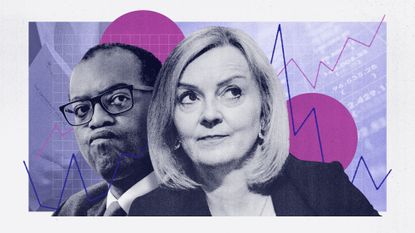 (Image credit: Illustrated / Getty Images)
It's a year since Liz Truss and her chancellor, Kwasi Kwarteng, unveiled a mini-budget that included £45 billion of unfunded tax cuts and caused chaos, confusion and controversy.
Many people feel Truss is to blame for the high interest rates that have caused worry and worse for homeowners, but her supporters deny this. Here are the legacies of her headline-grabbing growth plan, which led to her swift demise.
Are we still paying a 'moron risk premium'?
Dario Perkins, of research firm TS Lombard, coined the term "moron risk premium" to describe the effect he believed Truss had on Britain's economic credibility.
Subscribe to The Week
Escape your echo chamber. Get the facts behind the news, plus analysis from multiple perspectives.
SUBSCRIBE & SAVE
Sign up for The Week's Free Newsletters
From our morning news briefing to a weekly Good News Newsletter, get the best of The Week delivered directly to your inbox.
From our morning news briefing to a weekly Good News Newsletter, get the best of The Week delivered directly to your inbox.
To see if that "risk premium persists", said The Economist, we should look at credit-default swaps, the instruments that "insure investors in the event that the bond-issuer goes bust". These, said the newspaper, give a "clearer indication of financial competence".
Last September, the price of insuring British government debt against default for five years rose from 29 basis points to 49 basis points after Truss's plans were announced. Today, that instrument trades once more at 29 basis points, with "financial order" appearing "to have been restored".
Not everyone agrees. Truss's "catastrophically failed" attempt to change the country's course in a mini-budget "crashed the pound, punished mortgage holders and destroyed her party's reputation for economic competence in one fell swoop", wrote Richard Partington for The Guardian, and the UK economy is "still stuck in first gear".
Is the mini-budget to blame for high interest rates?
"The short answer is no," said Callum Mason on the inews site. Interest rates are now at 5.25%, "far higher than after the mini-Budget", he wrote, and as a result average fixed-rate mortgages are "now higher than they ever were". According to some economists, had we had not had the mini-budget, "we would have reached the rate we have now, more slowly".
But, argued Partington, policymakers are preparing to hold rates at "restrictively high levels", which will "create a grim backdrop for the next election, stoking the chances of recession and maintaining pressure on businesses and households".
What about gilt yields?

A "recurring refrain" from Truss's supporters is that gilt yields, or government bonds, are higher now than they were in the immediate aftermath of the mini-budget, said City A.M.
The Trussites argue the steady rise in yields during Rishi Sunak's premiership has received "much less commentary" than the surge seen last autumn. However, Dan Hanson, an economist at Bloomberg Economics, told the paper that while last year's surge "signalled a loss of confidence in the UK", yield prices now reflect a "rational response" rather than a total loss of confidence.
Or, as Andrew Goodwin, chief UK economist at Oxford Economics, said: "If Truss and Kwarteng were in power today and announced a budget like they did last year, then it's likely that gilt yields would surge again… because markets thought their plans lacked credibility."
And the pound?
Sterling is now "much stronger than the depths it slumped to last autumn", said City A.M. Then, it "approached parity with the dollar as international investors abandoned the UK putting downward pressure on sterling".
It has since recovered and, until relatively recently, was one of the strongest performing currencies of 2023. This recovery "reflects the more credible direction of fiscal policy since Jeremy Hunt took over" as chancellor, "both from the perspective of a less inflationary stance but also in terms of fiscal sustainability," said Phil Shaw, chief economist at Investec.
What about the political legacy?
The Conservative Party is "still reeling" from Truss's plans, said The Economist. The Tories' deficit to Labour is close to 20 points in the polls and the party's "reputation for economic competence has been shattered" but Truss "shows little contrition".
Labour has vowed to give Britain's economic watchdog more powers to avoid a repeat of what it called the "disastrous mistakes" of Truss's mini-budget, The Times reported.
Labour said that, should it win the next election, the Office for Budget Responsibility would be given the freedom to publish forecasts and analysis alongside any fiscal changes.
What does Truss say?
Truss and her supporters are "attempting to revise history", said Partington, aiming to "shift the blame" for the "clearest rejection of a prime minister's economic policy since Black Wednesday".
This week, an "unrepentant" Truss sought to blame a "left-wing infiltration of thinktanks, the Bank of England and other 'institutions' for the market turmoil during her brief premiership", said Sky News.

Continue reading for free
We hope you're enjoying The Week's refreshingly open-minded journalism.
Subscribed to The Week? Register your account with the same email as your subscription.