Is it time to end the China trade war?
The U.S. aims to dial down China trade tensions after years of tit-for-tat tariffs and bans on advanced technology sales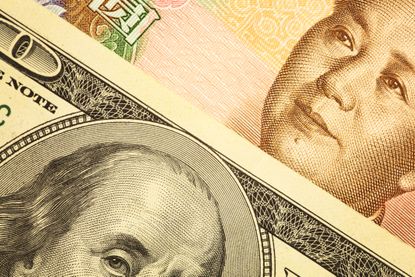 (Image credit: Getty Images / NSA Digital Archive)
The Biden administration announced Friday that it would hold regular meetings with Beijing on economic issues — the latest sign that the world's two biggest economies are eager to ease the years-long China trade war, The New York Times reported. President Biden said this week at the United Nations that the U.S. wants to manage China's trade competition "responsibly," so the world's two biggest economies don't "tip into conflict." The statement came after three of Biden's Cabinet officials made recent trips to China in a push to ease tensions.
Bilateral trade talks "were once the norm between the United States and China, but those discussions have atrophied in recent years," noted The New York Times. Five years ago, the Trump administration and China hit each other with tit-for-tat tariffs and export controls. President Biden has followed up by banning some investment in China, and barring U.S. companies from sharing advanced microchips and other cutting-edge technology with Chinese firms.
China showed this week it is getting around some of the obstacles. A unit of Chinese tech giant Huawei started shipping new Chinese-made chips for surveillance cameras, Reuters reported. Huawei also recently began producing smartphones with advanced, made-in-China 5G chips. If Chinese companies, once happy to buy chips from American manufacturers, are responding to the ban with innovations of their own, would it be better for U.S. companies if Washington called a truce?
Subscribe to The Week
Escape your echo chamber. Get the facts behind the news, plus analysis from multiple perspectives.
SUBSCRIBE & SAVE
Sign up for The Week's Free Newsletters
From our morning news briefing to a weekly Good News Newsletter, get the best of The Week delivered directly to your inbox.
From our morning news briefing to a weekly Good News Newsletter, get the best of The Week delivered directly to your inbox.
Washington should end the China trade war
The Biden-Trump approach was "not entirely wrongheaded," said Clark Packard and Scott Lincicome in The Bulwark. In the mid-2000s, China reversed decades of privatization that "lifted hundreds of millions of people out of grinding poverty," and reembraced "heavy-handed central planning," lavishing subsidies on domestic enterprises to give them unfair advantages. "A strong U.S. government response" was understandable, but the impact of Washington's incoherent mix of "indiscriminate tariffs," investment restrictions, export controls, and subsidies appears "counterproductive." Tariffs cost U.S. households hundreds of dollars a year, and Moody's Analytics "estimated as early as 2019 that the trade war had already cost about 300,000 American jobs."
Trade wars always kill jobs and prosperity, said Phil Gramm and Donald J. Boudreaux in The Wall Street Journal. U.S. growth was accelerating and reached nearly 3% in 2018, a 13-year high. But in 2019 — the first full year of Trump's tariffs — growth fell to 2.3%. Washington is trying to slow China's rise, but it won't work, said Tony Chan, Ben Harburg, and Kishore Mahbubani in Foreign Policy. In fact, denying Chinese companies America's most advanced microchips might have goaded them "into building self-sufficiency far earlier than they would have otherwise." Chinese firms imported $70.5 billion worth of chips from U.S. chipmakers in 2019, accounting for half the revenue of companies like Texas Instruments and Broadcom and allowing them to invest heavily in research and development. Losing that revenue could erode their technological edge.
Shifting to other trading partners will pay off
It was fortunate the U.S. shifted to other trading partners when it did, said Frida Ghitis in World Politics Review. After China joined the World Trade Organization in 2001, tariffs on its goods fell, and by 2014 it had overtaken Canada as the top U.S. trading partner. The U.S. became so dependent on cheap Chinese goods that the pandemic's disruption triggered "supply chain chaos" and widespread shortages. Both Republicans and Democrats recognized we had to diversify and find dependable suppliers closer to home. As a result, "Mexico surpassed China as the top trade partner of the United States" in the first four months of this year. This kind of "near-shoring and friend-shoring" is the key to a more secure economic future.
Maybe, but "playing chicken with globalized capitalism" is risky, said Eduardo Porter in Bloomberg. President Biden wants to perpetuate U.S. "technological superiority" over China and others "on national security grounds," and develop more reliable ways to keep goods flowing through "pandemics and geopolitical conflict." But at what cost? Trump's tariffs and Biden's subsidies for domestic makers of computer chips and solar panels might create tens of thousands of new jobs in those industries, but those gains are "small and fleeting." The job losses at downstream companies that pay more for imported inputs are "large and persistent." Protectionism just isn't worth it.

Continue reading for free
We hope you're enjoying The Week's refreshingly open-minded journalism.
Subscribed to The Week? Register your account with the same email as your subscription.