Britain's gambling habit: are we dicing with serious damage?
The UK's betting industry has become a multibillion-pound juggernaut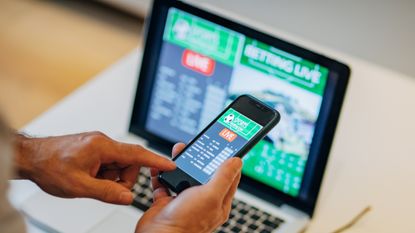 (Image credit: Getty Images/Hirurg)
How much do Britons bet?
A great deal. The UK is one of the world's biggest gambling markets, and the world's biggest online market. The industry made £14.1 billion in gross yield (profit before taxes and expenses) in the last financial year. According to the Gambling Commission, 44% of adult Britons gamble every year. And though most restrict themselves to the National Lottery or, say, a flutter on the Grand National, many do not. Official figures estimate that about 0.5% of British adults – several hundred thousand people – are problem gamblers. But the true figure may be much larger: a recent YouGov survey suggested 1.4 million people were addicted to gambling. The habit takes a heavy toll on a relatively small number of people: a quarter of gambling profits come from only 1% of betting accounts, and more than half is from the highest-spending 5% of gamblers.
What are the consequences?
They can be grave: problem gambling is linked to an array of collateral damage including lost jobs, homes and relationships. The government estimates that it is a factor in 100 to 500 suicides every year in England. (Research from Sweden suggests that people suffering from a gambling addiction are 15 times more likely to take their own lives.) Official estimates put the direct cost to the public purse of this damage at £413 million, and the wider societal cost at £635 million to £1.356 billion. By the end of the year, there will, for instance, be 15 NHS centres in England dedicated to helping gamblers. Men are especially vulnerable to problem gambling, but there is also growing concern about the rise of gambling among under-18s: a 2022 survey found that 31% of 11- to 16-year-olds were spending their own money on gambling, and as many as 50,000 children are problem gamblers.
Why is betting so popular?
The explosion in gambling in the UK can be traced back to the 2005 Gambling Act, which was designed to promote legal, well- regulated gambling. It allowed gambling to be aggressively advertised: the industry spends about £1.5 billion a year on advertising, often during live sports broadcasts. Crucially, the act wasn't designed for the smartphone age, and betting firms have ruthlessly exploited that blind spot ever since, creating addictive online games and offering free bets that find new customers and target problem gamblers. Excluding the National Lottery, online betting now accounts for more than 60% of industry revenues. Problem gamblers describe registering with multiple online bookies, and compulsively reaching for their phones to find the latest betting opportunities.
Subscribe to The Week
Escape your echo chamber. Get the facts behind the news, plus analysis from multiple perspectives.
SUBSCRIBE & SAVE
Sign up for The Week's Free Newsletters
From our morning news briefing to a weekly Good News Newsletter, get the best of The Week delivered directly to your inbox.
From our morning news briefing to a weekly Good News Newsletter, get the best of The Week delivered directly to your inbox.
How is the industry regulated?
Lightly. Firms operating in Britain must have a licence issued by regulator the Gambling Commission. They can be fined or have licences removed for infractions. Since 2020, they have also had to be members of GamStop,a self-exclusion scheme for problem gamblers, and the use of credit cards for gambling has been banned. But critics say the Commission is toothless and that its £20 million annual budget is inadequate to keep a tech savvy and well-connected industry in check. Politically, all three parties promised reform in their 2019 election manifestos. And the government has already limited maximum stakes on fixed-odds betting terminals from £100 to £2. But other measures have been delayed, perhaps not unrelated to the industry's lobbying: dozens of Tory and Labour MPs took hospitality and gifts worth about £200,000 from betting firms between 2021 and 2022.
What is the government doing now?
In a white paper published in April, the government proposed the biggest shake-up of the betting industry since the 2005 act. It set out plans for recommended stake limits for online slot games (between £2 and £15, with the limit halved for under-25s). and for introducing a statutory levy on betting firms to fund addiction research and treatment. Ministers will also consult on introducing financial checks on problem gamblers: those who lose £125 or more in a month, or £500 in a year, would face a "financial vulnerability" check to establish whether they'd previously declared bankruptcy; those who lose £1,000 in a day, or £2,000 over 90 days, will undergo broader "affordability checks" against their income to establish if those losses are sustainable. The various measures proposed could cost the online industry around £800 million per year, the government estimates.
What does the betting industry say?
The industry lobby group, the Betting and Gaming Council, broadly welcomed the white paper, but expressed fears that tighter regulation could drive punters towards a black market. It also noted that its largest members had already pledged £110 million towards reducing gambling harm over four years; and that the industry employs 110,000 people and pays £4 billion in tax per year. More broadly, some libertarians object to laws that prevent people spending their own money as they wish; and note that no other industry is required to gauge whether its clients can afford the goods and services that they pay for.
Will the reforms help?
Campaigners welcomed them, but warned that the reforms don't go far enough; some argued for a ban on free bet offers, and for monthly spending limits, as well as an advertising ban (though the Premier League has announced a ban on football clubs advertising gambling companies on their shirts from 2026). There has also been criticism of the leisurely timetable: the reforms have been delayed repeatedly since 2019 owing to changes of government; and more consultation will be carried out before changes such as stake limits are implemented. Even so, there is now cross-party support for reform; and the minister responsible, Stuart Andrew, has promised the changes will be in place by next summer.
New Labour's roll of the dice
At the time, there was great surprise that the Labour Party – historically steeped in hostility to gambling – should have pushed through the Gambling Act 2005. In theory, it recognised that gambling could not be prohibited and sought to regulate it. But it went much further than that, in line with New Labour's light-touch approach to regulation: it allowed gambling to be freely advertised, rather than just tolerated. There was uproar that the Act would authorise eight new "super casinos". In the event, eight was reduced to one, and Gordon Brown cancelled that when he became PM. Less noticed at the time was that the act also authorised online gambling in the UK for the first time. This coincided with two other changes: the launch of the iPhone in 2007, which would effectively put a 24-hour casino in every pocket; and wall-to-wall TV coverage of sport, during which advertising proliferated. Britain's gambling industry has certainly benefited. Denise Coates, born into a family that owned a small bookmaker in Stoke, took a gamble on the fledgling world of online betting to create Bet365. Today she is the richest woman in Britain, with a family wealth of nearly £9 billion. Other UK companies such as Betfred and Entain have also greatly profited.

Continue reading for free
We hope you're enjoying The Week's refreshingly open-minded journalism.
Subscribed to The Week? Register your account with the same email as your subscription.