Best Netflix shows of 2020
From The Crown to The Money Heist we pick out what to stream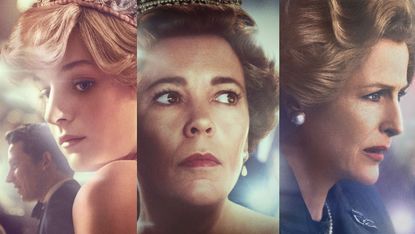 Sign up to our 10 Things You Need to Know Today newsletter
A free daily digest of the biggest news stories of the day - and the best features from our website
Thank you for signing up to TheWeek. You will receive a verification email shortly.
There was a problem. Please refresh the page and try again.
It's been quite the year for streaming service Netflix. With a back catalogue of smash-hit series, films and documentaries, it has welcomed millions of new customers in 2020.
During lockdown 12 million house-bound Brits signed up for a new subscription streaming service and Netflix, distributors of hit shows such as The Crown (pictured) and The Money Heist, took top spot with a 45% share of the market, according to Ofcom's Media Nations 2020 report.
Split into different categories such as drama, action, comedy and horror, we pick out the best shows to stream on Netflix in 2020.
Subscribe to The Week
Escape your echo chamber. Get the facts behind the news, plus analysis from multiple perspectives.
SUBSCRIBE & SAVE
Sign up for The Week's Free Newsletters
From our morning news briefing to a weekly Good News Newsletter, get the best of The Week delivered directly to your inbox.
From our morning news briefing to a weekly Good News Newsletter, get the best of The Week delivered directly to your inbox.
Drama
The Crown
It opens with the shooting of a stag that spends the next three episodes "limping" in agony across our screens – and that's not the most "explosively nasty" thing in the fourth season of The Crown, said Camilla Long in The Sunday Times. Covering 1979 to 1990, it is the best series yet, rescued from the "sentimentality and bad acting" of the third by two new characters – Princess Diana (Emma Corrin) and Margaret Thatcher (Gillian Anderson). Through their stories, we see the "femily" in a far-from-flattering light – cold-hearted and casually cruel. It may be largely fiction, but it makes for "electrifying" TV. Diana is portrayed as the real victim, seen early on as a "nervous teenager" humiliated by a "monstrous" Princess Margaret for failing a test of etiquette, said Carol Midgley in The Times. Corrin is superb, and Peter Morgan's dialogue for Diana and Charles (Josh O'Connor) is "nuanced and heartfelt". Thatcher is convincingly "humanised" by Anderson, said Anita Singh in The Daily Telegraph. She, too, is belittled by these "raging snobs", and moves from deference to open scorn in her meetings with the Queen – delicious scenes that provide light relief in this "riveting soap".
The Rain
Now on its third series, The Rain is set in a post-apocalyptic future where a virus spread by rainfall wipes out almost the entire population of Denmark and wider Scandinavia. Interestingly, the film represents "one of Netflix's most successful non-English series to date", according to the streaming service.
Stateless
A six-part series based on true events, the drama focuses on four individuals' experiences at an Australian immigration detention centre, where they are all either detained or working. Put together with a "sure hand" that ensures it can be seen "avoiding all the common traps", The Guardian says this series does well to not "become about one man's guilt, but interrogates a system that relies on complicity, blind eyes and a lack of political will to change it".
The English Game
Written and produced by Downton Abbey creator Julian Fellowes, this drama is full of "strong performances" and most importantly, says RadioTimes, has its "roots in sport" but "won't alienate anyone who is not a season ticket holder".
Away
In this ten-part sci-fi drama series, Hilary Swank stars as the ship commander leading the first manned mission to Mars. Although not blessed with the biggest budget, The Daily Telegraph says the film "majors in soul and melancholy, big musical moments and formulaic bonding", which keeps the audience interested.
Action and adventure
The Umbrella Academy
This sci-fi hit charts the exploits of seven siblings, all with superpowers, reunited by the death of their adoptive father. Back with a "bigger, brighter" second series released this year, the "flawless" show "doesn't put a foot wrong" according to NME.
The Letter to The King
An "eerily well timed" offer of an alternative reality, says The Guardian, The Letter to The King follows the quest of teen squire Tiuri, a messenger tasked with securing the safe passage of a titular letter, set against a host of "impressively sweeping backdrops".
The Money Heist
Devised by Alex Pina, this action series - called La Casa de Papel in Spanish - has become Netflix's "biggest global hit", The Guardian's Ellen Jones reports. It's had such an impact that the heist gang's Salvador Dali masks have already been used in a real-life robbery in France, as well as appearing at protests around the world. As Alvaro Morte, one of the stars of the series, says: "Once you see the first chapter of the show, you are lost in it."
Best TV crime dramas to watch in 2020
Comedy
The Medical Police
A spin-off of the much-revered Children's Hospital, The Medical Police is a well-crafted parody of classic medical and crime dramas. Everything from the camera angles to the narrative structure is "impressively executed", says the LA Times, and makes for an enthralling yet hilarious watch.
Middleditch & Schwartz
Improv comedy is a rarity nowadays, and Thomas Middleditch and Ben Schwartz's special makes a strong case for this to change. Writing in The Guardian, comedian Rachel Parris said: "These two guys are amazing together. You can tell when two improvisers have been working together for donkey's years, because they're just so good at riffing off each other."
Schitt's Creek
It's been around since 2015, but the latest series of Schitt's Creek broke the record for most Emmys awarded to a TV show in its final season, and has perhaps "the most impressive cast of any comedy on television" according to The Guardian's Stuart Heritage.
Documentaries and docuseries
Challenger: The Final Flight
A combination of old news footage, archive material and interviews with those who worked on the 1968 Challenger mission that ended in terrible disaster, this docuseries "commemorates a tragedy with grace", Variety says.
Cheer
An "awe-inspiring" documentary that charts the progress of a cheerleading team at a small junior college in Texas. The focus and dedication of the students is admirable, and the series' refreshing focus on "the graft, not the glamour" makes it well worth the watch, according to The Guardian's Lucy Mangan.
Pandemic: How to Prevent an Outbreak
Coincidentally released on Netflix back in January – and filmed in 2019 before the first cases of Covid-19 were reported – this series explains exactly how a viral outbreak makes its way around the global population. While it failed to register at the time of release, the chance to "chillingly see scientists discuss the theory that the world 'was due' a new virus" means the heavily-searched TV show does not disappoint, The Independent notes.
The Pharmacist
Appalled by the lack of police interest after his son died in a drug-related shooting, pharmacist Dan Schneider put together his own investigation to find out what happened. His efforts slowly morph into a "rapidly expanding narrative of medical, corporate and law-enforcement corruption" as America's opioid crisis takes centre stage backed up by a "truly great documentary protagonist", The Guardian says.
Horror
Dracula
Originally produced by the BBC and now available to stream on Netflix, Steven Moffat's "dazzling" take on Bram Stoker's novel is "loving, playful, allusive and often hideous" according to The Times. This is a fete that only could have been achieved by a creator "steeped up to their neck in vampire lore".
Locke & Key
The Guardian says at first glance this is an "optimised Netflix megamix". It's a story about three children's brush with the supernatural after their father's death. Most importantly, as well as an excellent score and production design, there are enough "disconcerting and oddball moments to make it a constantly evolving pleasure".
Ares
Set in Amsterdam, Ares is a short horror series involving a medical student who gets inducted into a secret society. It is "worth sticking with until the end", says Forbes' Paul Tassi. With only eight episodes - none of which stray over the half an hour mark - this "complex" Dutch language series will take an evening to finish and is "interesting enough to not overstay its welcome".
Ju-On: Origins
Another foreign language investment, director Sho Miyake's "artful, lo-fi roots" mean this Japanese horror is "unusually, mostly restrained," says Benjamin Lee in The Guardian. However, Miyake's avoidance of horror movie tropes is "admirable" and the "effectively staged gore will leave its mark".
Thriller
Ratched
Nurse Mildred Ratched, played by the "brilliantly menacing" Sarah Paulson, arrives at a mental asylum whilst trying to find work and discovers some unsettling experiments taking place. The Guardian says American Horror Story creator Ryan Murphy's trademark style can be seen everywhere. Ratched is "camp, gorgeous, excessive, but rigorously worked out underneath".
Snowpiercer
An ice age makes the world's surface uninhabitable, so a few thousand of the last humans board a train bound to traverse the Earth indefinitely in order to avoid freezing. With carriages divided into a strict class system, an uprising is never far away. Described as a "thrillingly mad futuristic creation" by The Daily Telegraph, the "main joy of both the film and the TV series is exploring each vividly realised carriage, as the atmosphere and opulence climbs the further down they go".
The Stranger
An adaption of a Harlan Coben novel directed by Danny Brocklehurst, The Stranger is "macabre and gruesome – but it's also funny" says The Independent. Starring Jennifer Saunders, the plot centres around a woman – called The Stranger – who finds out secrets and threatens to reveal them unless you pay up.
The Fall
Another BBC original, The Fall is "wowing audiences all over again" with its arrival on Netflix, RadioTimes reports. Originally on air between 2013 and 2016, the gritty crime thriller set in Northern Ireland stars Gillian Anderson and Jamie Dornan.
Continue reading for free
We hope you're enjoying The Week's refreshingly open-minded journalism.
Subscribed to The Week? Register your account with the same email as your subscription.
Sign up to our 10 Things You Need to Know Today newsletter
A free daily digest of the biggest news stories of the day - and the best features from our website