10 things you need to know today: October 10, 2023
Israel declares a 'complete siege' of Gaza, RFK Jr. leaves the Democratic presidential primary to run as an independent, and more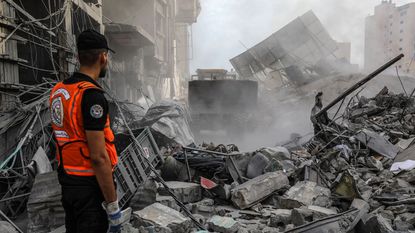 (Image credit: Abed Rahim Khatib / Anadolu via Getty Images)
1. Israel starts 'complete siege' of Gaza Strip
Israel on Monday declared a "complete siege" of the Gaza Strip in the third day of fighting after Hamas militants launched surprise rocket and ground attacks in southern Israel from the Palestinian-controlled territory. Israeli Defense Minister Yoav Gallant said "no electricity, no food, no fuel" would be allowed into the Palestinian enclave of roughly two million people. "We are fighting animals, and we will act accordingly," Gallant said. United Nations Secretary General António Guterres said he was "deeply distressed" about the siege, saying Palestinian civilians were "trapped and helpless." He called on Israel to let humanitarian supplies through. President Biden said "at least 11 American citizens" were among the 900 dead in Israel. Nearly 700 Palestinians have been killed. The Associated Press, The Washington Post
2. RFK Jr. leaves Democratic presidential primary to run as independent
Robert F. Kennedy Jr. told supporters on Monday he would end his long-shot challenge against President Biden for the Democratic presidential nomination, and run as an independent. Democrats scrambled to note that Kennedy, son of slain former senator and presidential candidate Robert F. Kennedy and nephew of assassinated President John F. Kennedy, has prominent Republican backers and shares anti-vaccine views that tie him to Biden's likely Republican opponent, former President Donald Trump. Trump spokesperson Steven Cheung dismissed Kennedy's campaign as "a vanity project for a liberal Kennedy" exploiting his family name. Kennedy said both parties fear he'll "spoil" the election for them. "The truth is, they're both right," he said. The New York Times, The Associated Press
3. House GOP enters first meeting still divided on next speaker
House Republicans remained sharply divided ahead of the Republican conference's first meeting Tuesday on picking a new speaker to replace Rep. Kevin McCarthy (R-Calif.). The former House speaker was ousted last week in a push by a handful of far-right lawmakers led by Rep. Matt Gaetz (R-Fla.). House Majority Leader Steve Scalise (R-La.) and House Judiciary Chair Jim Jordan (R-Ohio) are vying for the job. Jordan has former President Donald Trump's endorsement, but neither he nor Scalise has lined up the 217 votes needed to be elected speaker. McCarthy has said he wouldn't run to win back his old job, but he declared Monday he would consider it. "Whatever the conference wants, I will do," he told conservative radio host Hugh Hewitt. CNN, The Washington Post
Subscribe to The Week
Escape your echo chamber. Get the facts behind the news, plus analysis from multiple perspectives.
SUBSCRIBE & SAVE
Sign up for The Week's Free Newsletters
From our morning news briefing to a weekly Good News Newsletter, get the best of The Week delivered directly to your inbox.
From our morning news briefing to a weekly Good News Newsletter, get the best of The Week delivered directly to your inbox.
4. Hamas threatens to start executing hostages if Israeli strikes continue
Israel's unprecedented hostage crisis intensified Monday when Hamas militants threatened to start executing some of the more than 100 Israelis captured in southern Israel unless the government eases its bombardment of Gaza. "Any targeting of civilian homes without advanced warning will be met regrettably with the execution of one of the enemy civilian hostages we hold, and we will be forced to broadcast this," said Abu Obaida, spokesperson for Hamas' Al-Qassam Brigades military wing. The announcement underscored the stakes as Prime Minister Benjamin Netanyahu's government considers how to continue its three-day-old offensive in Gaza to retaliate for Hamas' weekend surprise attacks that killed 900 Israelis and wounded 2,400. The Wall Street Journal
5. Biden meets with special counsel investigating classified documents
President Biden met Sunday and Monday with Robert K. Hur, the special counsel investigating how classified documents improperly wound up at Biden's home and an office he used after serving as former President Barack Obama's vice president, the White House said Monday. The voluntary interview at the White House suggested that Hur might be close to completing his investigation. The Justice Department ordered the inquiry after Biden's lawyers reported finding several classified documents mixed in with other papers in a storage closet as they packed up Biden's old office. A search of Biden's Delaware house turned up more classified material, leading Attorney General Merrick Garland to appoint Hur to investigate. NPR, The New York Times
6. Mack Trucks workers walk out after rejecting proposed contract
Union workers at Mack Trucks walked off the job Monday after rejecting a five-year contract the United Auto Workers negotiated with the company. The strike, which involves 4,000 unionized workers, comes as the UAW leads unprecedented simultaneous strikes against all three big Detroit automakers: Ford, General Motors and Chrysler's Stellantis. Union President Shawn Fain told Mack parent company Volvo Trucks that 73% of the workers voted against the deal. The proposal included a 19% pay raise over the contract's five years, including 10% upon ratification and a $3,500 ratification bonus. Also, workers' weekly health care contributions would have remained unchanged. "I'm inspired to see UAW members at Mack Trucks holding out for a better deal," Fain said. The Associated Press
7. Schumer calls for Xi to condemn Hamas
Senate Majority Leader Chuck Schumer (D-N.Y.) met Monday in Beijing with Chinese President Xi Jinping as escalating Middle East violence threatens to aggravate tensions between the United States and China. Schumer confronted Xi over Beijing's failure to condemn Hamas for its weekend surprise attacks that left hundreds dead in southern Israel. "I urge you and the Chinese people to stand with the Israeli people and condemn the cowardly and vicious attacks upon them," Schumer told Xi. The Chinese leader told Schumer that China wants "peaceful coexistence" with the U.S., but didn't mention the violence in Israel and the Gaza Strip. "We have 1,000 reasons to make China-U.S. relations work well and not a single reason to make China-U.S. relations bad," Xi said. Bloomberg, The New York Times
8. White House mulls attaching Ukraine funding to Israel emergency aid
The White House is considering adding Ukraine aid to a request for urgent assistance for Israel as it responds to unprecedented surprise attacks by Hamas over the weekend, The Washington Post reported Monday night, citing several people familiar with the discussions. The move could help the Biden administration push through additional funding for Kyiv opposed by some House Republicans. Ukrainian President Volodymyr Zelenskyy on Monday likened the militant Palestinian group that rules the Gaza Strip to Russian forces that invaded Ukraine last year. "The only difference is that there is a terrorist organization that attacked Israel and here is a terrorist state that attacked Ukraine," Zelenskyy said. "The intentions declared are different, but the essence is the same." The Washington Post, Aljazeera
9. Walgreens pharmacists walk out demanding better pay, staffing
Several hundred Walgreens pharmacists and pharmacy technicians staged a walkout Monday. Like CVS pharmacists who staged a similar strike in late September, the Walgreens employees are demanding better working conditions and staffing, along with more resources to ensure they can do their jobs safely. In addition to filling prescriptions, Walgreens pharmacy employees perform rapid flu and Covid-19 testing, administer vaccines and work with insurance companies on approvals and co-pays. The walkout was scheduled to last through Wednesday. The company downplayed the impact. Company spokesperson Marty Maloney said that due to the walkout, "a small number of our pharmacies are experiencing disruptions, and we apologize for any inconvenience." USA Today
10. Indigenous Peoples' Day proclamation shifts focus from Columbus Day
Americans celebrated Indigenous Peoples' Day on Monday under President Biden's third annual proclamation honoring Native Americans on the federal Columbus Day holiday. Indigenous groups first proposed shifting the holiday away from celebrating the Italian explorer at a 1977 United Nations conference that addressed discrimination against native peoples. South Dakota in 1989 became the first state to replace Columbus Day with Indigenous Peoples Day, and Biden's string of proclamations bolstered a change already underway in a growing number of cities and states. Biden's twin proclamations recognized the "resilience, strength and perseverance" of Native Americans, and the contributions of "all the Italian Americans ... who, for generations, have helped realize the full promise of our nation." NPR

Continue reading for free
We hope you're enjoying The Week's refreshingly open-minded journalism.
Subscribed to The Week? Register your account with the same email as your subscription.