10 things you need to know today: October 5, 2023
Jordan and Scalise launch bids to become House speaker, Kaiser Permanente workers walk out, and more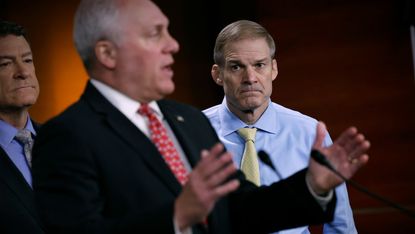 (Image credit: Chip Somodevilla / Getty Images)
1. Jordan, Scalise launch bids to become next House speaker
Rep. Jim Jordan (R-Ohio), chair of the House Judiciary Committee, and Rep. Steve Scalise (R-La.), the No. 2 House Republican, on Wednesday became the first Republicans to say they would run for speaker of the House to replace Rep. Kevin McCarthy (R-Calif.), who was ousted in a historic vote led by eight rebellious, far-right Republicans. Several other Republicans are reportedly considering getting into what is widely expected to be a divisive battle. Republicans have scheduled a vote next week to choose the next speaker. The GOP's infighting over leadership has paralyzed the House as Congress lurches toward another potential government shutdown when a short-term deal to keep the government open expires Nov. 18. Axios, Reuters
2. Kaiser Permanente workers walk out in biggest health care strike ever
Kaiser Permanente workers on Wednesday started the biggest health care strike in U.S. history, with 75,000 employees walking out. The striking employees — in California, Colorado, Washington, Virginia, Oregon and Washington, D.C. — are members of a coalition of eight unions representing 40% of the nonprofit health provider's total staff, including nurses, dietary workers, receptionists, optometrists and pharmacists. The three-day strike over pay and staffing comes in a period of intense labor activity. Auto workers and Hollywood writers and actors also have walked off the job this year, demanding better pay and benefits. Negotiations between the unions and Kaiser Permanente continued on Wednesday. Los Angeles Times, CNN
3. September sets 'bananas' heat record
September shattered heat records, marking the fourth straight month of unprecedented temperatures. The hottest September on record followed a scorching summer. July didn't just set a new high for that month — it was the hottest month on record. September surpassed the previous monthly record, set in 2020, by 0.5 degrees Celsius, according to data released Wednesday by the European Union's Copernicus Climate Change Service. The global average temperature was 16.38 degrees Celsius (61.45 Fahrenheit), 0.93 degrees Celsius hotter than the average September from 1991 to 2020, and 1.75 degrees Celsius hotter than the pre-industrial September average. "September was, in my professional opinion as a climate scientist, absolutely gobsmackingly bananas," said Zeke Hausfather at the Berkeley Earth climate data project. CNN, The Guardian
Subscribe to The Week
Escape your echo chamber. Get the facts behind the news, plus analysis from multiple perspectives.
SUBSCRIBE & SAVE
Sign up for The Week's Free Newsletters
From our morning news briefing to a weekly Good News Newsletter, get the best of The Week delivered directly to your inbox.
From our morning news briefing to a weekly Good News Newsletter, get the best of The Week delivered directly to your inbox.
4. Opening arguments kick off FTX founder Sam Bankman-Fried's trial
Defense and prosecution lawyers on Wednesday made their opening arguments in the trial of Sam Bankman-Fried, the fallen founder of the once high-flying FTX cryptocurrency exchange, which abruptly collapsed last year. A jury of nine women and three men will weigh seven criminal counts Bankman-Fried faces for allegedly siphoning off billions of dollars to fuel a lavish lifestyle. Bankman-Fried allegedly used the money to make political contributions, buy luxury real estate and invest through his hedge fund. Four close advisers have pleaded guilty and three others have agreed to testify against him. Assistant U.S. Attorney Thane Rehn said Bankman-Fried's empire was "built on lies." Defense lawyer Mark Cohen said Bankman-Fried overlooked problems but wasn't a thief. The New York Times Reuters
5. Julia Ormond files sexual assault lawsuit against Harvey Weinstein
British actor Julia Ormond filed a lawsuit Wednesday accusing disgraced, jailed movie producer Harvey Weinstein of sexually assaulting her in 1995. Ormond said that Weinstein, now serving a 23-year prison sentence for rape, "stripped naked and forced her to perform oral sex on him" after they returned from a business dinner to an apartment provided by Weinstein's company, Miramax. Ormond, who starred in "Legends of the Fall," also seeks damages from Disney, Miramax and her former talent agency, Creative Artists Agency. "That sexual assault on Ormond could have been prevented if Miramax or Disney had properly supervised Weinstein and not retained him while knowing that he was a danger to the women he encountered at work," the lawsuit said. Variety, BBC News
6. Russian journalist who protested war sentenced in absentia
A Russian court on Wednesday sentenced former Russian TV journalist Marina Ovsyannikova in absentia to an eight-and-a-half-year jail sentence for protesting against the Ukraine war on the air. Ovsyannikova barged in front of cameras during a news broadcast holding up a placard reading "Stop the war" and "They're lying to you." She was fined after the protest, which occurred less than three weeks after Russian troops invaded Ukraine in February 2022. She later was criminally charged with "spreading knowingly false information about the Russian Armed Forces" for standing across the river from the Kremlin in July 2022 holding a poster calling Russian President Vladimir Putin a murderer. Ovsyannikova, 45, escaped from house arrest and fled Russia a year ago. Reuters
7. Biden announces $9 billion in student loan relief
President Biden on Wednesday announced another $9 billion in student debt relief. About 125,000 borrowers will benefit from the move, the latest Biden has taken to expand student loan relief since the Supreme Court blocked his effort to cancel hundreds of billions of dollars in student debt. "This kind of relief is life-changing for individuals and their families. But it's good for our economy as a whole as well," Biden said. The latest measures include $5.2 billion in relief to 53,000 people covered under Public Service Loan Forgiveness programs, and nearly $2.8 billion for 51,000 borrowers qualifying for "income-driven repayment" who have made 20 or more years of payments without "relief they were entitled to," the White House said. Reuters
8. Simone Biles leads US women's gymnastics team to another record
Simone Biles and her U.S. women's gymnastics teammates won a record seventh consecutive team title in the world championships on Wednesday. It was Biles' 33rd medal across world championships and the Olympics, making her the most decorated female gymnast ever. The American team of Biles, Shilese Jones, Skye Blakely, Joscelyn Roberson and Leanne Wong edged out second-place Brazil and France, overcoming what Biles described as "some mistakes here and there." Biles made her return to international competition at the event in Antwerp, Belgium, after a two-year absence since fighting a mental block known as "the twisties" during the pandemic-delayed Tokyo Olympics. The Associated Press
9. France rushes to address bedbug problem with Olympics looming
France's transport minister, Clément Beaune, on Wednesday called for calm as reports of bedbug infestations in Paris and other French cities spread on social media. For weeks, people in the French capital have been posting videos purportedly showing bedbugs, or "punaises des lits," in movie theaters and on the subway and trains, fueling concerns of a major infestation a year before the Paris Olympics. "There is no [bedbug] resurgence, we must not fall into madness," Beaune said. President Emmanuel Macron's government has called top-level meetings this week to discuss the problem. "Must we wait for your office to be infested before you finally react?" opposition lawmaker Mathilde Panot asked Prime Minister Élisabeth Borne. CNBC, The New York Times
10. Report: Climate change threatens amphibians
Climate change helped push more than 100 amphibian species toward extinction between 2004 and 2022, according to a study published Wednesday in the journal Nature. "It's a gut punch and an awakening," JJ Apodaca at the nonprofit Amphibian and Reptile Conservancy told The Washington Post. The study said the destruction of swamps and the spread of disease among frogs have contributed to the losses. Amphibians might be more vulnerable to rising temperatures because they have unprotected, soft skin, lacking the scales, fur and feathers that protect other species. "Habitat protection alone just won't be sufficient as a risk-reduction measure," said Jennifer Luedtke, an amphibian group coordinator with the International Union for Conservation of Nature and one of the lead authors. The Washington Post

Continue reading for free
We hope you're enjoying The Week's refreshingly open-minded journalism.
Subscribed to The Week? Register your account with the same email as your subscription.