Fact check: are US migrant detention centres really concentration camps?
Congresswoman Alexandria Ocasio-Cortez stands by her controversial claim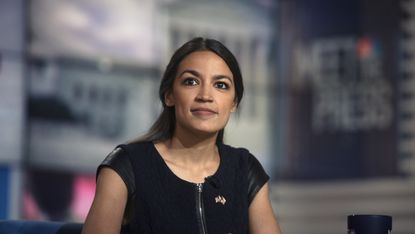 (Image credit: Getty Images)
Democratic congresswoman Alexandria Ocasio-Cortez has triggered a national debate by referring to US border detention facilities as "concentration camps" - a politically charged term that drew the ire of members of the opposing Republican Party.
The row began after the New York representative posted a video on Instagram last month in which she claimed that "concentration camps are now an institutionalised practice in the Home of the Free". The detention of children and other Latin American migrants "is extraordinarily disturbing and we need to do something about it", she added.
Ocasio-Cortez, 29, later followed up on Twitter, adding that detention centres have "brutalized" migrants, who were living in "dehumanizing conditions".
Subscribe to The Week
Escape your echo chamber. Get the facts behind the news, plus analysis from multiple perspectives.
SUBSCRIBE & SAVE
Sign up for The Week's Free Newsletters
From our morning news briefing to a weekly Good News Newsletter, get the best of The Week delivered directly to your inbox.
From our morning news briefing to a weekly Good News Newsletter, get the best of The Week delivered directly to your inbox.
Her comments prompted a fierce backlash from Republicans and Jewish organisations, many of whom accused Ocasio-Cortez of using the term "concentration camp" too loosely, and of allegedly comparing the current plight of migrants at the US-Mexico border with that of the victims of the Holocaust during the Second World War.
Liz Cheney, a Republican congresswoman from Wyoming, was one of the most outspoken critics of Ocasio-Cortez, tweeting that she should "do us all a favor and spend just a few minutes learning some actual history" as her comments had "demeaned the memory" of the six million Jews who were "exterminated in the Holocaust".
Ocasio-Cortez then shot back defending her use of the term, prompting a wave of tweets from experts and pundits in which "academic definitions of 'concentration camp' were screenshot and debated", New York magazine reports, and a "wide array of expert testimony was assembled".
Debate continues online over whether US President Donald Trump's controversial detention centres on the border can be accurately - or indeed ethically - described as concentration camps. But who is right?
What does Ocasio-Cortez allege?
After being rebutted by Cheney, Ocasio-Cortez doubled down on Twitter: "Hey Rep. Cheney, since you're so eager to 'educate me,' I'm curious: What do YOU call building mass camps of people being detained without a trial?"
She added that usage of the term was "not hyperbole" and instead is the "conclusion of expert analysis", adding: "If that doesn't bother you… I want to talk to the people that are concerned enough with humanity to say that 'Never Again' means something."
The comments - and Ocasio-Cortez's decision to double down on them - were met with a swift backlash.
In an open letter posted on Twitter, the Jewish Community Relations Council of New York urged Ocasio-Cortez not to use terminology that evokes the Holocaust.
"The terms 'Concentration Camp' and 'Never Again' are synonymous with and evocative of the atrocities committed by Adolf Hitler's Nazi Germany, in which six million European Jews were systematically denied civil and human rights due to their race and ultimately murdered in state-sponsored genocide," their letter says.
What is a concentration camp?
According to the Merriam-Webster dictionary, a concentration camp is defined as "a place where large numbers of people (such as prisoners of war, political prisoners, refugees, or the members of an ethnic or religious minority) are detained or confined under armed guard".
While this stripped-back definition seems to vindicate Ocasio-Cortez, the dictionary also notes that the phase is "used especially in reference to camps created by the Nazis in World War II for the internment and persecution of Jews and other prisoners".
The reason Ocasio-Cortez gives for using the term is that she was not attempting to compare the detention centres to concentration camps constructed by the Nazi regime - many of which were outright "death camps" in which millions were massacred rather than simply detained.
Instead, the BBC reports, she clarified that she was comparing the detention centres to US Japanese internment camps during WWII.
Either way, NPR notes that the term long predates the Second World War, citing an Oxford English Dictionary entry that defines a concentration camp as "a camp where non-combatants of a district are accommodated, such as those instituted by Lord Kitchener during the Boer War (1899–1902)".
Others have used this argument to claim, like Bernie M Farber in Now Toronto, that the term "concentration camp was not a Nazi invention. Nor does the Jewish community own the term."
But others believe that these dictionary definitions are flexible enough to allow for substantial wiggle room, and that the term can never be fully disconnected from the Nazi regime. Arc Digital, a subsidiary of Medium, says that the purpose of a concentration camp is to "remove unwanted people from the main population", and thus are "far more nefarious" institutions than those on the US-Mexico border.
"Whether that elimination is accomplished by murdering them outright, as countless Holocaust victims were led off the trains straight into the gas chambers, or by imposing harsh working conditions, starvation rations, and a deprivation of proper medical care until prisoners collapse and die, the goal is the same, to wipe out the targeted group of people," the news site says.
Is this what is happening at the border?
The BBC reports that in recent years "thousands of Central American migrants have been seeking asylum in the US, fleeing extreme poverty and insecurity", with US immigration authorities making 396,579 apprehensions on the south-western border in 2018, up from 303,916 the year before.
"Border Patrol stations have become overcrowded and temporary shelters have been created in states such as Texas," the broadcaster adds.
But Refinery29 says that these detention centres have "often been condemned for overcrowding, subpar conditions, and inadequate medical services", with conditions in Border Patrol detention centres "particularly dire".
According to the Associated Press, children were detained in a holding facility in Texas for as long as 27 days "without adequate food, water, and sanitation", while a recent court ruling determined that the US government is "not obligated to provide migrant children in detention with soap, toothbrushes, toothpaste, or beds".
Anika Walke, associate professor of history at Washington University, says that "while in many ways the term 'concentration camp' evokes the cruelty and system of exploitation and extermination of the Nazi regime", it is "not incorrect to evoke this history when describing the refugee detention centers where people are held who are seeking asylum, which is not illegal".
Vox News suggests that "if conservatives truly think that 'concentration camp' is limited to Nazi death camps, where was the outrage when the Trump administration employed it to (correctly) describe the mass detention of Uighurs in Xinjiang?"

Continue reading for free
We hope you're enjoying The Week's refreshingly open-minded journalism.
Subscribed to The Week? Register your account with the same email as your subscription.