Racism and discrimination rife in football, warns new report
Reports of abuse in the sport are up 16.7%, says Kick It Out - so how is the problem being tackled?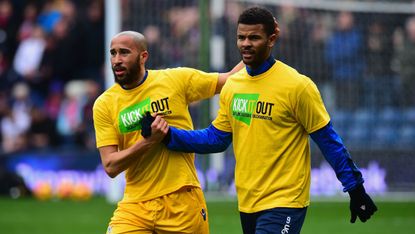 (Image credit: Tony Marshall/Getty Images)
Discrimination reports in football have risen for a fifth consecutive year, with a 16.7% increase in the 2016/17 season, according to a new study by the sport's equality and inclusion organisation Kick It Out.
The body's annual study found that there were 469 complaints of such abuse last season, compared with 402 in the 2015/16 campaign.
The organisation says that nearly half of all such reports in 2016-17 – 48% – were race related, while 21% were HBT (homophobic, biphobic and transphobic) discrimination, and 17% faith related.
Subscribe to The Week
Escape your echo chamber. Get the facts behind the news, plus analysis from multiple perspectives.
SUBSCRIBE & SAVE
Sign up for The Week's Free Newsletters
From our morning news briefing to a weekly Good News Newsletter, get the best of The Week delivered directly to your inbox.
From our morning news briefing to a weekly Good News Newsletter, get the best of The Week delivered directly to your inbox.
Of the 206 professional game reports received by Kick It Out, 56% took place in the Premier League; 34% in the Football League; 9% at non-league (level four or above); and 1% at international fixtures. Professional game reports marked a 53% increase compared to 2015/16.
Already this season, the Premier League and Kick It Out have had to deal with two high-profile incidents involving chants about Manchester United's Romelu Lukaku and Chelsea's Alvaro Morata.
But it's not just at the elite level where discrimination is being reported, but also at grass-roots level and via social media platforms.
Roisin Wood, chief executive officer of Kick It Out, told The Week that more needs to be done to tackle issues throughout the football spectrum.
"For the last five years we have been collating and publicising all the reports that have been given to us and we pass [them] on to the FA [Football Association] and the clubs," she says.
"This year, similar to the past five years, it has gone up again – by 16.7%. We have received 469 reports from grassroots and the professional game. To put that in context, when we started doing this in 2012 we got 77 – so you can see it's quite a significant increase."
Wood adds: "The statistics still reflect that 48% of that is racism, then it goes down to homophobia, transphobia and biphobia, which is about 21%. Faith is 17%, which is mainly anti-Semitism. We still think there is an issue of under-reporting around anti-Muslim hate crime.
"For us, it's really about trying to make sure that reporting is really promoted throughout the clubs, but particularly at grass-roots level, where we think there's significant under-reporting. So we're really trying to focus on grass roots."
Another area where Kick It Out is trying to tackle abuse and discrimination is online, especially on social media platforms such as Facebook and Twitter.
Wood says that all areas of the football community must work together to fight online abuse. One way the organisation is using digital innovation is through its app, available for free on Apple and Android devices. Most of the reports received in the professional game come through the app, she says.
In 2016-17, there were 197 instances of social media discrimination – 42% of the overall reported cases. Racial discrimination accounted for 36% of the total reported cases; HBT for 29%; gender 16%; faith 16%; and disability 3%.
"Social media is quite a significant area of discrimination," Wood says. "We are trying to push both Twitter and Facebook, the CPS [Crown Prosecution Service], police and the clubs to take this as seriously as it's taken in the stadium."
She admits that it's a major challenge. "Social media is a hard animal to master, so we are pushing hard to say 'you wouldn't let it go on in your stadium, so don't let it go on online."
Although Wood believes Kick It Out has "come a long way", she warns there is still a lot more work to be done.
"We've come a long way – we're 25 years old next August – but is there loads to do? Absolutely there is.
"We're pretty good at what we do, but we can never not stop. We need to get better at a lot of different things. Education sits at the centre of everything we do."
In numbers: Kick It Out reporting statistics 2016-17
Total reports: 469 (16.7% increase from 2015-16)
Previous seasons
2012/13: 77 incidents
2013/14: 284 incidents
2014/15: 393 incidents
2015/16: 402 incidents
Type of discrimination in 2016-17
Race: 225 reports (48%)
HBT (homophobic, biphobic and transphobic): 98 (21%)
Faith: 81 (17%)
Gender: 42 (9%)
Disability: 14 (3%)
Other: 9 (2%)
Area of the game
Social media: 197 (42%)
Professional game: 194 (41%)
Grassroots: 78 incidents (17%)
Professional game incidents (involving fans)
194 incidents
Type of discrimination: race – 105 (54%); faith – 41 (21%); HBT – 34 (18%); gender – 6 (3%); disability – 3 (2%); other – 5 (2%)
Participants professional game (players, managers and club staff)
Total incidents: 12
Type of discrimination: race – 4 (33%); gender – 3 (25%); HBT – 2 (17%); disability – 2 (17%); faith – 1 (8%).
Grassroots incidents
Total incidents: 78
Type of discrimination: race – 48 (62%); faith – 8 (10%); HBT – 7 (9%); disability – 6 (8%); sexism – 4 (5%); other – 5 (6%)
Social media incidents (football-related discrimination)
Total incidents: 197
Type of discrimination: race – 71 (36%); HBT – 58 (29%); gender – 32 (16%); faith – 31 (16%); disability – 5 (3%)

Continue reading for free
We hope you're enjoying The Week's refreshingly open-minded journalism.
Subscribed to The Week? Register your account with the same email as your subscription.