Raw milk fad: unpasteurised milk to catch on in Britain?
Raw milk may soon be sold in vending machines in the UK – despite fears that it could be dangerous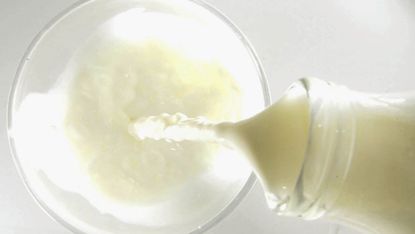 (Image credit: Graeme Robertson/Getty Images)
Shoppers across England, Wales and Northern Ireland will soon be able to buy unpasteurised or "raw" milk from vending machines in supermarkets, as the UK's food safety regulator announced that it would relax restrictions on the dairy product.
Raw milk is currently only available directly from farms and sales are regulated due to concerns that unpasteurised milk can contain harmful bacteria such as E. coli, listeria, salmonella and campylobacter. In Scotland, raw milk is banned altogether.
But demand for untreated milk has recently seen a sharp rise in the United States and is growing in the UK as well. According to Forbes, raw milk is "a new fad that is sweeping the US", with advocates claiming that unpasteurised milk not only tastes better but can help cure allergies, asthma and even autism.
Subscribe to The Week
Escape your echo chamber. Get the facts behind the news, plus analysis from multiple perspectives.
SUBSCRIBE & SAVE
Sign up for The Week's Free Newsletters
From our morning news briefing to a weekly Good News Newsletter, get the best of The Week delivered directly to your inbox.
From our morning news briefing to a weekly Good News Newsletter, get the best of The Week delivered directly to your inbox.
What is raw milk?
In 1862, the microbiologist Louis Pasteur developed a process of heating milk to kill bacteria which became known as "pasteurisation". Raw milk skips this process, and is bottled and sold without any treatment.
Supporters of raw milk say it tastes better and contains "good" bacteria that encourages a healthy digestive system. They argue that pasteurisation strips milk of naturally occurring nutrients. Some say that it is also easier to digest for people with lactose intolerance.
Why is it controversial?
The sale of raw milk has previously been restricted in the UK because it can contain dangerous bacteria including salmonella and E. coli.
Steve Wearne, head of policy at the Food Standards Agency, said that while there are risks associated with raw milk "there is the opportunity for us to make changes which balance modest liberalisation of sales with controls on production that ensure continued consumer protection".
Dairy UK, the industry's trade association, warned that loosening restrictions on the sale of raw milk in Britain presents "significant food safety issues" for consumers. "We are disappointed by the FSA's recommendation to consider wider access to unpasteurised milk in shops," it said in a statement. "Milk pasteurisation provides the public with a microbiologically safe product as raw milk poses a number of health concerns."
Is it really all that bad?
According to the Washington Post, the rise of raw milk in the US has "produced kidney failure in more than a dozen cases and paralysis in at least two".
Advocates of raw milk dispute the report, arguing that infections attributed to raw milk are often caused by other contaminated foods.
But as Forbes notes, lots of studies into the benefits, or otherwise, of raw milk have been undertaken. A review of infectious disease outbreaks across the US from 1993-2006 by the US Centre for Disease Control and Prevention found "the rate of outbreaks caused by unpasteurised milk and products made from it was 150 times greater than outbreaks linked to pasteurised milk".
In the UK the FSA has stopped short of recommending that raw milk should be sold openly in supermarkets, the Independent notes, stating that "full liberalisation" is "not appropriate" because of the possible health risks to consumers.

Continue reading for free
We hope you're enjoying The Week's refreshingly open-minded journalism.
Subscribed to The Week? Register your account with the same email as your subscription.