HSBC to close UK taxpayers' Jersey accounts
Move comes as HSBC battles tax allegations in Switzerland and a perception that offshore accounts are being abused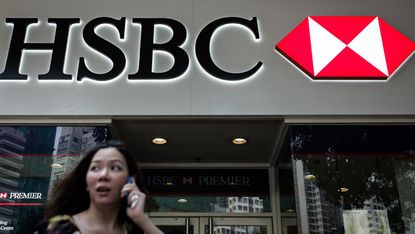 (Image credit: AFP/Getty Images)
Sign up to our 10 Things You Need to Know Today newsletter
A free daily digest of the biggest news stories of the day - and the best features from our website
Thank you for signing up to TheWeek. You will receive a verification email shortly.
There was a problem. Please refresh the page and try again.
HSBC is closing thousands of accounts in Jersey belonging to customers living in the UK.
The policy, uncovered by the BBC, is part of a process in which British lenders are checking the identity and addresses of thousands of their customers on the Channel Islands.
Known as a "remediation exercise", the measure comes amid growing pressure on banks to ensure that offshore accounts cannot be used to shield money from UK tax authorities.
Subscribe to The Week
Escape your echo chamber. Get the facts behind the news, plus analysis from multiple perspectives.
SUBSCRIBE & SAVE
Sign up for The Week's Free Newsletters
From our morning news briefing to a weekly Good News Newsletter, get the best of The Week delivered directly to your inbox.
From our morning news briefing to a weekly Good News Newsletter, get the best of The Week delivered directly to your inbox.
HSBC, which insists it has taken measures to prevent its services being misused, has invited account holders in Jersey to visit local branches with their passports and address details to prevent their accounts being closed.
Following a string of high-profile cases in which banks have been probed over suggestions that offshore or foreign accounts have been used to avoid or evade tax, several lenders are involved in a process known as "de-risking", in which they aim to show that they are complying with a series of global anti-fraud and transparency rules.
There has long been suspicion over Jersey bank accounts. In 2012, the Daily Telegraph said that among the 4,000 British residents with accounts at HSBC Jersey were a well-known drug dealer and bankers facing allegations of corruption.
However, despite commonplace perceptions that the territory is a tax haven, Jersey's finance authorities argue that the island complies with international regulations and said its tax avoidance and anti-fraud rules are among some of the strictest in the world.
Ian Gorst, Jersey's Chief Minister told BBC News that banks "have to comply with the legislation that we have in place".
HSBC files: bank chief Stuart Gulliver holds secret Swiss account
23 February
HSBC's chief executive Stuart Gulliver sheltered millions of pounds in bonuses in a Swiss bank account, leaked documents have revealed.
The 55-year old Oxford graduate has £5m in the account, which he controls using an anonymous company registered in Panama, according to The Guardian.
Despite being based in the UK, Gulliver is domiciled in Hong Kong for legal and tax reasons. This non-domiciled status "can confer several tax advantages on those who claim the status compared with those domiciled in the UK," the newspaper reports.
HSBC has confirmed that Gulliver uses the account to hold his bonuses, but insists that he has paid all relevant income tax in the UK and Hong Kong. It said the account was set up in the name of a Panamanian company for privacy reasons.
The report "does not suggest any wrongdoing on Mr Gulliver's behalf," says the BBC, "but it will add to the questions over HSBC's activities in the tax advisory business."
Gulliver apologised last week after leaked files showed that the bank's Swiss subsidiary helped its wealthiest clients evade tax and has vowed to introduce reforms to the scandal-hit bank.
The revelation comes on the same day Gulliver is due to present the company's annual report and announce the amount of bonuses to be paid to senior staff. He is coming under growing pressure from MPs and shareholders to refuse his bonus, which could exceed £1.3m.
HSBC is currently facing criminal investigations in the US, France, Belgium and Argentina. In the UK, the Financial Conduct Authority, HMRC and MPs on the Treasury Committee are investigating allegations of wrongdoing, but no criminal investigation has been launched.
Lord Ken Macdonald, the former director of public prosecutions, argued that there were strong grounds to open a criminal investigation into the bank for "cheating" HM Revenue and Customs and said the decision not to prosecute was "seriously flawed".
"It seems clear, from the evidence we have seen, that there exists credible evidence that HSBC Swiss and/or its employees have engaged over many years in systematic and profitable collusion in serious criminal activity against the exchequers of a number of countries," he said.
Key findings from the HSBC files:
HSBC advised its customers on a range of measures they could take to avoid paying tax
Customers were assured that details of their accounts would be protected and that the bank would not disclose any details to investigating authorities
HSBC offered its services to clients connected to arms trafficking, blood diamonds and extortion
Other customers included those close to the Syrian leader Bashar al-Assad, celebrities, sports stars and members of various royal families
HSBC files: Geneva bank raided by Swiss police
18 February
Swiss police have raided the offices of HSBC's Geneva branch after opening a criminal inquiry into allegations of aggravated money laundering.
"We are looking for everything and anything we can find – documents and files," said Geneva's prosecutor.
The investigation is being conducted into HSBC Private Bank (Suisse) and "persons unknown", according to The Guardian. It has been launched as a result of files leaked earlier this month which showed that the bank helped its wealthiest clients evade tax.
"The raid appeared to take HSBC completely by surprise," reports the Financial Times. HSBC's Geneva and London offices have both declined to comment on the matter.
Europe's largest bank is currently facing criminal investigations in the US, France, Belgium and Argentina.
HSBC issued an apology following the leaks, but insists it has since implemented numerous initiatives "to prevent its banking services being used to evade taxes or launder money".
Franco Morra, chief executive of the Swiss subsidiary, said last week that it had shut down accounts from clients who "did not meet our high standards", the BBC reports.
Some financial executives have suggested that HSBC was simply "unlucky" for being caught out. "I doubt HSBC was the only bank to have faced these kinds of issues," said one Swiss executive.
The bank was drawn into yet another controversy yesterday, after the Daily Telegraph's Peter Oborne resigned amid accusations that the newspaper refused to run negative stories about HSBC, one of its major advertisers. Peter Oborne's original blog was posted on the OpenDemocracy website yesterday.
HSBC files: whistleblower Falciani says 'there's more to come'
13 February
Herve Falciani, the French-Italian whistleblower behind the biggest data leak in banking history, has warned that there is still more information about HSBC to be revealed.
The former HSBC employee turned whistleblower said the "battle against secrecy" was ongoing and that at least one million pieces of data still needed to be analysed.
Falciani was speaking after the French newspaper Le Monde published a letter he wrote to Her Majesty's Revenue and Customs (HMRC) in 2008, offering them information about the bank and its clients.
HMRC said it had "no knowledge" of the email, but Falciani says he finally feels vindicated now that the files and the email have been made public. "It proved that I'm right," he said.
The bank's former computer specialist is calling on the authorities to prosecute the British bank as a result of his findings. "We have to punish, no matter how big they are," he told the BBC.
His latest warning comes after days of revelations about Europe's largest bank and how its Swiss subsidiary helped its wealthiest clients evade hundreds of millions of pounds in tax. Investigative journalists around the world are continuing to analyse millions of pieces of data. "This is not easy data to understand", says editor Mar Cabra from the International Consortium of Investigative Journalists (ICIJ), which is leading the investigation.
Falciani initially handed over the files to French authorities in 2008. Two years later, the information was shared with other governments, including the US and the UK.
Last year, Le Monde managed to obtain copies from the French Tax Authority and shared them with the International Consortium of Journalists, where a team of journalists have been sifting the data ever since.
The ICIJ alleges that HSBC instructed them to destroy the data when it found out about the investigation.
HSBC: biggest banking leak in history sparks international outcry
10 February
HSBC is under renewed investigation by governments across the globe after secret documents were made public which revealed how bankers at its Swiss subsidiary helped rich clients evade hundreds of millions of pounds in tax.
The biggest banking leak in history has sparked an international outcry, with a judge in Belgium considering issuing international arrest warrants for directors of the Swiss division of the bank, The Guardian reports.
The US government is also facing calls from a member of the Senate banking committee to explain what action was taken when it received the documents back in 2010. Separate investigations are being launched in Switzerland, France and Denmark.
In the UK, the revelations have sparked a huge political debate about tax avoidance and have led to an urgent inquiry being launched by the Public Accounts Committee.
The government stands accused of failing to act when it was handed the secret documents back in 2010. HMRC received a list of over 1,000 UK tax evaders, and although much of the money has been recouped, only one person has since been prosecuted.
Prime Minister David Cameron has said that no government had done more than his to tackle tax evasion and "regressive" tax avoidance, but not everyone agrees.
"We cannot have a country where tax avoidance is allowed to carry on and where government just turns a blind eye," said Labour leader Ed Miliband.
The PAC appears to agree. "If this had been benefits scroungers, they would have been queuing around the courtrooms to have their court appearances," Labour MP and PAC chair Margaret Hodge told the BBC. "You are left wondering, as you see the enormity of what has been going on, what it actually takes to bring a tax cheat to court."
Former HSBC boss Lord Stephen Green, who was made trade minister in 2010, has refused to comment on the leaked files "as a matter of principle".
But Hodge joined growing calls for Green to answer some "really important" questions. "Either he didn't know and he was asleep at the wheel, or he did know and he was therefore involved in dodgy tax practices," she said.
HSBC says it has "implemented numerous initiatives designed to prevent its banking services being used to evade taxes or launder money", since the initial allegations were made.
It says that compliance and tax transparency have now been prioritised over profitability. However, the BBC's Panorama spoke to a whistleblower who alleges that such practices were still going on when she worked with company in 2013. Sue Shelley was tasked with ensuring the bank followed the rules, but was fired after raising concerns. She later won a tribunal hearing for unfair dismissal.
HSBC: leaked files show Swiss bank helped clients hide millions
9 February
The Swiss banking arm of HSBC, the world's second largest bank, helped Hollywood stars, royalty and other wealthy customers dodge taxes and hide millions of pounds, a huge leak of secret files has revealed.
The bank reportedly marketed schemes likely to help rich clients avoid paying European taxes, offered advice on circumventing domestic tax authorities and provided accounts to international criminals.
The Guardian – which obtained the files alongside Le Monde, BBC's Panorama and the International Consortium of Investigative Journalists – describes it as the "biggest banking leak in history", shedding light on some 30,000 accounts holding almost £78bn of assets between 2005 and 2007.
Illegal trader Emmanuel Shallop, convicted of dealing in "blood diamonds", was among the customers offered help by HSBC's Swiss bankers, according to the files.
In a statement, HSBC acknowledged "past compliance and control failures" and said its Swiss arm had not been fully integrated into HSBC after its purchase in 1999, allowing "significantly lower" standards of compliance and due diligence. However, the bank said it had now "fundamentally changed".
Details of more than 100,000 clients from around the world were downloaded by an IT expert working in Geneva in 2007. He was forced to flee to France for breaching Switzerland's bank secrecy laws, where he now lives under protection. French authorities passed on the details of tax evaders, leading to various arrests in Greece, Spain, the US, Belgium and Argentina in 2010.
HMRC also received a list, said to include 1,000 UK tax evaders. "More than £135m ($206m) was quietly recovered in repayments, but only one person was prosecuted," says the Guardian.
HSBC is facing criminal investigations and charges in France, Belgium, the US and Argentina as a result of the leak of the files, but legal action is yet to be taken in Britain.
The line between legally "avoiding" tax and illegally "evading" tax is said to be a thin one. Offshore accounts are not illegal in themselves, but it is unlawful to deliberately hide money to evade tax.
Continue reading for free
We hope you're enjoying The Week's refreshingly open-minded journalism.
Subscribed to The Week? Register your account with the same email as your subscription.
Sign up to our 10 Things You Need to Know Today newsletter
A free daily digest of the biggest news stories of the day - and the best features from our website