Instant Opinion: 'Neglect of science left us exposed to pandemics'
Your guide to the best columns and commentary on Thursday 12 March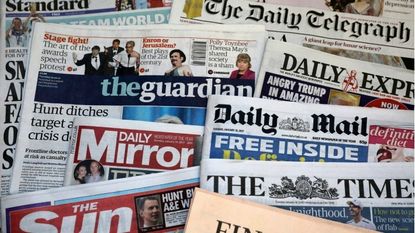 (Image credit: TOLGA AKMEN/AFP via Getty Images)
The Week's daily round-up highlights the five best opinion pieces from across the British and international media, with excerpts from each.
1. Sherelle Jacobs in The Telegraph
on science funding
Subscribe to The Week
Escape your echo chamber. Get the facts behind the news, plus analysis from multiple perspectives.
SUBSCRIBE & SAVE
Sign up for The Week's Free Newsletters
From our morning news briefing to a weekly Good News Newsletter, get the best of The Week delivered directly to your inbox.
From our morning news briefing to a weekly Good News Newsletter, get the best of The Week delivered directly to your inbox.
The West's neglect of science has left us chillingly exposed to deadly pandemics
"The only way to defend ourselves from the ravages of unfettered globalism is massive science innovation. There is one vital insight about the scale of this world crisis, which elites are being very careful not to broadcast: it was categorically avoidable. After the SARS outbreak in 2002, research funding for investigating SARS-like viruses exploded; within three years it fizzled out. We lost 15 years, and because we didn't do the groundwork, precious time is now being wasted testing drugs we use for other viruses and piloting experimental vaccines and combinations. As it stands, it will take until mid next year to find a vaccine. This timetable is (through no fault of the scientists) disgraceful in its slowness; all the more so if you consider that another virus variation or mutation could prove more deadly."
2. Caitlin Dulany in NBC Think
on restoring faith in humanity
Harvey Weinstein sentencing allows victims like me to believe the world has changed
"So when the guilty verdict came in on that fateful Monday morning, I was wholly unprepared to hear the news. I was astounded — in shock and full of emotion all at the same time. All of a sudden it was real. This man who hurt me and so many others was actually going to jail. As tears began streaming down my face, I was immediately flooded with phone calls and texts. I did my best to stay focused, because I very much wanted to use my voice to let anyone who was listening know how important this verdict was for me, for the many other women Harvey had harmed and for survivors everywhere."
–––––––––––––––––––––––––––––––For a weekly round-up of the best articles and columns from the UK and abroad, try The Week magazine. Start your trial subscription today–––––––––––––––––––––––––––––––
3. Bill Scher in Politico
on the dying embers of an era
Reflections on a failed Democratic revolution
"How the near future will impact you, young democratic socialist Berniecrats, remains to be seen. Maybe President Joe Biden would find a way to pass progressive legislation with bipartisan Senate supermajorities, which might change the way you think about compromises. Or maybe he runs into a brick wall of Republican obstruction, further deepening your conviction that only congressional rule changes and a mobilized grassroots can change the system. Or maybe Donald Trump beats Biden, bolstering your argument that Washington insiders peddling bipartisan gruel can't win elections."
4. David Aaronovitch in The Times
on strongmen getting stronger
Populism has revived the president-for-life
"When I was a teenager a lot of the world was run by people who governed till they dropped. Franco in Spain, Tito in Yugoslavia, Marcos in the Philippines, Castro in Cuba and probably some Paraguayan I've forgotten. Then the Berlin Wall fell and the consequent democratic tide washed away the era of strongmen, leaving only relicts, mostly in Africa and the Middle East. Thirty years on, however, and the president-for-life is making a comeback. In country after country populist rulers, faced with constitutional limitations on their periods in office, are responding to spontaneous calls from the masses demanding that they find some way of staying on."
5. Julie Bindel in The Spectator
on inner turmoil
Why a trans woman thinks self-ID is a mistake
"I first met Claudia in 2003 shortly after she had sought legal advice to make a formal complaint about the way police officers had dealt with her report of a serious sexual assault. Claudia had been the victim of an attempted rape, but when she reported it, police undermined and ridiculed her because she was a trans woman. I wanted to write an article about the archaic, sexist diagnosis of 'transsexual', with the notion that it is possible to be 'trapped in the wrong body'. I was not expecting Claudia to tell me, alongside the horrific story of her attack and police negligence, that she regretted undergoing a sex change all those years ago."

Continue reading for free
We hope you're enjoying The Week's refreshingly open-minded journalism.
Subscribed to The Week? Register your account with the same email as your subscription.