Instant Opinion: Britain failing to protect 'poor and powerless' from coronavirus
Your guide to the best columns and commentary on Monday 4 May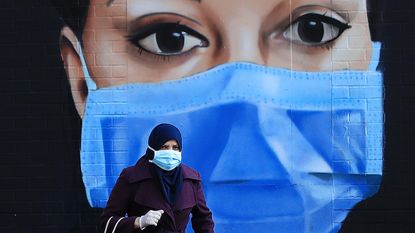 (Image credit: Andrew Redington/Getty Images)
The Week's daily round-up highlights the five best opinion pieces from across the British and international media, with excerpts from each.
1. Nesrine Malik in The Guardian
on Britain's failure to protect its key workers
Subscribe to The Week
Escape your echo chamber. Get the facts behind the news, plus analysis from multiple perspectives.
SUBSCRIBE & SAVE
Sign up for The Week's Free Newsletters
From our morning news briefing to a weekly Good News Newsletter, get the best of The Week delivered directly to your inbox.
From our morning news briefing to a weekly Good News Newsletter, get the best of The Week delivered directly to your inbox.
What is Britain's wealth for if we can't protect key workers in a pandemic?
"There comes a point when we must stop and appraise what it means to be a civilised country, what it means to be a wealthy one. That point is when a man who is carrying the aged, the sick and the vulnerable has to keep showing up to work despite worrying that he is not receiving basic protection in a pandemic. That point is when a nation's health service is so cash-strapped that it has to hire private companies whose worst case scenario isn't the needless death of a worker; it's a loss to shareholders.
"The economic prosperity we have in the UK has been accumulated through years of aggressive liberalisation and privatisation, sacrificing the health, safety, dignity and lives of others. To Britain's vulnerable precariat, this has been apparent for a long time. To them, the crisis was always here. As their deaths swell Britain's mortality toll, we can no longer look at ourselves as a nation and see any metric of affluence that we should be proud of."
2. James Kirkup in The Times
on the UK's centralised economic system
The economy needs to move out of London
"The UK economy is skewed towards services and the capital. If you wanted to depict this economic model in a single picture, it would show a branch of Pret a Manger somewhere in central London. Hardworking young staff, none of them from London, sell quick coffees and sandwiches to people, also not from London, who work in nearby offices creating, buying and selling intangible things to other people who get their coffee from other branches of Pret.
"That model has been a great, if imperfect, success. But while I miss my morning coffee on the way to the office keenly, I can't avoid the conclusion that the Pret economy is extremely vulnerable to the virus and will be very hard, if not impossible, to restart in the same form in the next phase. And perhaps we shouldn't try to. There is a real opportunity to use the crisis to deliver on two big goals that predate the virus and which will remain necessary after the worst of it has gone. An achievable goal of government in post-Covid Britain should be an economy which is less skewed towards London and which emits far less carbon."
3. Charles M. Blow in The New York Times
on the race disparity laid bare by the pandemic
Covid-19's race and class warfare
"This pandemic is likely to not only expose inequalities, but also exacerbate them. America has never been comfortable discussing the inequalities that America created, let alone addressing them. America loves a feel-good, forget-the-past-let's-start-from-here mantra. But, this virus is exploiting these man-made inequalities and making them impossible to ignore. It is demonstrating the incalculable callousness of wealth and privilege that would willingly thrust the less well off into the most danger for a few creature comforts. This crisis is exposing the class savagery of American democracy and the economic carnage that it has always countenanced."
4. Christopher Snowdon, head of lifestyle economics at the Institute for Economic Affairs, in The Daily Telegraph
on the need to end the lockdown
Lift lockdown now or normalise a chilling authoritarianism unprecedented in peacetime
"The Coronavirus Act has given the Government powers that are without precedent in peacetime, including the authority to close any building. The lesser known Health Protection (Coronavirus, Restrictions) (England) Regulation, which are the legal basis for the lockdown, are even more draconian. Their principal stipulations are that 'no person may participate in a gathering in a public place of more than two people' and 'no person may leave the place where they are living without reasonable excuse'. The list of 'reasonable excuses' is short.
"Whilst the public understands the need for these extraordinary measures as a temporary response to Covid-19, the trampling of civil liberties is so extreme that it is imperative that they be repealed, in full, as soon as possible. When should that be? We should never forget that the sole justification Boris Johnson gave for the lockdown when he announced it on television on 23 March was to prevent NHS services being overwhelmed by Covid-19 patients. There was no suggestion that the lockdown should remain in place until the virus was stamped out entirely, nor until other countries had eradicated it, nor until a vaccine had become available."
–––––––––––––––––––––––––––––––For a round-up of the most important stories from around the world - and a concise, refreshing and balanced take on the week's news agenda - try The Week magazine. Start your trial subscription today –––––––––––––––––––––––––––––––
5. Hayley Conick on HuffPost
on how coronavirus will change our shopping habits
Coronavirus Is Going To Change Our Relationship With Food Forever
"By the time you have finished reading this article, over 12,000 tons of food will have been lost or wasted across the global supply chain. It's a staggering figure; the inanity made all the more jarring by the current climate: hundreds of thousands of deaths, millions of jobs lost and people facing desperate situations the world over. Yet, when you hold our food system up to the light, it's clear to see how we got here... Food became a commodity we no longer valued or respected – easy come, easy go. Then coronavirus arrived."

Continue reading for free
We hope you're enjoying The Week's refreshingly open-minded journalism.
Subscribed to The Week? Register your account with the same email as your subscription.