'Vaccine success is on the brink of transforming the lockdown debate'
Your digest of analysis and commentary from the British and international press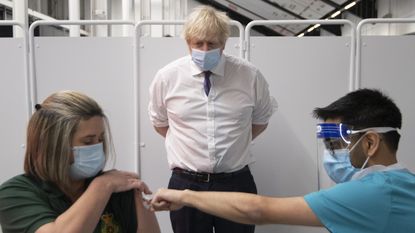 (Image credit: Eddie Mulholland/WPA Pool/Getty Images)
1. Vaccine success is on the brink of transforming the lockdown debate
Fraser Nelson in The Daily Telegraph
on the speedy rollout
"While plenty can still go wrong, ministers remain pretty confident – and more than they let on. Some in government think the official target will be easily surpassed – although they've been told never to confess as much in public. Kate Bingham, who masterminded the vaccine procurement programme, almost let the cat out of the bag recently by saying the schedule will be 'met – and possibly exceeded'. If she's right, and if Covid deaths fall by 80% by mid-March, can lockdown restrictions still be justified? Politically, it's a difficult question and battle lines are already being sketched out."
Subscribe to The Week
Escape your echo chamber. Get the facts behind the news, plus analysis from multiple perspectives.
SUBSCRIBE & SAVE
Sign up for The Week's Free Newsletters
From our morning news briefing to a weekly Good News Newsletter, get the best of The Week delivered directly to your inbox.
From our morning news briefing to a weekly Good News Newsletter, get the best of The Week delivered directly to your inbox.
2. Trumpism's Inevitable End
Michelle Goldberg in The New York Times
on a late reckoning
"At the beginning of the president's reign, I expected this moment of widespread repudiation to come quickly. But Trump survived the special counsel investigation. He survived his first impeachment. When he seemed poised to retain his political influence even after losing a presidential election, I despaired of a reckoning ever coming at all. 'When this is all over, nobody will admit to ever having supported it,' David Frum tweeted in 2019. Two weeks ago, that seemed like wishful thinking. There's a bleak sort of relief in the arrival, after everything, of comeuppance. The question is whether it's too late, whether the low-grade insurgency that the president has inspired and encouraged will continue to terrorize the country that's leaving him behind."
3. These food parcels will last a week, no problem – but only if your child is a millipede
Mark Steel in The Independent
on the food fight
"We should be thankful Chartwells makes a distinction like this, because working class kids have different stomachs to public school kids. In the same way you can't give chocolate cake to a dog, you must be very careful not to let a child at a state school swallow anything fresh. Their stomachs can't take it and rumble, 'Do what, banana leaf wrapped salmon, leave it aht you're 'aving a laugh', and turn the canapés to nitric acid. And I lost count of the number of times when I was a kid, when one of my mates had to take a week off school because of bouillabaisse poisoning."
4. For 50 years, zero tolerance to drugs has failed - yet Britain refuses to change
Simon Jenkins in The Guardian
on a failed war
"There is no longer any debate. Fifty years of British failure and years of foreign efforts at reform show only one thing: that the criminal law is counterproductive. It is game, set and match to reform. Yet terror of any change seems to grip politicians in power. The can is carried by those on the frontline – the police, prison officers, doctors and social workers. Modern democracy is driven not by evidence but by fear. We all know that, sooner or later, the dangers of drug abuse must be tamed, as we try to tame the dangers of alcohol and gambling. But in Britain we must wait for foreigners to show us the way. This is not about facts but about courage."
5. When Zoom meetings get boring, just say 'darn it'
Emma Duncan in The Times
on avoiding Zoom boredom
"In real-life meetings, you're condemned to sit still with an expression of thoughtful interest on your face, but when people are banging on in a Zoom meeting there's nothing to stop you giving in to the temptation to roam. While appearing to be fascinated by a debate on structural economic reforms you can read Indian newspapers or research curtain fabrics. I've now cracked the problem. In a recent meeting, I found myself looking disconsolately at the moth-holes in my jumper, so I got out my sewing kit and started darning. Bingo! Darning, it turns out, occupies bits of my brain that meetings don't and stops my fingers taking me down rabbit-holes on Wikipedia. And there's something pleasing about whiling away the longueurs of the 21st century with a very 19th-century activity."

Continue reading for free
We hope you're enjoying The Week's refreshingly open-minded journalism.
Subscribed to The Week? Register your account with the same email as your subscription.