'Our freedom hinges on whether tomorrow's vaccines can crush new variants'
Your digest of analysis and commentary from the British and international press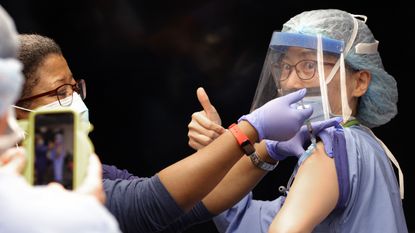 (Image credit: Win McNamee/Getty Images)
1. Our freedom hinges on whether tomorrow's vaccines can crush new variants
Ross Clark in The Daily Telegraph
on bitterweet jabs
"There is no point in merely adding to what, in a few months' time, will be a vast vaccine mountain – when AstraZeneca, Pfizer, Moderna and Novavax have fulfilled their orders we will have enough to vaccinate every adult in Britain four times over. What we really need to be doing now is looking ahead to round two of the vaccine programme: updating the drugs to keep up with all-known variants of the virus. No-one yet knows how long the immunity effect of the Covid vaccines will last. But we do now know that the virus is capable of mutating in such a way as – partially – to evade at least one of them. It would be prudent to assume at this stage that Covid vaccination may have to be an annual affair, and with a vaccine which has been updated every year – just as we do with flu vaccinations."
Subscribe to The Week
Escape your echo chamber. Get the facts behind the news, plus analysis from multiple perspectives.
SUBSCRIBE & SAVE
Sign up for The Week's Free Newsletters
From our morning news briefing to a weekly Good News Newsletter, get the best of The Week delivered directly to your inbox.
From our morning news briefing to a weekly Good News Newsletter, get the best of The Week delivered directly to your inbox.
2. Don't swerve the culture war – that's the lesson from Joe Biden to UK progressives
Owen Jones in The Guardian
on a lesson for the left
"Take trans rights, which has become one of today's totemic 'culture war' issues. Harris has her pronouns in her Twitter bio; Biden campaigned promising trans people, 'We see you, we support you, and we will continue to do everything we can to ensure you are affirmed and accepted just as you are.' He became the first president-elect to thank trans people in his victory speech, issued an order expanding LGBTQ protections and repealed the ban on trans military personnel. There were, of course, howls of outrage: one Republican senator questioned 'Another 'unifying' move by the new Administration?' But according to the polling, it was indeed unifying: more than seven in 10 Americans support trans people serving in the military. Here is an instructive example. Rightwingers often push back at moves to secure rights for minorities on the grounds that they are 'divisive': yet, though noisy and obsessed, they are also unrepresentative."
3. GameStop shows that Biden must fix capitalism before it's too late
Sid Mohasseb in The Independent
on capitalist cracks
"While the responsibility for mass economic prosperity was shifted to big corporations, their focus remained on profits and stock prices. The cracks in the system have become even clearer in the past year – the GameStop debacle is just the clearest crack of them all. The stock market has skyrocketed and individuals like Elon Musk and Jeff Bezos have grown their wealth by billions, just as poverty and joblessness has impacted millions – all while Silicon Valley has had one of its highest investment years ever. Biden has to kill the notion that innovation and its benefits are reserved for the Silicon Valley investors and take away the privilege big corporates and wealthy individuals have enjoyed as gatekeepers in charge of the trickling down of prosperity."
4. Consumers should demand humane slaughter of pigs
Peter Stevenson in The Times
on the meat market
"The use of this inhumane practice is on the increase, with 86 per cent of UK pigs - that is more than eight million a year - being slaughtered in this cruel way. Once they enter the gas chamber they can be seen hyperventilating and struggling to escape. Pigs are curious, intelligent, lively creatures capable of feeling pain and distress. We owe it to them to minimise suffering at slaughter. The industry has made no serious attempt to find a humane alternative to CO2, instead hoping consumers will be reassured by the deceptive term 'humane slaughter'."
5. It's A Sin is beautiful, but it neglects the women who also died of Aids
Juno Roche for The i
on a dramatic omission
"Representation matters because it ultimately leads to funding for research that centres women, for support for the women like the mother I met who kept it secret from her children for years. Without visibility that young girl or older women who tests positive for HIV feels she is the only one and therefore she is not only alone, but has done something that other women don't do. It only needed a single strand of a story, or a contextualised shot of a woman in a bed. A woman with Aids. It was a retelling of history and I, like many other survivors, will be eternally grateful for the sensitivity and compassion woven into the series, but it could have done so much by adding even just a single woman too."

Continue reading for free
We hope you're enjoying The Week's refreshingly open-minded journalism.
Subscribed to The Week? Register your account with the same email as your subscription.