'We are reaping the costs of the sniggering cults of populism'
Your digest of analysis from the British and international press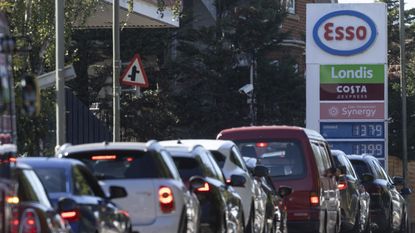 (Image credit: Dan Kitwood/Getty Images)
1. The fuel for this panic is a basic lack of trust
Hugo Rifkind in The Times
on panic buying
"When the pandemic began, a decent proportion of the terror we all felt, I'm sure, came from the bleak spectacle of a government glaringly handpicked for their loyalty in a cheap and dirty culture war now being the people we had to trust with the management of R numbers, PPE shipments and ventilators," writes Hugo Rifkind in The Times. "And I guess the best you can say is that they learnt on the job," he continues. "What they had started out doing, though, was a totally different job." It is one where you earn voter trust "not by solving complexities, but by removing them. Boil it down, sloganise it, call the other lot bastards, boom." He continues: "With petrol shortages, food shortages and looming energy shortages, we are today reaping the cost of the sniggering cults of populism that have defined our politics for the past ten years. It's about flippancy, suddenly caught short." And now it is "near impossible" to trust that the government "is remotely capable of grappling with the huge global economic forces that lead to an empty shelf, empty gas pipes or even an empty lorry cabin", writes Rifkind. "So, we don't. We panic instead."
Subscribe to The Week
Escape your echo chamber. Get the facts behind the news, plus analysis from multiple perspectives.
SUBSCRIBE & SAVE
Sign up for The Week's Free Newsletters
From our morning news briefing to a weekly Good News Newsletter, get the best of The Week delivered directly to your inbox.
From our morning news briefing to a weekly Good News Newsletter, get the best of The Week delivered directly to your inbox.
2. Killing off private schools would be a disaster for the Left
Michael Deacon in The Telegraph
on Labour strongholds
Keir Starmer's plans to tax private schools an extra £1.7bn a year would be "disastrous", says Michael Deacon in The Telegraph, and "not just for private schools – but for Labour itself". Deacon thinks "the reason is simple. Aside from the odd outlier like Mrs Rayner, these days practically all socialists in this country are privately educated. So if Labour puts private schools out of business, where is the next generation of Labour activists going to come from?" English private schools seem to "pump out budding anti-capitalists by the truckload", he writes, from Jeremy Corbyn and Seumas Milne to James Schneider and Andrew Murray. "Perhaps this explains why socialism has never taken hold in this country. Only seven per cent of the population is privately educated. You can't possibly win a general election with a support base as small as that."
3. There doesn't seem to be any reason to celebrate living to 100
Jenny Eclair in The Independent
on extended life
"How do you feel about living to be 100 years old? Apparently the chances you might make it are increasing at an almost frightening rate," writes Jenny Eclair in The Independent. "But how many of us really fancy it? When I was a little girl, I imagined living to be 100 and running a sweet shop," writes Eclair. But "the reality of very old age is often quite different" and my "child's eye view never factored in incontinence – or senility". She continues: "We all age differently and the beacon of light that is held up to most oldies is the likes of Captain Tom, who raised millions of pounds for charity last year before Covid finally claimed him. But for every Captain Tom, there are many very elderly people who, given the choice, would rather quietly shuffle off this mortal coil."
4. Prince Andrew has no good options
Peter Hunt in The Spectator
on a cornered Royal
"It's not a good look, aged 61, to be hiding behind your mother," writes Peter Hunt in The Spectator. "The Queen's favourite son (and one of her blind spots) has a damaged reputation that continues to be pummelled remorselessly." Now that Prince Andrew has finally been served with legal papers in the Virginia Giuffre civil case, his "options include walking away from the process, even at this late stage, and leaving the court to decide in his absence; settling out of court; or contesting the case". Ultimately, says Hunt, "there is no good option for Prince Andrew". Behind the scenes, senior Windsors "will be on bended knee, each night, praying that contesting the case doesn't include putting Andrew on the stand".
5. We underestimated Trump before. It didn't go well
Jamelle Bouie in The New York Times
on Trumpism
"Sometimes, and much to our detriment, we find real events are simply too outlandish to take seriously," writes Jamelle Bouie in The New York Times. Donald Trump's call to "Stop the Steal" was dismissed as a "ridiculous stunt" – yet it ended with an assault on the Capitol. Now, "Stop the Steal" has become "party orthodoxy, ideological fuel for a national effort to seize control of election administration and to purge those officials who secured the vote over Donald Trump's demand to subvert it". Trump will almost certainly run again in 2024, and the US is on its "way to another election crisis". But to the Democrats and remaining pro-democracy Republicans, "the prospect of a Trumpified Republican Party with the will to subvert the next presidential election and the power to do it is one of those events that just seems a little too out there". Instead of "provoking action, the sheer magnitude of what it would mean has induced a kind of passivity, a hope that we can solve the crisis without bringing real power to bear".

Continue reading for free
We hope you're enjoying The Week's refreshingly open-minded journalism.
Subscribed to The Week? Register your account with the same email as your subscription.