'Does it matter if our virtue-signalling is all a bit performative?'
Your digest of analysis from the British and international press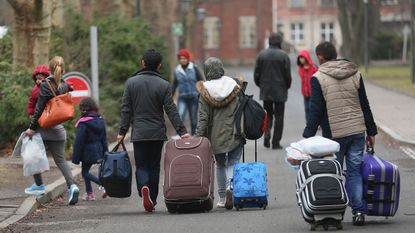 Sign up to our 10 Things You Need to Know Today newsletter
A free daily digest of the biggest news stories of the day - and the best features from our website
Thank you for signing up to TheWeek. You will receive a verification email shortly.
There was a problem. Please refresh the page and try again.
1. Those of us who don't have space for a refugee care passionately too – we just want a way to show it
Judith Woods in The Telegraph
On performative generosity
The people who are "generously throwing open their doors" to Ukrainian refugees are "rightly a source of great pride" in the UK, says Judith Woods in The Telegraph. "But does that make the rest of us who aren't in a position to provide board and lodgings a bunch of selfish meanies?" At the risk of sounding "querulous" and making "it all about us", "those of us who don't have holiday cottages, space or empty nests – care passionately, too. We just want a way to show it, if that doesn't sound too needy". Woods has "pledged to do what I can if a Ukrainian family moves into our street", whether that's "dusting down our trampoline and digging out the Barbies from the basement, providing essentials, or simply a warm welcome and a sense of community". She "has to believe" that is enough "or I won't sleep a wink". Does it matter if our response is "all a bit performative", she asks. "Probably not, as long as we remember we are rallying round the same cause."
Subscribe to The Week
Escape your echo chamber. Get the facts behind the news, plus analysis from multiple perspectives.
SUBSCRIBE & SAVE
Sign up for The Week's Free Newsletters
From our morning news briefing to a weekly Good News Newsletter, get the best of The Week delivered directly to your inbox.
From our morning news briefing to a weekly Good News Newsletter, get the best of The Week delivered directly to your inbox.
2. Pensioner poverty is at a new high – so why are older people still voting Tory?
Polly Toynbee in The Guardian
On generational divides
"It's happening again: elderly people suddenly getting poorer," says Polly Toynbee in The Guardian. An "under-heralded success" of the Tony Blair and Gordon Brown years was to lift so many older people out of poverty that by 2010, "for the first time ever", pensioners were less likely to be poor than the rest of the population. "Still, there's no gratitude in politics, so it didn't stop them voting Tory in ever greater numbers with each year of ageing." In 2019, 64% of over-65s voted Tory, compared with just 19% of under 24s. Meanwhile, life expectancy has gone into reverse. "There is no need to pit one generation against another when it comes to poverty," she says. "Polling shows young people are remarkably generous in wanting to protect older people," which is "far more than the other way round". The "big question", she adds, is "how to lever some of the unearned wealth out of my lucky generation of home owners with old-fashioned work pensions, and redistribute it to whoever needs it, of whatever age".
3. It's time to stop all this changing of the clocks
Ann Treneman in The Times
On sleepy senators
"There is a lot of serious news in the world right now, which may explain why I have become obsessed with a story from America that is seismic but not traumatic," writes Ann Treneman in The Times. "US senators, who these days could not agree on how to tie a shoe (if shoes were still tied), have voted to scrap changing the clocks twice a year. Yes! And it was unanimous." Only a few days after the spring time change in the States, which comes earlier than in the UK, "senators were apparently 'groggy' after losing one hour of sleep over the weekend". "Honestly. Wuss Central." But it "has prompted me to ask: yes, why do we still do it?" Surely, she says, "there's enough doom and gloom without continuing to inflict those awful dark January afternoons on ourselves. Is it, tick tock, time for a change here too?"
4. The backlash to Turning Red exposes how badly we talk to children about their bodies
Harriet Williamson in The Independent
On periods and pandas
The Disney/Pixar movie Turning Red, is "ostensibly about a Chinese-Canadian 13-year-old called Meilin who, due to a magical family blessing-turned-curse, turns into a huge, fluffy red panda when her emotions are running high", writes Harriet Williamson in The Independent. "Really, though, it's about so much more than that," she says. "Concerned" parents have voiced concern that the film is inappropriate for kids because periods are discussed. "I hit puberty early, starting my periods before 13, and I absolutely hated it," she says. "I was consumed with embarrassment, and even the thought of talking about it – with anyone – made my chest constrict with panic and horror." Maybe, she says, "if Turning Red – or something like it – had been around and on my radar, it would've all felt a bit less terrifying". This subject matter, she feels, is "where kids' films should be going – pads, periods and all – and the haters, quite frankly, can go hug a panda".
5. Why are so few Americans willing to defend their country?
Lionel Shriver in The Spectator
On skedaddling sorts
"For many of us war voyeurs watching the news with a glass of sherry, admiration of the little-engine-that-could Ukrainian fighters is underwritten by unease," writes Lionel Shriver in The Spectator. "The question nags, then: in the same circumstances, would we stick around to defend our homelands, or would we cut our losses and get out?" A recent poll that asked Americans just that question found that "an astonishing 52% of Democrats predicted that they'd skedaddle." Thanks to 70 years of "big-picture peace… most of us westerners have never been forced to decide whether to put our lives and bodily wellbeing on the line for our countries and compatriots." Shriver admits that she has "no idea how I'd respond as an American" if the US were under attack because "extreme circumstances are prone to reveal things about character that are impossible to access in calmer times". Thanks to a "temper like Mount Vesuvius", maybe "I'd be out on the streets ragingly rat-a-tat-tatting with my M16", she adds. "But I'm as soft and spoiled as anyone. So for all I know, I'd instead be throwing a case of wine into a waiting SUV."
Continue reading for free
We hope you're enjoying The Week's refreshingly open-minded journalism.
Subscribed to The Week? Register your account with the same email as your subscription.
Sign up to our 10 Things You Need to Know Today newsletter
A free daily digest of the biggest news stories of the day - and the best features from our website