Millions watched Mayweather vs McGregor via illegal online streaming
The Money Fight is thought to be the most pirated event in history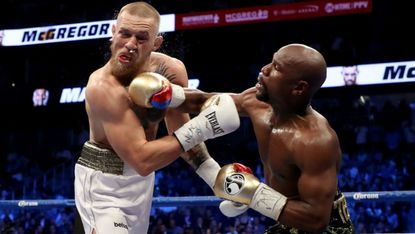 (Image credit: Christian Petersen/Getty Images)
Sign up to our 10 Things You Need to Know Today newsletter
A free daily digest of the biggest news stories of the day - and the best features from our website
Thank you for signing up to TheWeek. You will receive a verification email shortly.
There was a problem. Please refresh the page and try again.
Last weekend's mega-fight between Floyd Mayweather and Conor McGregor was illegally streamed by more than 2.9 million people, according to the content-security firm Irdeto.
One of the most talked about boxing matches in history, pay-per-view and TV revenue for Mayweather vs McGregor was expected to have broken the $400million (£309.4m) barrier, The Independent reports.
But figures released by Irdeto reveal that millions of dollars were lost after 239 illegal streams attracted an estimated 2,930,598 viewers.
Subscribe to The Week
Escape your echo chamber. Get the facts behind the news, plus analysis from multiple perspectives.
SUBSCRIBE & SAVE
Sign up for The Week's Free Newsletters
From our morning news briefing to a weekly Good News Newsletter, get the best of The Week delivered directly to your inbox.
From our morning news briefing to a weekly Good News Newsletter, get the best of The Week delivered directly to your inbox.
"Live sports are a cornerstone of global piracy, with thousands of sites providing illegal content attracting millions of viewers," said Rory O'Connor, senior vice president of Irdeto.
"When combatting live sports piracy, speed in disrupting piracy is essential. This is especially the case with premium events like this past weekend's Mayweather vs McGregor boxing match."
In the US, the pay-per-view price was $99. Showtime, the broadcasters of the fight, had tried to stop the illegal streams. Despite this, the fight was expected to be the most pirated event in history.
Meanwhile, Showtime will provide refunds to pay-per-view customers who were unable to watch the blockbuster fight.
Technical glitches with Showtime's official live stream meant the start of the fight was delayed by about ten minutes.
Variety reports that Showtime will issue a $99.99 (£76.67) refund for customers who purchased the pay-per-view access in HD through the network's direct-to-consumer service. If fans bought access through distributors such as UFC's Fight Pass or via cable or satellite TV operators, they would need to request a refund direct from that provider.
"We have received [a] very limited number of complaints overall," said Chris DeBlasio, senior vice president of communications for Showtime Sports.
"We are reviewing all of them carefully and will respond to them accordingly."
Variety also says that fight fans who had bought the pay-per-view package through UFC's Fight Pass were directed to Showtime's website after the Fight Pass stream failed.
UFC says it is reviewing each request on a "case-by-case basis". In a statement, UFC said: "We're incredibly disappointed by the technical difficulties that were experienced Saturday night, and we're working with our vendor NeuLion to assess exactly what happened."
Angry fans turned to social media to voice their complaints and one man in Portland, Oregon, has filed a class-action lawsuit against Showtime. He is seeking 'monetary damages'.
Mayweather vs McGregor: Who will win?
26 August
From boxers to actors, everyone has had their say on this weekend's Floyd Mayweather vs Conor McGregor fight.
Will Money Mayweather extend his record to 50-0 or can the UFC's Notorious star cause a huge upset?
The bookies predict a victory for Mayweather and Paddy Power have even paid out on an early win for the American. But there is support out there for the Irishman.
We round up the predictions for the big fight night in Las Vegas...
Boxers and trainers predictions
Lennox Lewis, former world heavyweight champion: "You are talking about one discipline where you can use only your hands and only a few can do it. Every battle sport starts with your hands but they are two totally different sports. Floyd will stop him. He's just too good at boxing for McGregor and McGregor is too inexperienced at boxing. He can't use his other styles."
Tyson Fury, British boxer: "I think McGregor will do him inside one round. Come on, McGregor!"
Peter Fury, Tyson Fury's uncle and trainer: "McGregor is going to get knocked out, and quickly. He's going to come in and force his hand. He has to press, to attack, and as soon as he does, he's in deep trouble. His only chance would be to be rough, tough and aggressive."
Ricky Hatton, lost to Mayweather in 2007: "I feel embarrassed to say this but I'd be very surprised if [McGregor] wins a round. I hope he does well, I hope he wins; there's no doubt whose corner I'm in, but if you're asking me to be brutally honest I can't see anything other than a shut-out for Mayweather."
Shane Mosley, lost to Mayweather by unanimous decision in 2010: "I see Mayweather having a great time in there, smiling and laughing while McGregor is trying to hit him and find him. I think Floyd, if he wants to, can knock him out by the fourth or fifth round. I think that he'll give the fans a show. When Conor gets hit by Floyd, he will feel like he will have been hit by the hardest puncher he's ever been hit by in the UFC."
Tony Bellew, British boxer: "People will be in absolute shock when they see how easy this is going to be for Mayweather. Canelo Alvarez couldn't beat him. Ricky Hatton couldn't touch him. Oscar de la Hoya and Manny Pacquiao both tried and both failed. Mayweather doesn't get called one of the greats for nothing."
Deontay Wilder, American heavyweight boxer: "It's definitely an easy fight for him [Mayweather]. I think he knows it. I think Conor knows it. I think it's more of a money stunt for McGregor. Everybody that fights Floyd, they think about the money. Some of them really think they can beat him and they can go in there and really test him like [Marcos] Maidana did. You know Maidana was really hungry to beat him. But with McGregor, everybody's got a chance. This is fighting, this is combat, and whoever got the better strategy will win, but this is easy money for Floyd."
Andre Ward, American boxer: "I think McGregor will be wild for the first three rounds, but when he starts to tire, Floyd will take over and we could see a big knockout."
Jason Quigley, Irish boxer: "Everybody thinks he has no chance, apart from myself, but Conor has the whole of Ireland behind him and anybody with the whole Ireland behind them is going to give someone problems. I'm not going to change my prediction, I think Conor McGregor is going to knock Floyd Mayweather out."
Boxing writers' predictions
Josh Katzowitz, Forbes contributor: "McGregor will be aggressive early in the fight, because he's got nothing to lose. He won't connect much with Mayweather, if at all, and by the fourth round, McGregor will be tired and frustrated. That's when Mayweather will move in to punish McGregor."
Simon Crawford, sportinglife.com boxing writer: "Having beaten the likes of Pacquiao, Saul Alvarez, Miguel Cotto, Shane Mosley, Oscar De La Hoya and Britain's own Ricky Hatton in a 49-0 perfect career, I just don't see how Mayweather can lose to a man making his boxing debut."
Adam Matues, Sky Bet's UFC expert: "Punch for punch, McGregor is the harder hitter but if he doesn't land the big punch early on, then my head says he has lost his small window of opportunity and Mayweather will cruise through the middle rounds whilst frustrating and draining his opponent."
Sports stars and entertainers' predictions
Rory McIlroy, golfer: "This isn't just because I know Conor, but I think he's got a chance, in the first four rounds, if he roughs him up a little bit and connects with a few left hands… If he gets in there and he's sort of different and awkward, weird and unorthodox, you just never know."
Idris Elba, actor: "In my opinion, I think that McGregor has a really good chance of winning that fight. I love Floyd, he's a friend - he's gonna fight his fight. But I think McGregor is gonna topple that, he's gonna topple his composure, he's gonna throw some things around that Floyd's not gonna be used to."
Nelly, rapper: "I don't think Conor's going to win but Conor getting knocked out, getting his ass kicked, I don't think that's going to happen - I don't think he's going to get knocked out. Points, I definitely think Floyd will win the decision."
For boxing's sake, Mayweather must beat McGregor in style
25 August
For boxing to preserve its position in the mainstream, sport pundits believe it's vital Floyd Mayweather is victorious over mixed martial arts star Conor McGregor this weekend in Las Vegas.
"This bout is really about the future of the sport and the challenge to it that is the rise of UFC," says John Davidson in The Sportsman.
"It is a battle between the old and traditional sporting pursuit that is the sweet science, the one of Muhammad Ali, Sugar Ray Robinson and Mike Tyson, against the up-and-coming, new kid on the block."
Judging by the fans' reaction and press coverage of the build-up, McGregor and UFC are the big winners even before the fighters step into the ring.
This fight has pushed the UFC organisation to new prominence. Investors will be pleased with the increased visibility of its brand and the social media buzz it has created from the Mayweather vs McGregor circus.
But if the biggest star of UFC beats one of boxing's greatest ever fighters, at his own game, what does this do for the future of boxing, asks Chris Mannix on Yahoo's The Vertical.
Looking back at the 2015 fight between Mayweather and Manny Pacquiao, Mannix says boxing had its biggest night in decades and was deemed a commercial success with 4.6 million pay-per-view buys.
"It was boxing's moment, its chance to hook millions of casual fans," writes Mannix, but "it was a disaster."
Billed as the fight of the century, it failed to live up to expectations. The richest match in boxing history "was also arguably its most disappointing".
Mark Taffet, HBO's former senior vice president, said the damp squib of a fight had serious commercial consequences.
"It cast a shadow for a while on pay-per-view," said Taffet. "It was one of the fights that had the greatest differential that I can recall between expectation and delivery. On pay per view, where people paid a lot of money and are very demanding, we felt there was a negative impact."
This time around, boxing can't afford a repeat performance. The UFC, bought last year by WME-IMG in a $4bn (£3.1bn) deal, has come in all-guns-blazing to compete for the same pay-per-view dollars and casual fight fans.
There's more at stake here than just a few hundred million dollars and a belt encrusted with 3,360 diamonds, 600 sapphires, 300 emeralds and 1.5kg of solid gold.
If Mayweather wins, he can retire – again – with a 50-0 undefeated record (eclipsing Rocky Marciano's) and ensure his boxing legacy as one of the greatest of all time. If he loses to a man making his professional boxing debut, then he won't only hurt his own record, pride and legacy but also the sport of boxing as a whole.
Is Conor McGregor's self-belief swaying boxing pundits?
24 August
The circus, trash talking and pantomime-like build-up to Mayweather v McGregor was ramped up again last night when the two fighters came face-to-face at a press conference in Las Vegas.
But while Floyd Mayweather and Conor McGregor continued their usual verbal slugfest days before this weekend's blockbuster bout at the T-Mobile Arena, some pundits have started to focus on one scenario that few even thought possible weeks ago... can McGregor actually win?
There's no doubting that the Irish mixed martial arts star can talk a great game, but is his supreme self-confidence having a positive effect on boxing traditionalists and commentators?
Writing in The Guardian today, Les Carpenter asks the question: what if everybody is wrong and Conor McGregor beats Floyd Mayweather?
"Few experts feel McGregor has a chance in a boxing match against this generation's most dominant boxer," Carpenter writes. "But scarce were the experts who believed Donald Trump could beat Hillary Clinton, or that Buster Douglas would defeat Mike Tyson."
Fair point.
"The unimaginable sometimes does happen," he continued. "And if it does, if McGregor really beats Mayweather, it will propel him to a greater height than even he might have dreamed."
That's exactly why McGregor is taking on Mayweather at his own game – the talk, the money and now the boxing. McGregor wants to create his own legendary status in sport.
Judging by his comments at the press conference the Dublin-born 29-year-old is not holding back. The Telegraph reports that McGregor accused Mayweather of having a "big-time gambling problem".
After Mayweather had said he would consider "putting the most I've ever done at the sports book" on extending his unbeaten record to 50-0, McGregor replied: "He needs to let that gambling go – he's a bit heavy on that gambling.
"He's always talking about doing it and then not doing it. I don't really care. You don't really see many winners in those types of places.
"I certainly know he has a big-time gambling problem, from seeing him. He gambles on half-times and things like that. He shows what his wins are, never shows what the losses are.
"Maybe that's why he's in the position he's in and he had to take this fight. I'm focused on the fight, not gambling."
After a member of Team Mayweather dared McGregor to bet his purse, a reported £59m, the Irishman responded: "That's no problem, we can bet the purse."
The Sun's press conference coverage focuses on McGregor vowing to "break this old man" and create his own MMA-boxing hybrid sport after Vegas.
Speaking about his chances and his future sporting plans, McGregor said: "I'm very happy with how the camp has gone, everything has been amazing. I will go forward and put the pressure on him and break this old man.
"I can go into any rule set. That's what a top martial artist can do. I'm skilled in many forms of fighting. After I win on Saturday night I can certainly compete in both sports. Once I'm the king of boxing and the octagon I'll create my own hybrid. I will be looking to compete all over the place."
With personal appearances being advertised all week at his strip club, some pundits have questioned if Mayweather is taking the fight seriously.
The American reacted to the claims by saying: "To be in the sport for 21 years I have had to take it extremely seriously.
"It's about the best fighting the best. He's the best at what he does, I'm the best at what I do. It comes down to the skills and us guys fighting and competing to give you what you want to see.
"After 21 years I've been hit with everything and I'm still right here. Manny Pacquiao had bombs, Canelo Alvarez had bombs, Shane Mosley had bombs. Those guys are all going to the hall of fame. But I've got a granite chin. The same way you give it, you have to be able to take it."
Mayweather vs McGregor: Tempers flare as boxing rivals arrive in Las Vegas
23 August
If the fighters' arrivals are anything to go by, this weekend's Mayweather vs McGregor bout is going to be one tasty encounter.
As Floyd Mayweather and Conor McGregor made their grand entrance in Las Vegas ahead of Saturday's fight, things got a little heated in front of thousands of fans.
The Sun reports that Irishman McGregor was involved in feisty encounters with Team Mayweather and former sparring partner Paulie Malignaggi.
Malignaggi and McGregor have been involved in a very public spat after footage was released of an alleged knockdown of the former two-time world champion during a training camp.
After quitting the camp and still unhappy about his treatment, Malignaggi waited for the Irish star to arrive in Las Vegas. What followed was a verbal exchange between the two outside the arena.
Malignaggi: "Did you bring your balls, Conor?"
McGregor: "What you saying? It's over, get over it – you got your ass whooped."
Malignaggi: "When we were sparring, remember what I said when you quit like a b***h on Saturday."
At the outside stage set up for the grand arrival, McGregor also had a heated altercation with Mayweather and his entourage.
Mayweather did not answer any questions regarding the exchange, but the Daily Telegraph reports it was over the lack of the traditional face-off between fighters.
McGregor said: "There was a face-off [scheduled], then there was no face-off, and then I saw him and said, 'What, are you afraid of a face-off today?'. He didn't say anything, but then the goons, the big goons that he surrounds himself with started pushing and shoving.
"And then it was just a pushing and shoving contest, and that was it. Nothing really happened. I didn't hear what his response was. It just became a pushing and shoving match."
But speaking to Fight Hype, Mayweather went on to accuse McGregor of being overweight. "The fight is not going the distance, no matter what he says," the American boxer said. "He's getting knocked out. Conor McGregor is extremely heavy right now, extremely heavy."
The final press conference will take place later today, and the weigh-in is set for Friday.
Mayweather vs McGregor a 'farce', says Lennox Lewis
21 August
British former world heavyweight champion Lennox Lewis is no stranger to a huge fight night – but don't expect him to rush to Las Vegas for this weekend's blockbuster bout between Floyd Mayweather and Conor McGregor.
For Lewis, a three-time world heavyweight champion, has not been exactly complimentary about the hype surrounding 'The Money Fight'.
In an interview with BBC Sportsweek, Lewis said the Mayweather vs McGregor fight was "a farce", but that he believed the American, who is 40, would extend his undefeated run to 50-0.
"There is tremendous build-up and hype but I don't really take it as a serious fight," said Lewis. "Nothing is ever obvious when it comes to gimmicks and hype. Mayweather should win it."
Lewis also told BBC Radio 5 live: "I wouldn't count a fight like this as a 'fight'. [McGregor] is basically boxing a guy that is a UFC fighter and not a boxer.
"Everybody wants to know what's going to happen. Is McGregor going to throw a kick because, obviously when he resorts to boxing and realises he is no match for Mayweather, what will he do? How will he get around that?
"No other boxers from 49 fights have figured out how to beat Mayweather – now a UFC fighter that doesn't even have a boxing career is trying to beat him at boxing – I think it's a farce to a certain degree.
"I don't think it is a fight that I am going to jump on a plane and go to see unless they pay me to commentate on it."
But Anthony Joshua, the unified world heavyweight champion, has hit out at critics and praised promoters for creating a "mega-event" that is set to draw five million pay-per-view buys.
After saying the Mayweather vs McGregor critics were out of touch, Joshua told the Daily Telegraph: "They have done a great job of promoting a huge event in the combat sports world.
"It has become a global event. It's rubbish [to criticise it]. Why weren't they complaining all those years ago when James Toney stepped in the UFC Octagon with Randy Couture. The fans are deciding and that's why this fight is happening."
Joshua also believes that Mayweather will have too much experience for McGregor to stand any real chance of victory. "Everyone has a chance in a fight, but Mayweather is the very elite of boxing," he said. "He is 49-0 for a reason."
Floyd Mayweather talks up Conor McGregor's chances... again
16 August
With just ten days to go until Floyd Mayweather and Conor McGregor come face to face in the boxing ring, the undefeated American has once again been talking up his opponent's chances.
Few people aside from Mayweather, and presumably McGregor himself, believe the Irish mixed martial arts fighter has a chance, but the boxer was unusually modest about his chances.
In what could be interpreted as a shameless sell for the fight, Mayweather told talk show host Jimmy Kimmel that he owed his fans a "blockbuster" after the disappointment of his routine victory over Manny Pacquiao in 2015.
"The 40-year-old, who is renowned in the sport for his incredible defensive style, was asked whether he believes McGregor will actually land a single blow," says the Daily Mail.
He confirmed that McGregor would have a puncher's chance. "He's going to land shots because in this fight I'm going straight ahead," he said. "Normally it's more taking my time, being very cautious, but this time I'm going straight ahead."
Mayweather also reflected on the fortunes of Pacquiao, who suffered a shock defeat to Jeff Horn earlier this year, and came up with another reason to back McGregor, says USA Today.
"Hearing all this stuff about how I can't lose and [McGregor] is a huge underdog is not good for your head if you think about it too much," Mayweather said.
"Boxing is full of surprises and even though you prepare yourself in the best way you can there is always the chance of something you never dreamed of happening. That's why this fight is exciting. Look at what happened to Pacquiao. Nobody gave [Horn] any chance in the fight, and then Pacquiao came out and lost."
Pacquiao himself is not so sure and believes McGregor can only win if he gets "lucky," reports The Sun.
"McGregor has no chance in this fight," said the Filipino great.
"Pacquiao also questioned McGregor's professional experience and stressed the difficulty of the task in hand," says the paper.
"There is no way he will be able to land a meaningful punch on Floyd… How could he? He has no professional experience in boxing."
Continue reading for free
We hope you're enjoying The Week's refreshingly open-minded journalism.
Subscribed to The Week? Register your account with the same email as your subscription.
Sign up to our 10 Things You Need to Know Today newsletter
A free daily digest of the biggest news stories of the day - and the best features from our website