The best songs of 2022
Here's what critics say were the year's biggest and best hits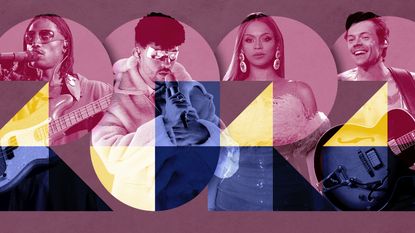 (Image credit: Illustrated | Getty Images)
With 2022 fading into the rearview, it's time to revisit the songs that kept us company on this long 12-month drive. Grab your headphones — these are the best tracks of the year, according to the critics:
The big picks
'Titi Me Preguntó,' Bad Bunny
Bad Bunny's smash "Titi Me Preguntó" has unsurprisingly dominated a number of year-end lists, including round-ups from Esquire, Pitchfork, and Time. The tune marks Benito Martinez Ocasio's first solo foray into dembow, a Dominican genre reminiscent of reggaeton, and offers listeners a tongue-in-cheek look at the rapper's "amiable disregard for monogamy" as disclosed to his stereotypically concerned Latin American aunt, writes Pitchfork's Alfred Soto. Producer MAG treats the track "like a coming-out party, lavishing [Bunny] with keyboard swirls, sampled camera effects, a beat switch-up in the outro, and, terrifyingly, his aunt to shake her finger at her nephew." The star is all too happy to share his sexual exploits, though "what really wants is … love."
"Titi Me Preguntó" is "a hilarious tirade of salacious puns" that "unexpectedly morphs into moody self-reflection," adds Ernesto Lechner for Rolling Stone, which ranked the song its No. 1 for the year. "More than any other track off Un Verano Sin Ti, 'Tití Me Preguntó' showcases Benito's unbridled creativity, his eccentric pop genius."
Subscribe to The Week
Escape your echo chamber. Get the facts behind the news, plus analysis from multiple perspectives.
SUBSCRIBE & SAVE
Sign up for The Week's Free Newsletters
From our morning news briefing to a weekly Good News Newsletter, get the best of The Week delivered directly to your inbox.
From our morning news briefing to a weekly Good News Newsletter, get the best of The Week delivered directly to your inbox.
'Cuff It,' Beyoncé
If you're shocked to see "Cuff It" among the best songs of the year, you probably weren't paying attention. A standout from Beyoncé's club-ready Renaissance, the funky beats and disco-inspired production of "Cuff It" have made for perfect party listening (even for those unaware of the accompanying TikTok trend). The song's impact is "undeniable," Mankaprr Conteh writes for Rolling Stone. "Beyoncé reached the pinnacle of the modern throwback."
"Born out of the stillness of the pandemic," "Cuff It" dazzles with Bey's "inimitable command of melody, dizzying and enchanting with each clever phrase," Paolo Ragusa adds in Consequence of Sound. And over at NME, where "Cuff It" is ranked No. 1 of the year, Hannah Mylrea declares this "funk-laden earworm" an "unexpected gift to the pop canon of all time, let alone 2022."
'As It Was,' Harry Styles
"As It Was," the synth-filled lead single from Harry Styles' Harry's House, is, among other things, an ode to change and vulnerability. "It's a quietly beautiful thing, then, that ["As It Was"] became [Styles'] biggest hit to date, proving that opening yourself up to the world doesn't always have to be a risk," says Sophie Williams for NME, who slated the track at No. 3 for the year.
And though upbeat, Styles' lyrics are "self-referentially melancholic as he accepts the reality of change that even he is not quite ready for," adds Kristin M. Hall for The Associated Press. "Thank you to the year's leading man for giving everyone a lot to talk and sing about." (Well, someone should probably thank Olivia Wilde, too.)
'N95' and 'The Heart Part 5,' Kendrick Lamar
The king is back. Following the atmospheric success of his Pulitzer Prize-winning Damn., Kendrick Lamar returned this year with the potent Mr. Morale and the Big Steppers, which contains two tracks that have dominated 2022 best-of lists: "N95" and "The Heart Part 5."
On "N95," Lamar "uses a now all-too-familiar token of the pandemic as a metaphor: Take off our 'masks' and start being real with our people and with ourselves," Marcus Shorter writes at Consequence. Lamar "rebelling for a cause isn't anything new, but he never sounds better than when he goes against the grain and calls out his peers for being fake."
And on "The Heart Part 5," the rapper continues what's seen as his long-running "Kendrick State of the Union" by adding another chapter to "The Heart" series that began in 2010, muses Vulture's Alex Suskind. The song and lead album single is "drenched in paranoia and death" as Lamar works to "hold a mirror up to himself, his peers, and his community — for what they've built, where they have to go, and what he needs out of them." But Kendrick should not be "ashamed to indulge his ambitions to moral superheroes" — in fact, that's "exactly what the world wants," adds Adlan Jackson for Pitchfork, "and it's what Kendrick wants, too."
'Spitting Off The Edge of the World (feat. Perfume Genius),' Yeah Yeah Yeahs
If there's one thing music critics have in common, it's a unified joy at the return of the Yeah Yeah Yeahs, the quintessential indie rock group behind legendary tracks "Heads Will Roll" and "Maps." Thankfully, the trio's comeback is just as triumphant as one would hope, delivering "the kind of fist-pumping energy that Karen O and company are known for," writes AP's Hall. "Spitting Off The Edge of the World" is a "great return to form for a band that has always pushed the boundaries."
The "cavernous" track, which serves as a big ol' "screw you" to the powers that be, is "grand and ruined, wracked and comforting, furious and hopeful, adding new shades to O's already kaleidoscopic palette," says Laura Snapes for The Guardian. It's "cinematic" and "quietly epic," muses Pitchfork's Jenn Pelly, and "the frustrated yet defiant end credits song for the previous generation," adds Consequence's Ben Kaye. BuzzFeed News' Estelle Tang concludes similarly: "Deceptively simple and unadorned, it's what the end of an era sounds like."
The breakouts
'American Teenager,' Ethel Cain
Hayden Anhedönia — or Ethel Cain, as she's stylized herself — has had quite the year. This indie breakout, with a sound somewhere between Florence + The Machine and rock bands of years past, cemented her title as a 2022 critics' darling after her Americana pop tune "American Teenager" earned a spot on a number of prestigious best-of round-ups, including those from The New York Times, Pitchfork, and The Guardian.
"Midwest emo as refracted through Southeastern parchedness under a filter of radio pop-rock," "American Teenager" delivers "devastating sentiment about the emptiness of the American dream and the hopelessness of those subject to its whims," writes the Times' Jon Caramanica. It's a "relatable rush of youth" with an "arena-rock reverb that wouldn't sound out of place on Born in the USA," muses Vulture's Suskind. And further, it's "the story of a kind of American girl so often overlooked," adds Paste's Jacqueline Codiga. Perhaps that's a reference to Cain's identity as a transgender woman; or perhaps it's just an homage to the Southern Gothic-loving, religion-infused music that Cain, unlike anyone else, can create.
'Bad Habit,' Steve Lacy
An unlikely viral hit, Steve Lacy's multi-genre "Bad Habit" has taken both the charts and the internet by storm. The "noncommittal" tune, which "mumbles and drags its feet … through flirtation and forlorn glances," captures "all the brilliance of Lacy's outstanding second record Gemini Rights," but also "represents the apex of a few trends that have been percolating over the last few years," notes The Guardian's Shaad D'Souza. To that end, it's probably the best song to come out of the "TikTok-beloved lo-fi bedroom pop" genre, while simultaneously scratching the same itch as elders Rihanna, SZA, or Frank Ocean.
"While the lyrics sound like cheeky ad-libs, tailor-made for TikTok soundbites, Lacy's songwriting packs a deeply emotional impact," writes Time's Cady Lang. "[D]on't be surprised if it gets at your feelings with each listen."
'F.N.F.' and 'Tomorrow 2 (feat. Cardi B),' GloRilla
Memphis-based rapper GloRilla hit big this year with "F.N.F. (Let's Go)," her "boisterous and thrilling crunk anthem for single ladies everywhere," says Time's Lang. On "F.N.F.," GloRilla mainlines "​​the sound of reckless abandon, dancing with your friends in a parking lot on a summer day while chugging from the same bottle of Old E," Suskind continues for Vulture. It's a bare-bones production, and for good reason: "Glo's voice does all the heavy lifting 'F.N.F.' needs, her syrupy drawl serving as both announcement and taunt." In short, the track is a "carefree, turn-up anthem for anyone who could also use clarity in their lives," per Consequence's Eddie Fu.
But Glo then furthered that success with "Tomorrow 2," a follow-up to the July-released "Tomorrow." Featuring Cardi B, the "Tomorrow 2" remix allows Glo to spar with one of rap's best, each demonstrating "their respective lyrical prowess over sparse, piano-led accompaniment," writes NME's Hannah Mylrea. The song also helps "continue construction of a new pathway for female allyship in hip hop," adds the Times' Caramanica — there's some "big BFF energy" with this one.
Honorable mentions
'This Is Why,' Paramore
In a win for pop-punk kids everywhere, Paramore has returned. And "This Is Why," the trio's first single in five years, was worth waiting for. "After witnessing society's lack of empathy — even through a global pandemic — Hayley Williams and company are over the bulls--t," says Fu at Consequence, where the track is ranked No. 1 of the year. Still, "at least they've given us something to dance to."
'Part of the Band,' The 1975
"Am I ironically woke? The butt of my joke? / Or am I just some post-coke, average, skinny bloke / Calling his ego imagination?" 1975 frontman Matty Healy asks listeners on the band's lead album single, "Part of the Band." Well, of course he is — but that's just "what [Healy] does best," writes Vulture's Justin Curto.
'Belinda Says,' Alvvays
Yet another triumphant comeback — that of indie-pop rockers Alvvays, who packed quite the punch with "Belinda Says," "a heartbreaking sketch of an unexpected pregnancy that's also a modern power-pop classic," muses Pitchfork's Jamieson Cox. The song's finale — which offers listeners a sense of hope, albeit disguised in sonic mess and discord — is an appropriate one for "a song about the moments in people's lives that defy clear articulation, when your only choice is surrender to a swirling maelstrom of emotion."

Continue reading for free
We hope you're enjoying The Week's refreshingly open-minded journalism.
Subscribed to The Week? Register your account with the same email as your subscription.