Why more TV viewers are switching on subtitles
Netflix says 80% of members regularly use subtitles or closed captions on streaming platform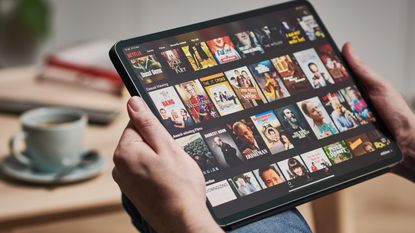 (Image credit: Phil Barker/Future Publishing via Getty Images)
Millions of television viewers in the UK with unimpaired hearing are using subtitles, research shows.
So just why has what "was once a question of accessibility and a mainstay of foreign-language broadcasts" become an "inescapable part of visual media", asked culture writer Hannah J. Davies in The Guardian.
Who is using subtitles?
Subscribe to The Week
Escape your echo chamber. Get the facts behind the news, plus analysis from multiple perspectives.
SUBSCRIBE & SAVE
Sign up for The Week's Free Newsletters
From our morning news briefing to a weekly Good News Newsletter, get the best of The Week delivered directly to your inbox.
From our morning news briefing to a weekly Good News Newsletter, get the best of The Week delivered directly to your inbox.
An Ofcom study back in 2006 found that 7.5 million UK-based TV viewers used subtitles, "of whom about six million did not have a hearing impairment".
In 2019, the regulator told The Guardian that subtitle use had increased further with the rise of smartphones, as "more and more people watch programmes or videos on commutes".
A study by Netflix that year found that more than 80% of members used subtitles or closed captions at least once a month on the streaming platform, "with many of them reporting that they use dubs and subtitles to learn new languages".
And the BBC reported last November that latest research by captioning charity Stagetext had found that the majority of viewers aged between 18 and 25 said they now used subtitles "all or part of the time".
Four in five young viewers routinely watched with subtitles, compared with less than a quarter of viewers aged between 56 and 75, despite the older age group being almost twice as likely to be deaf or hearing impaired.
The findings show that while "originally intended to help those with hearing problems, subtitles have become an essential aid for following a show for many people – especially if other distractions and devices are competing for their attention", said the BBC.
The global popularity of foreign-language films and shows such as South Korean thriller Squid Game, French action mystery Lupin and Spanish crime drama Money Heist has also made subtitle use more mainstream.
"I think there's far more acceptance of subtitles by young people because it's the norm, whereas, with an older age group, it isn't necessarily the norm," said Stagetext's chief executive Melanie Sharpe.
Older people often feel like subtitles require an "extra concentration level", she argued, whereas younger people can "take in far more information quickly because they're used to it".
Lost in translation?
While an increasing number of viewers are becoming reliant on subtitles, some critics are warning about poorly executed captions, particularly in foreign language translations.
Many Korean speakers have claimed the subtitles for Squid Game missed much of the nuance and meaning of certain words or were simply mistranslated. "If you don't understand Korean, you didn't really watch the same show," tweeted Youngmi Mayer, a New York-based co-host of podcast Feeling Asian.
She released a TikTok video outlining the flaws in Squid Game's subtitles that has had more than 13.5 million views.
These "'lost in translation' moments have even tipped over into accusations of cultural and political bias", said writer and TV presenter Viv Groskop in an article for The Guardian.
Writing for Vice, Korean American journalist Eileen Cho described "feeling personally attacked" as a result of Squid Game subtitles that were "just plain wrong", and asked: "How will people learn about our culture if the streamer is mistranslating our language?"
Subtitles or closed captions?
The row about "Squid Game's subtitles has performed a service" by highlighting the differences between subtitles, closed captions and dubbing, wrote Groskip in The Guardian.
"Netflix's algorithm sets your choice automatically to dubbing, which is why if you click on any foreign language content, the actors will mysteriously appear on your screen speaking fluent American English that almost-but-not-quite matches their mouth movements," she explained.
A "direct transcript of the dubbing script" is generally used for closed captions, which "were initially devised for deaf viewers and include audio description".
But subtitles "use another script entirely", Groskip continued. Like closed captions, subtitles "are subject to constraints" such as having to correspond to a preset reading speed, but "they are often seen as a more accurate translation than the dubbing script".
Using subtitles when watching English-language shows can present other problems, however.
"Too often, the subtitles are out of sync with the spoken dialogue," wrote Chris Taylor for Mashable. "Lagging behind is bad, but captions that are ahead of the game are often worse – mini-spoilers, in effect."
Language benefits
Despite such criticisms, many argue that "the mainstreaming of subtitles is doing more good than harm, making visual media more accessible, understandable and dynamic", said Davies in The Guardian.
Watching subtitled films, TV shows and videos can have "huge benefits for children" too, wrote Sharon Black, a lecturer in interpreting at the University of East Anglia, in an article on The Conversation.
"It can help them boost their reading skills and learn other languages, as well as providing more inclusive access for children with disabilities or those who speak a minority language. This small change – turning on subtitles – can make a big difference."

Continue reading for free
We hope you're enjoying The Week's refreshingly open-minded journalism.
Subscribed to The Week? Register your account with the same email as your subscription.