Rishi's reshuffle: Sunak's 100-day reset explained
Splitting the business department up criticised as 'rearranging of the Whitehall deckchairs'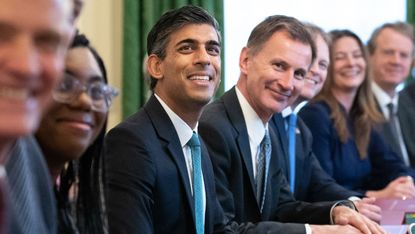 (Image credit: Stefan Rousseau/POOL/AFP via Getty Images)
Rishi Sunak unveiled a shake-up of Whitehall this week in the hope of generating faster economic growth. The sprawling business department has been split up, creating three new ministries – Energy Security and Net Zero; Business and Trade; Science, Innovation and Technology – led by Grant Shapps, Kemi Badenoch and Michelle Donelan respectively.
Opposition parties said the reorganisation would be a costly distraction, but Sunak said the changes would help the Government deliver on his priorities. Greg Hands was named as Tory chairman, replacing Nadhim Zahawi. Lee Anderson, a former Labour councillor dubbed the "Red Wall Rottweiler" for his outspoken views, will serve as his deputy.
There was no change to the position of Dominic Raab, the Deputy PM, who is being investigated over bullying allegations and who is under pressure to stand down pending the outcome of the inquiry. Dozens of officials are thought to be involved in eight formal complaints. Raab denies all the allegations.
Subscribe to The Week
Escape your echo chamber. Get the facts behind the news, plus analysis from multiple perspectives.
SUBSCRIBE & SAVE
Sign up for The Week's Free Newsletters
From our morning news briefing to a weekly Good News Newsletter, get the best of The Week delivered directly to your inbox.
From our morning news briefing to a weekly Good News Newsletter, get the best of The Week delivered directly to your inbox.
'Rearranging of the Whitehall deckchairs'
Critics may dismiss the reshuffle as a "rearranging of the Whitehall deckchairs", but there's a sound logic to it, said The Daily Telegraph. It makes sense for one Cabinet minister to focus on energy policy. And many believe that efforts in science, innovation and tech have suffered "from being insufficiently joined up". The decision to effectively re-establish the old department for trade and industry, under Badenoch, is also sensible, said The Times. It will allow the focus to "return to trade promotion in a powerful Whitehall department dedicated to ensuring Britain is a highly competitive place to do business".
The reshuffle was also designed to bolster Sunak's position, said The Guardian. As it didn't involve sacking anyone, and promoted some new faces, it may help him lead his party. But the changes will inevitably disturb the business of governing: England now has its sixth housing minister in a year. The rejigging of departments will be disruptive, agreed the London Evening Standard. New ministries often "consume vast reserves of Whitehall energy simply procuring enough chairs for workers and establishing new HR protocols".
"This reshuffle is personal" for Sunak, said Steven Swinford in The Times. He declared during his leadership campaign that he wanted to make Britain a "science and technology superpower", and he really meant it. When he was at Stanford University, he immersed himself in "academic debates about the role of innovation in driving growth", and he strongly believed that the science brief wasn't getting the attention it deserved. He may have been right about that, said Pippa Crerar in The Guardian, but his Whitehall rejig isn't going to deliver many benefits before the next election.
'100 day reset'
If the public even notices these changes, "they're unlikely to care". In political terms, the reshuffle was a "damp squib", agreed Nigel Jones in The Spectator. It's all very well setting Britain on "the road to a smart, techno-nimble innovative future in distant years to come". But what's really bothering voters right now are all the strikes plaguing the country. Sunak seems "either unable, or unwilling" to provide an answer to these.
The reshuffle is unlikely to deliver the "100-day reset" that the PM desires, said Rachel Wearmouth in The New Statesman. Strikes and the squeeze on living standards will continue to take a toll on his Government. And he faces the unsolved problem of Dominic Raab, whose position is widely believed to be "untenable". Chances are, Sunak will have to reshuffle his top team again in a few weeks, which will "only reinforce the impression of disorder". People keep urging Sunak to sack Raab, said Hugo Rifkind in The Times, but I fail to see why he should. The charge sheet against the Deputy PM is less than damning, at least from what we know so far. We're told that, during one meeting with staff, he crossly threw three cherry tomatoes from his salad into a paper bag. He could be "very icy", reported an official. "He'd be given a piece of paper and there would be silence, and he'd say, 'This isn't good enough.'" It's hardly the stuff of horror films, is it? Granted, Raab sounds like a "nightmare boss" and a rather angry, unpleasant man. But does that alone justify drumming him out of office?
In the meantime, the PM has organised an away day for Tory MPs early next month. Backbenchers were told: "This will be a rare chance for us all to get together, enjoy dinner and share ideas."

Continue reading for free
We hope you're enjoying The Week's refreshingly open-minded journalism.
Subscribed to The Week? Register your account with the same email as your subscription.