Lyudmila Putina to Alina Kabaeva: Vladimir Putin's mysterious love life
Russian president's relationship status has been a taboo subject in Russian media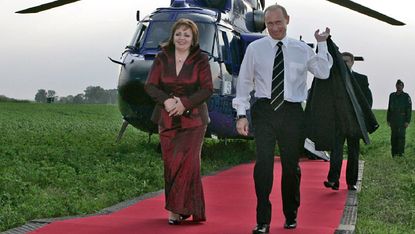 (Image credit: Dmitry Astakhov/AFP via Getty Images)
A former Russian gymnast rumoured to be Vladimir Putin's girlfriend has been sanctioned by the US in a bid to punish the Kremlin for the war in Ukraine.
The US Treasury Department said Alina Kabaeva had "a close relationship" to the Russian president and was targeted "for being or having been a leader, official, senior executive officer, or member of the board of directors of the Government of the Russian Federation".
It said the 39-year-old, a former Olympian and member of the State Duma, is currently the "head of the National Media Group, a pro-Kremlin empire of television, radio, and print organisations".
Subscribe to The Week
Escape your echo chamber. Get the facts behind the news, plus analysis from multiple perspectives.
SUBSCRIBE & SAVE
Sign up for The Week's Free Newsletters
From our morning news briefing to a weekly Good News Newsletter, get the best of The Week delivered directly to your inbox.
From our morning news briefing to a weekly Good News Newsletter, get the best of The Week delivered directly to your inbox.
While Kabaeva has long been romantically linked to Putin, Russian journalists have seen their careers threatened and in some cases destroyed over the years when attempting to report on his love life.
"Even the opposition press – which regularly writes about corruption in Putin's inner circle – has been wary of writing about Putin's women," said The Spectator. To this day, Putin's number of children and relationship status remain taboo subjects for Russia's media.
So what do we actually know about the private life of the man who's been steering the superpower pretty much continuously since the turn of the millennium?
Marriage to an air stewardess
Putin's ex-wife, Lyudmila Putina, once worked as a flight attendant, a highly coveted job in the Soviet era. They met in the early 1980s when a mutual friend invited them both to the theatre.
"I became friends with Lyuda, my future wife," Putin recalled in what The Washington Post described as a "passionless account" on his former presidential website.
"I understood that if I didn't marry for another two or three years, I would never marry. Though, of course, I had made a habit of leading a bachelor's life. Lyudmila uprooted it."
Pictures of their wedding day on 28 July 1983, "show Putina draped in a long white shawl and Putin squeezed inside a black suit", said the newspaper.
The pair went on to have two daughters in the 1980s: Maria Vorontsova is now 37 and head of the Moscow State University AI institute, while Katerina Tikhonova is 35 and a paediatric endocrinologist. They are never seen in public with their father.
Putins separated after 30 years
The Putins announced their separation in 2013, three decades after their marriage. "It is unclear when, precisely, their marriage began to fray, but every account suggests it emerged from their diverging personalities," said The Post.
The growing attention on Putin discomfited Putina and she was rarely seen in public towards the end of the marriage, even on her own, sparking speculation that she was in a convent.
In 2013, The Moscow Times reported she once told a friend that Putin was "a vampire", to which Putin retorted that anyone who could put up with his wife for three weeks "deserved a monument".
Alleged affair with 'cleaner-turned-multimillionaire'
In 2020, the independent investigative Russian media platform Proekt published a series of exposes which included the claim that Putin had conducted an affair with a woman called Svetlana Krivonogikh during his marriage to Putina after he first became president in 1999.
The site also claimed that Putin had fathered Luiza Rozova, the daughter of Krivonogikh, whom the Daily Mail described as a "cleaner-turned-millionaire 'mistress'".
Analysing Rozova's Instagram feed, The Spectator wrote that you can see photos of the 18-year-old's breakfasts, bikini selfies and "smart Paris apartment" but you "never see her face". Why? Because Luiza "bears a striking resemblance to Vladimir Putin".
After Proekt's exposes were published, Russia's state media watchdog blocked the website.
Putin was keen to keep the story out of public view "to protect his image as the champion of 'traditional values'", wrote Roman Badanin, the former chief editor of Proekt, in The Washington Post.
Almost all of Proekt's reporters were designated as "foreign agents" and Russian authorities opened a libel investigation against three journalists including Badanin, which forced him to leave his homeland and relocate to the United States.
'Glamorous, jet-set lives'
In October, the leaked Pandora Papers revealed that Krivonogikh had bought what The Spectator described as "a lavish $4 million fourth-floor apartment in Monte Carlo Star apartment block in Monaco" through an offshore shell company.
The documents also appeared to show her current wealth as being more than $100m. "In most countries such hair-raising allegations of sex, money and power would instantly become central to the national conversation," but "not in Russia", said The Spectator.
Krivonogikh and her daughter regularly post images of their "glamorous, jet-set lives" on social media and feel free to do this without fear of repercussions because of a "climate of fear and an almost-completely cowed media", the magazine added.
Rumoured relationship with Olympic gymnast
Putin is rumoured to be in a relationship with Alina Kabaeva, a former Olympic rhythmic gymnast and Russian MP.
He has denied having an affair with the gold medallist since their alleged relationship was first reported by the Moskovsky Korrespondent in 2008. After publishing the revelations, the newspaper was forced to shut down.
In September 2013, Putin's political rival Alexei Navalny claimed that Putin and Kabaeva had married, but Putin's spokesman dismissed the claims as "an internet exercise to relieve boredom".
Both Putin and Kabaeva were seen wearing wedding rings at the 2014 Sochi Winter Olympics and Kabaeva was chosen as a torchbearer at the opening ceremony, rekindling speculation that she was a favourite of the Russian leader, said the BBC.
Kabaeva is "widely assumed to be the mother of a further Putin brood, numbering possibly four, or two, depending upon which set of rumours one chooses to believe", said Forbes. No Kabaeva children have ever been publicly confirmed, "including the recent, rumoured pair of twin boys".
In August last year, Kabaeva made her first public appearance in more than two-and-a-half years, appearing on the 60 Minutes political talk show on the Rossiya 1 channel to discuss the 2020 Tokyo Olympics.
"She was not quizzed about Putin, or asked whether she was Russia's secret first lady," reported The Mirror.
Britain imposed sanctions on Kabaeva in May this year after the invasion of Ukraine but the US "pulled back at the last moment to avoid an escalation", reported The New York Times.
"Members of Putin's family circle are beneficiaries of a kleptocratic system that he rules over like a mafia don, bestowing wealth, lucrative jobs and luxurious villas," said the paper. "For decades, few succeeded in penetrating that protective bubble, but the invasion has changed that."

Continue reading for free
We hope you're enjoying The Week's refreshingly open-minded journalism.
Subscribed to The Week? Register your account with the same email as your subscription.