Vladimir Putin and the rise of the 'short kings'
Critics suggest Russian leader has 'Napoleon complex' but numerous world leaders match his stature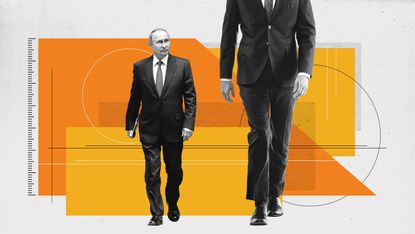 (Image credit: Illustrated/Getty Images)
As the world struggles to understand Vladimir Putin's motivations in Ukraine, some critics have resorted to jibes about the Russian president's height.
Britain's Defence Secretary Ben Wallace has called him a "lunatic" with "small man syndrome", while US Republican Senator Mitt Romney said he was a "small, evil, feral-eyed man".
At an estimated 5ft 7in, Putin has been labelled as having "Napoleon complex". But he is only half an inch shorter than the global mean height for adult men and - as The New European points out - is joined by a "new generation of short kings".
Subscribe to The Week
Escape your echo chamber. Get the facts behind the news, plus analysis from multiple perspectives.
SUBSCRIBE & SAVE
Sign up for The Week's Free Newsletters
From our morning news briefing to a weekly Good News Newsletter, get the best of The Week delivered directly to your inbox.
From our morning news briefing to a weekly Good News Newsletter, get the best of The Week delivered directly to your inbox.
'Real reason for the madness'
For decades, Putin has taken "tremendous care to promote the idea that he is blisteringly, indomitably macho", said Michael Deacon at The Telegraph. But "for all his undoubted prowess at judo, shooting, fishing and various other sporting activities, he is unlikely to receive a call-up to the Russian basketball team".
Jeremy Clarkson suggested in The Times that the "real reason for the madness" apparently exhibited by Putin is simple: he is "not very tall".
And "being not very tall seems to affect people", Clarkson wrote. "Napoleon wasn't very tall. Hitler wasn't very tall. Mussolini wasn't very tall… Their shortness eats into their very being and they become mad."
Geography appears to be against Putin too. "The average height of Russian men is also 5ft 10in, which is presumably why Putin is so angry all the time," Clarkson continued. "Because everyone he meets, all day and every day, is three inches taller than him."
High flyers
"In politics, height matters," declared The Economist in 2020.
US presidents were "becoming taller relative to average Americans", the magazine reported. And research suggests that "long-limbed politicians outperform their stumpier rivals" in the polls because "taller people enjoy higher self-esteem, on average, and are perceived to be healthier, more intelligent and more authoritative".
Donald Trump (6ft 2in, according to his driving licence) was prone to taking a pop at other political leaders, including North Korean leader Kim Jong Un (5ft 7in) and London Mayor Sadiq Khan (around 5ft 5in), for their smaller stature.
Across the pond, an unnamed senior MP suggested in 2021 that Boris Johnson (5ft 10in) was "deliberately" appointing tall ministers to the Treasury, including 6ft 5in Simon Clarke, "to annoy his image-conscious chancellor", Rishi Sunak, "who stands just 5ft 6in tall", the Daily Mail reported.
'Exclusive club'
Sunak has since supplanted his taller predecessor and joined an "exclusive club", said The New European. He takes his place alongside Putin, German Chancellor Olaf Scholz, French President Emmanuel Macron and Ukraine's Volodymyr Zelenskyy, who all stand at 5ft 6in or 5ft 7in.
Indian Prime Minister Narendra Modi and the new Brazilian President Luiz Inácio Lula da Silva also measure up to the mid-five-feet range.
The idea that height is bound up in leadership and masculinity is "looking increasingly shaky" as older "notions of patriarchy wobble and Europe's new generation of short kings rise", said the news site.
Napoleon Bonaparte "would fit right in on the world stage" today, said The Wall Street Journal. "If not for Mr. Biden and Canadian Prime Minister Justin Trudeau, the G-7 could well be renamed the 5'7"."
For Maureen Dowd in The New York Times, "true stature" is more than physical measurements.
While Putin has always been "puffing out his bare chest on horseback; fishing shirtless in Siberia; winning staged judo and hockey displays", the Ukraine's president Zelenskyy "understands that stature is not about phony macho photo shoots".
"Stature is a physical quality," Dowd concluded, "but, more important, it is a human and moral quality."

Continue reading for free
We hope you're enjoying The Week's refreshingly open-minded journalism.
Subscribed to The Week? Register your account with the same email as your subscription.