The links between Jeffrey Epstein and Bill Gates explained
Microsoft founder admits meetings with sex offender were 'huge mistake'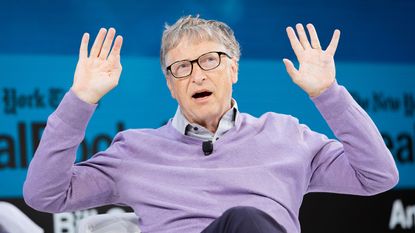 Bill Gates has admitted that fundraising meetings held with the late-billionaire paedophile Jeffrey Epstein were a "huge mistake".
Discussing the role that his relationship with Epstein played in his divorce from Melinda Gates, the Microsoft billionaire told The Sunday Times that "at the time" he "didn't realise that by having those meetings it would be seen as giving [Epstein] credibility".
"You're almost saying, 'I forgive that type of behaviour', or something," he added. "So clearly the way it's seen, I made a huge mistake not understanding that."
Subscribe to The Week
Escape your echo chamber. Get the facts behind the news, plus analysis from multiple perspectives.
SUBSCRIBE & SAVE
Sign up for The Week's Free Newsletters
From our morning news briefing to a weekly Good News Newsletter, get the best of The Week delivered directly to your inbox.
From our morning news briefing to a weekly Good News Newsletter, get the best of The Week delivered directly to your inbox.
Speaking publicly about her separation from Gates for the first time in March, Melinda told CBS News that although "many things" contributed to her decision to end the pair's marriage, she "did not like that he'd had meetings with Jeffrey Epstein, no".
She also told the broadcaster that journalists should ask Bill whether he had cheated on her during the course of their marriage. Asked by The Sunday Times' associate editor Alice Thomson whether he would answer that question, he refused, saying: "No."
Fateful meetings
Announcing their divorce in May 2021, Bill and Melinda gave no explanation for their separation beyond a joint statement shared on Twitter that said "we no longer believe we can grow together as a couple in this next phase of our lives". But a former employee of the Bill and Melinda Gates Foundation told The Wall Street Journal that Melinda's "concerns about the relationship" between her husband and Epstein "date as far back as 2013".
Speaking to CBS, Melinda said that the relationship between her husband and the financier had been a factor in her divorce, and that she had "made it very clear" she was deeply uncomfortable with the relationship.
According to The Daily Beast, Melinda was present for a meeting between her husband and Epstein at the latter's Upper East Side mansion in September of that year, and afterwards told friends that "she was furious at the relationship between the two men".
Melinda described "how uncomfortable she was in the company of the wealthy sex offender", the site said, and "told friends she wanted nothing to do with him". Sources close to the couple told the site that "Gates' friendship with Epstein – who for years was accused of molesting scores of underage girls – still haunts Melinda".
Speaking to CBS, she said she went to meet Epstein because she "wanted to see who this man was", adding that she "regretted it from the second I stepped in the door". She described Epstein as "abhorrent" and "evil personified".
"I had nightmares about it afterwards. So, you know, my heart breaks for these young women, because that's how I felt and here I'm an older woman. My god, I feel terrible for those young women. It was awful," she said.
Asked whether her ex-husband listened to her concerns at the time, she said: "Any of the questions remaining about what Bill's relationship there was – those are for Bill to answer. But I made it very clear how I felt about him."
In a statement to CBS, Bill Gates said that his meeting was a "substantial error in judgement".
Damage limitation
Gates has "done his best to minimise his connections" with the disgraced billionaire, The New York Times (NYT) reported, telling The Wall Street Journal in April 2021: "I didn't have any business relationship or friendship with him."
However, the NYT found that "beginning in 2011", he "met with Epstein on numerous occasions", including "at least three times at Epstein's palatial Manhattan townhouse, and at least once staying late into the night".
Employees of the Bill and Melinda Gates Foundation "also paid multiple visits to Epstein's mansion", the paper added, while "Epstein spoke with the Bill and Melinda Gates Foundation and JPMorgan Chase about a proposed multibillion-dollar charitable fund".
The Gates' charitable foundation has "championed the well-being of young girls", The New York Times said. But at the point at which the meetings began, Epstein had already served jail time for soliciting prostitution from a minor and was registered as a sex offender.
In May 2021, The Daily Beast reported that Gates sought Epstein's advice "on ending his marriage with Melinda after the Microsoft co-founder complained about her during a series of meetings at the money manager's mansion".
A person familiar with the meetings told the site that "going to Jeffrey's was a respite from his marriage. It was a way of getting away from Melinda". They added that Gates and Epstein "were very close".
Gates' spokesperson disputed the description of the pair's relationship, telling the site: "Any claim that Gates spoke of his marriage or Melinda in a disparaging manner is false. Bill never received or solicited personal advice of any kind from Epstein - on marriage or anything else. Bill never complained about Melinda or his marriage to Epstein."
'An open secret'
Bill and Melinda's billion-dollar divorce could open the floodgates to a torrent of allegations of infidelity and non-disclosure agreements used to protect the Microsoft founder's public image, former employees have claimed.
"There have been whispers for years" about Gates's "inappropriate extramarital relationships", Vanity Fair reported, adding that "for the people who worked for him", his "behaviour was something of an open secret".
One former employee told the magazine that Gates would often leave the Microsoft headquarters just hours after arriving, saying: "We all assumed that it was when he was with women. I knew there were many off-site meetings that were not on his calendar."
Others told Vanity Fair that allegations against Gates have been "largely suppressed by Gates's liberal use of nondisclosure agreements, ostensibly to keep more damning details under wraps".
In early July, Bill admitted during an "off-the-record" Q&A session that the end of his marriage to Melinda was his fault, sources claimed.
An attendee of a "summer camp for billionaires" hosted by law firm Allen & Overy told The New York Post that he "might have been on the verge of tears" as he "fessed up to messing up" and "basically referred to the fact that it [the divorce] was his fault".
Responding to a question by CNBC host Becky Quick following a talk on climate change, Bill did not use the word "affair" while discussing the ongoing divorce proceedings, the source added. A second attendee told the paper his answer was "very moving".
Sources in the room said Quick did not raise his links to the late-billionare paedophile Jeffrey Epstein. A third attendee told the paper he appeared "agitated" during the appearance, adding: "Bill Gates was pretty much a total asshole."

Continue reading for free
We hope you're enjoying The Week's refreshingly open-minded journalism.
Subscribed to The Week? Register your account with the same email as your subscription.