Is Network Rail reform a 'slippery slope to privatisation'?
Chris Grayling denies sell-off as fully privatised line is announced between Oxford and Cambridge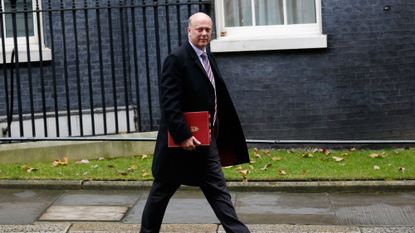 (Image credit: Tory Ho/Getty Images)
Transport Secretary Chris Grayling's reforms to rail infrastructure operator Network Rail have been derided as "a slippery slope to privatisation", says The Guardian.
A central tenet of the government's new rail strategy, to be outlined in a speech today, is to "reunite the operation of tracks and trains". This will begin with "'integrated operating teams' that will bring together train operators and Network Rail at East Midlands Trains and Southeastern when new franchisees take over the operations in mid-2018", says the Financial Times.
The BBC adds: "Each rail franchise [will] be run by joint management teams, including representatives from both the train operating company and Network Rail."
Subscribe to The Week
Escape your echo chamber. Get the facts behind the news, plus analysis from multiple perspectives.
SUBSCRIBE & SAVE
Sign up for The Week's Free Newsletters
From our morning news briefing to a weekly Good News Newsletter, get the best of The Week delivered directly to your inbox.
From our morning news briefing to a weekly Good News Newsletter, get the best of The Week delivered directly to your inbox.
Elsewhere, "a fully privatised railway line" is to be opened between Oxford and Cambridge, says the Guardian.
Chancellor Philip Hammond revealed funding to reopen the "varsity line" at the Autumn Statement last month. However, Grayling will announce today that it will not be developed by Network Rail. Instead, says the paper, new organisation East West Rail will manage the construction and "bring in private finance, in a form to be decided", before "eventually becoming a private company that will operate train services".
The plans are an attempt to improve the running of the railways, which, since privatisation in the 1990s, have separated infrastructure and service operations.
However, critics have drawn parallels with the private company Railtrack, which had a monopoly on rail infrastructure between 1994 and 2002 and remains associated with the train crashes at Potters Bar and Hatfield.
The FT adds that "alliances" between Network Rail and ScotRail north of the border and South-West Trains in England have generally been regarded as a failure.
Mick Cash, the general secretary of the RMT union, said: "This is a slippery slope to privatisation and the breakup of Network Rail and we are deeply concerned about it.
"The idea that what Britain's railways need is more privatisation is ludicrous."
However, Grayling denied this, saying: "I don't intend to sell off the existing rail network. I don't intend to privatise Network Rail again."
Mark Carne, the chief executive of Network Rail, welcomed the plans. He said: "We have already devolved Network Rail into route-based businesses closer to customers, and the proposals… will build on the alliances we have created."
Network Rail report calls for localisation, not privatisation
17 March
A review into how to improve the performance and funding position of Network Rail has concluded that it should not be privatised.
Nicola Shaw (pictured above), the chief executive of the HS1 line in south-east England, was commissioned to carry out the independent study by the government last year, after the taxpayer-owned operator admitted it would miss several deadlines and far exceed budget on a number of projects that are part of a £38bn upgrade programme.
Having initially said she could not rule out recommending privatisation, Shaw's final report, published alongside the Budget yesterday, dismissed a full-on selloff. The Guardian says this in part reflected that a majority of the more than 10,000 submissions to the consultation, many of which were in response to a call from lobby groups the Campaign for Better Transport and We Own It, were opposed.
But the report was still highly critical and has called for significant changes, including attempting to bring in more private sector involvement and financing. Building on the ongoing split of Network Rail into eight regional route subsidiaries, Shaw says there should be greater local autonomy and that private companies benefitting from rail investment should be encouraged to help fund it.
The BBC adds that there was even the suggestion that private operators, such as the profitable Wessex route that services South West trains, could run some parts of the line on behalf of Network Rail as long-term concessions. Selling off land and assets such as the electricity infrastructure is another way the company could make money and already being explored.
"I'm pleased that [Shaw] has concluded that the reforms we are introducing in Network Rail are the right ones," said Network Rail chief executive Mark Carne. "I also endorse her desire to see more private finance coming into the railways. I consider that more private money and funding from the people who will benefit from railway improvements is a sensible way to deliver a bigger and better railway."
However, union bosses gave only a cautious welcome to the news and some criticised recommendations that could further "fragment" the railways.
"Foreign speculators will be queuing up again to plunder Britain's railways for every last penny in the same way as they have mopped up train operations and run them into the ground," Mick Cash, the general secretary of the Rail, Maritime and Transport union, said. "RMT will continue to fight any further attacks on Network Rail and… campaign for public ownership of the entire rail system."
Network Rail report expected to rule out privatisation
16 March
A report into the future of Network Rail is expected to rule out privatising the body that oversees the UK rail infrastructure, reports The Guardian.
Published alongside today's Budget, the review, led by Nicola Shaw, the chief executive of the High Speed 1 rail line in the south-east, looked at ways to improve performance. Network Rail admitted last year it was overrunning and well over budget on £38bn of rail upgrades, prompting its chairman to be unceremoniously dumped.
Additionally, European accounting rules meant the organisation was reclassified as a public-sector body and its debt brought back onto government books in 2014. This not only means the government has to account for its difficult financial position, but it prevents Network Rail from tapping private markets for new funding.
All of this led to speculation that the company may be split up and privatised, but it appears the cautionary tale of Railtrack, which went bankrupt in 2002, as well as predictions that fares would rise have persuaded Shaw not to recommend this.
The Guardian also cites improved relations with ministers as Network Rail puts projects back on time and takes step to improve its finances.
The Daily Telegraph reported earlier this month that Mark Carne, the chief executive of Network Rail, is launching a consultation with investors and energy firms over a potential sale of its thousands of miles of overhead lines and more than 120 substations. "It could result in private companies buying the electricity assets and running them on Network Rail's behalf," the paper says.
Plans were announced last year to raise £1.8bn from the sale of railway arches, car parks and advertising hoardings, while Carne is also in the process of splitting the company into eight regional subsidiaries that would have greater autonomy from a central head office.
It is here where Shaw may demand it goes further. The Guardian says the review could "encourage devolution of regional routes and some private investment".
Head of Network Rail review says privatisation 'on the table'
21 September
A review into the financing of Network Rail, the publicly-owned railway infrastructure body that controls the UK's railway tracks and oversees billions of pounds' worth of building projects, could yet recommend a full privatisation even as public support for renationalising the railways grows.
Nicola Shaw, the chief executive of the first high-speed rail line between London and the Channel Tunnel, was appointed by the Government to conduct an independent review of Network Rail after it was moved back onto the public books following European rule changes last year.
As a result, its debt pile of £38bn was reclassified as public sector borrowing – while at the same time the organisation was prevented from borrowing freely from private lenders to fund already overrunning and over-budget development.
The Sunday Times says Shaw has said her ten-strong team will look at "whether the business should remain directly funded by government, if it should hand out concessions to companies to run stretches of track, or be fully privatised, all with the aim of reducing its debt". Some industry experts expect the review to result "in a number of routes being auctioned off as concessions to pension funds and sovereign wealth giants", following the successful model used for HS1.
Shaw confirmed to the BBC a partial or total sell-off "was absolutely on the table; it can't not be", ahead of a final report due before the Budget in March. Hers is one of three reviews into poor performance at Network Rail, which has overseen delays on £38bn worth of infrastructure projects and has consistently missed general service targets.
Earlier this year, the Government took the extraordinary step of intervening to pause some major works, launch the trio of investigations, and sack the chairman of Network Rail, Richard Parry-Jones (see below).
But any proposal to privatise the body will meet with stiff resistance from increasingly restive unions and amid a growing sense that the public supports a renationalisation of the railways, as proposed by Labour leader Jeremy Corbyn. The Guardian says RMT general secretary Mick Cash has pledged any "threat to bust up and sell off Network Rail will meet with the hardest possible industrial and political response".
Network Rail £38bn upgrades to 'take longer and cost more'
25 June
Two major projects to electrify antiquated sections of the rail network in the Midlands and northern England have been "paused" by the Government, which has revealed concerns over the performance of monopoly infrastructure controller Network Rail.
In a parliamentary address, Transport Secretary Patrick McLoughlin cited the travel chaos which plagued passengers using Kings Cross in December and London Bridge in January as he said the performance of Network Rail "has not been good enough".
In addition to a series of punitive measures, including the withdrawal of bonuses for senior executives and the departure of chairman Richard Parry-Jones, McLoughlin said that work to electrify the mainline between London St Pancras and Sheffield, and the Transpennine route between Manchester and Leeds, would be "paused".
According to The Mirror, other major work which is part of the £38.5bn five-year programme of investment unveiled in 2012, including London's Crossrail and Thameslink developments, and upgrades to the Great Western and Great Eastern mainlines, will be unaffected.
Speaking to the BBC, Network Rail chief executive Mark Carne said Network Rail had been 'overwhelmed' by the strains of undertaking the ambitious work while maintaining a seven-day service across the UK. He added that the upgrades would go ahead, but would "take longer and are going to cost more than we originally thought".
BBC Business Editor Kamal Ahmed cited Whitehall sources stating that the Conservative manifesto pledge to spend £38bn over five years is "still the plan", but that this would achieve less than originally thought. The future for the paused programmes, which Carne said the network "absolutely" needs, is less clear.

Continue reading for free
We hope you're enjoying The Week's refreshingly open-minded journalism.
Subscribed to The Week? Register your account with the same email as your subscription.