How Iceland deals with volcanic activity
Scientists are closely monitoring seismic activity as threat of eruption looms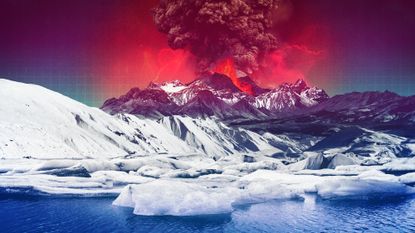 (Image credit: Illustrated / Getty Images)
Roads have cracked, homes have been damaged and residents have been evacuated as a result of intense seismic activity on the Reykjanes Peninsula in southwest Iceland.
A "concerning" series of thousands of small earthquakes "suddenly turned into a full-blown volcanic crisis" last week, said Wired, when scientists realised that magma was moving below ground.
When did this start?
The potential eruption itself is "part of a 1,000-year cycle of volcanic activity", said Live Science. "After an 800-year hiatus", three eruptions have taken place on the Reykjanes Peninsula since 2021, said the BBC.
Subscribe to The Week
Escape your echo chamber. Get the facts behind the news, plus analysis from multiple perspectives.
SUBSCRIBE & SAVE
Sign up for The Week's Free Newsletters
From our morning news briefing to a weekly Good News Newsletter, get the best of The Week delivered directly to your inbox.
From our morning news briefing to a weekly Good News Newsletter, get the best of The Week delivered directly to your inbox.
These all occurred near the Fagradalsfjall mountain, and "were often watched by curious onlookers", "poked at by scientists, and celebrated by Icelanders as a showcase of their geologically dynamic country's natural splendor", said Wired.
But the peninsula then began experiencing hundreds of daily earthquakes in late October. This "burst of intense and frequent seismic shaking, accompanied by a convulsing crust, suggested that a huge volume of magma was rapidly burrowing" its way towards the town of Grindavík.
On 10 November, the Icelandic Met Office (IMO) was "shocked to realise magma was coursing into the ground", said the BBC, "fracturing rock over a distance of 15km (nine miles)". Experts warned that an eruption could occur within days, and the roughly 3,000 residents living in Grindavík were quickly ordered to evacuate.
What's happening beneath the surface?
Some volcanoes form in areas where two tectonic plates meet, explained geology professor Jaime Toro on The Conversation. But the activity near Grindavík is related to a "typically quiet kind of volcano" that occurs in places where plates "pull apart".
In these instances, the Earth's underlying mantle rises up to "fill the gap" created between the plates. As the Eurasian and North American plates below Iceland have moved away from one another, the mantle's heat and movement into a lower pressure environment is causing "melting at depth and volcanic activity at the surface", said Toro.
Since October, this magma began "pushing its way along a fissure towards the surface", triggering the "swarms" of earthquakes and the possibility of a volcanic eruption.
Seismic activity "quieted" earlier this week, said Scientific American, but the IMO "suspects that there is a very high likelihood of an eruption" in the coming days, said Wired. Predicting the time, place and severity of an eruption "are exercises in reducing uncertainty".
Is Iceland prepared for an eruption?
While the prospect of a volcanic eruption is "no doubt scary for tourists", Icelanders have "learned over centuries to live with their island's overactive geology", said Professor Toro.
With 32 active volcanic systems, the country is "no stranger to volcanic activity", the Ministry of Culture and Business Affairs said. Iceland has "one of the world's most effective volcanic preparedness measures" and teams of geoscientists with "vast experience".
Scientists and emergency services are working to "monitor the magma around the clock while using that data to make sure harm to life and property is minimized", said Wired.
While residents are "kept away" from the at-risk region, a "protective wall" is being constructed around the Svartsengi geothermal plant near Grindavík to redirect lava if an eruption occurs.
Are there any benefits from Iceland's volcanic systems?
There are "some advantages" to living in an active volcanic region, said Professor Toro. Iceland generates around 30% of its electricity from geothermal sources, making it "one of the cleanest economies on earth".
The Svartsengi plant also uses subterranean heat to provide electricity and hot water for "several thousand homes". And it led to the creation of the popular Blue Lagoon geothermal spa, as a result of the discharged wastewater forming the small and "spectacular" lake.
How long will this last?
"What happens next is a waiting game," Edward W. Marshall, from the University of Iceland's Nordic Volcanological Center, told Live Science. If an eruption does take place, it "could last for several weeks".
Either way, the country's south-western peninsula faces the prospect of decades of instability, according to the IMO. "Time's finally up," said Marshall. "We can get ready for another few hundred years of eruptions on the Reykjanes."

Continue reading for free
We hope you're enjoying The Week's refreshingly open-minded journalism.
Subscribed to The Week? Register your account with the same email as your subscription.