The leap minute: is it time for change?
A total of 27 leap seconds have been added to the atomic clock since the 1970s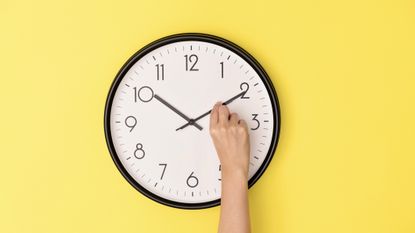 (Image credit: Getty Images/baona)
The leap second – units of time added to the atomic clock every few years to remain synchronised with astronomical time – should be replaced with a leap minute added far less frequently, a leading scientist has proposed.
The international community has "carefully and precariously balanced" two time-keeping methods since 1972, said The New York Times (NYT). The first "is as old as human timekeeping itself" and is based on the Earth's rotation, while the "more precise" method is based on the changing state of caesium atoms.
These clocks often fall out of synch, with astronomical time falling behind atomic time, but this has been rectified "by the insertion of leap seconds", by pausing the atomic clock. Forecasting when leap seconds are needed is difficult, however, which has "created an intensifying headache for technology companies" that rely on atomic time for technological systems.
Subscribe to The Week
Escape your echo chamber. Get the facts behind the news, plus analysis from multiple perspectives.
SUBSCRIBE & SAVE
Sign up for The Week's Free Newsletters
From our morning news briefing to a weekly Good News Newsletter, get the best of The Week delivered directly to your inbox.
From our morning news briefing to a weekly Good News Newsletter, get the best of The Week delivered directly to your inbox.
Now, Dr Judah Levine, a physicist at the US National Institute of Standards and Technology, has proposed using a leap minute instead. This would mean synchronising the two clocks less frequently and not before the astronomical clock has fallen behind by a minute – "basically forgetting about it in the meantime", said the paper.
Why are there two forms of timekeeping?
The first clock, known as Universal Time, "uses celestial objects" to measure time, including the Earth's rotation based on observations of the Sun and the stars, said Popular Mechanics. The other, known as International Atomic Time, "uses atoms to ensure exacting time". But the two clocks "don't synch together… thanks to natural forces".
Until the 1970s, the world relied on astronomical time, which "seemed logical", said the NYT, "although there were minor irregularities caused by the slowing of Earth's rotation and other natural forces". These changes have gone largely "unnoticed" by humans, but "not so much by machines". Computers need "precise, lock-step timekeeping" so commands stay in order, which is why scientists introduced atomic time. And this has since become "essential" to many functions including landing planes, and timing stock trades.
What's the trouble with leap seconds?
Levine told the NYT that "right away there was a problem", as the two clocks "began to walk away from each other". Scientists agreed that a second would be introduced "each time the two clocks diverged by more than 0.9 seconds", to "keep time connected to the natural world" and to "suit digital technology".
Since 1972, scientists have added 27 leap seconds to the atomic clock, with the last used on 31 December 2016. But, said Ars Technica's senior reporter Kevin Purdy, these are "a big headache". This is especially true for big tech companies, which have had to halt "coordinated, near-impeccable atomic time" for a second "to synchronise with the Earth's comparatively erratic movements".
Dealing with leap seconds in this way "has frequently caused organisational trauma". Leap seconds in 2012 and 2017 "caused regular outages and problems" for data centres, for example, while staging a leap second across servers and time zones "resulted in complicated schemes like leap smearing over 17 hours", which Meta engages in by adding one second in millisecond increments over that period.
Why would leap minutes be better?
Levine told the NYT that "having to deal with leap seconds drives me crazy" and that he was "constantly badgered for updates and better solutions". After receiving a "bazillion emails", he has drafted a paper arguing that the solution is to sync clocks "perhaps every half-century" when atomic time diverges from astrological time for a minute "or even a tad longer".
The International Bureau of Weights and Measures has already voted to eliminate leap seconds by 2035, after "the growing challenges of implementing the leap second … prompted a willingness to change".
Levine believes that the leap second will be scrapped because "of the disruption it causes companies", said Popular Mechanics, but that "doesn't do away with the problem of needing to reconcile the straying times".
Levine has submitted his proposal ahead of the World Radiocommunication Conference, starting on 20 November.
American time scientists "are not optimistic that the conversation will yield a result", said the NYT, because any change "would require consensus among all the attending nations", including Russia and the Vatican, which have opposed the change. For Levine, however, "a decision can't come soon enough".
"It's now or never," said the 83-year-old scientist, adding: "I'm not going to be around forever."

Continue reading for free
We hope you're enjoying The Week's refreshingly open-minded journalism.
Subscribed to The Week? Register your account with the same email as your subscription.