Deion Sanders is changing college football
He isn't just winning games at Colorado. He's transforming a once-staid sport.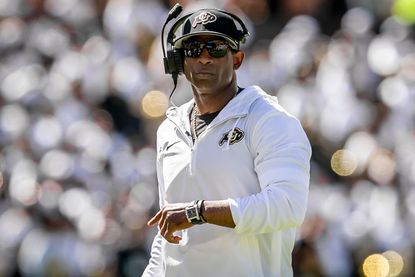 (Image credit: Nick Tre. Smith / Icon Sportswire via Getty Images)
Deion Sanders has been the head football coach of the University of Colorado for all of three victorious games, but he's the biggest story in the sport. How big? USA Today just called Sanders "the most famous football coach ever." That's probably a stretch, although Sanders has already been given a 60 Minutes profile. But it's true that the former NFL star — a member of both the pro and college football halls of fame — has "taken college football by storm," delivering huge TV ratings on the strength of his celebrity, personality and quick turnaround of a once-faltering Colorado team.
"What's happening in Colorado feels new," Jason Gay wrote at The Wall Street Journal. Sanders rebuilt the team with an unprecedented gutting of the roster — only 10 scholarship players remain from last year — and replacing them with new talent. That's another sign that old traditions and school loyalty are meaningless in the quickly shifting college sports landscape. Now? "Personality matters." And Sanders has tons of personality. "My kids who play for me, they didn't choose a university," Sanders said in the CBS profile. "They chose me."
His Blackness is a big part of the story. "Look, the two Whitest positions on the football field are head coach and quarterback," columnist Theodore R. Johnson said in a podcast for The Washington Post. "College football has always seemed a White and Republican sport on some level," added another writer, Perry Bacon Jr. "Deion is really changing that." Sanders is "making Colorado 'Black America's team,'" Axios added.
Subscribe to The Week
Escape your echo chamber. Get the facts behind the news, plus analysis from multiple perspectives.
SUBSCRIBE & SAVE
Sign up for The Week's Free Newsletters
From our morning news briefing to a weekly Good News Newsletter, get the best of The Week delivered directly to your inbox.
From our morning news briefing to a weekly Good News Newsletter, get the best of The Week delivered directly to your inbox.
'The joys of hype'
"Sanders's haters are legion," Dave Zirin observed at The Nation. College football has long been dominated by "elderly, square, overwhelmingly white coaches working out their issues on teenagers." Sanders, meanwhile, has brought the sport both "the joys of hype and the hype that comes with joy." It's apparent on the sidelines: Lil Wayne and Offset were both present at last week's game against Colorado State — so was Dwayne "The Rock" Johnson — bringing a hip-hop element to an often-staid sport. "It's a culture shift that will eventually drag the sport into the present and out of its revanchist past."
"It's not even that he's a Black football coach," The Athletic's David Ubben argued on NPR. "It's that he's a Black football coach who doesn't code switch, who is himself all of the time." Most Black football coaches speak differently around boosters than they do to players, but Sanders never seems to make that leap. He is "is unapologetically Black in all spaces." And that makes Colorado's new coach "a change agent."
But the impact isn't just cultural. Sanders has come under fire for the way he overturned Colorado's roster. But the coach "didn't invent today's college football, he just exploited it," Doug Robinson wrote for Deseret News. He took advantage of recent rules changes that allow players to change schools without having to sit out a year and to get paid for their athletic celebrity, and used them to transform the program. That has upset other coaches. Too bad. "If college football aficionados are upset because Sanders is treating players like professionals, trading them freely, well, now they are professionals."
'Not that great a football team'
"Will it last? Who knows," Jesse Pantuosco wrote at Awful Announcing. Sanders has a reputation as "more a salesman than a tactician" as head coach. But Colorado's early success is a good sign — which means the show might keep on rolling. "You have to admit, he's a hell of a quote, a born entertainer as charming as the day is long."
There are skeptics. "Colorado is … probably not that great a football team," Will Leitch wrote at Intelligencer. Its early victories have come against "lackluster" teams. The next two games, though, are against Top Ten rosters: Oregon this weekend, followed by USC. Colorado will probably be "shellacked by both of them." The likelihood is that Colorado will fade down the stretch and that Sanders will move on to his next program before long. "This particular party is going to end very soon."

Continue reading for free
We hope you're enjoying The Week's refreshingly open-minded journalism.
Subscribed to The Week? Register your account with the same email as your subscription.