March 15, 2013
1. Here is a baby pig surfing
…and this little piggy went "wee wee wee!" as he caught some totally sick waves, brah. (Via The Awl)
2. JGL working out
Handsome man-child Joseph Gordon-Levitt inspired a new internet meme (of sorts) when he was caught hitting the weights. Two 45s? What can't he do! (Via EOnline)
(eonline.com)
3. Baby lion and dog = BFFs
Honey (the dog) and Kwanza (the lion) purport to be best friends at Australia's Darling Downs Zoo. The video description says it all. (Via BuzzFeed)
4. Sorry, Brandon Knight
The L.A. Clippers' DeAndre Jordan delivered a filthy dunk on Detroit's Brandon Knight, inspiring more than a few great fan Photoshops. This mashup of the dunk and WWE announcer Jim Ross is pitch-perfect. (Via Deadspin)
5. Seals yelling like humans
Stay tuned next week for the inevitable "humans yelling like seals that yell like goats that yell like humans."
6. College student plays piano for Billy Joel
This was everywhere on the internet this week… and rightfully so! Basically, a college student offered to play backup piano for Billy Joel while he sang "New York State of Mind." Just watch it. It's incredible.
7. Oh nothing. Just a sloth in cup. (Via Imgur)
(imgur.com)
8. The best goodbye to Google Reader
If you're only going to read one Google Reader send-off, read this one. It involves a romantic tryst and a puppy dog. (Via Motherboard)
9. Being Joe Biden
The White House debuted a new audio series that features Vice President Joe Biden telling stories about various photographs through SoundCloud. Note the Pinterest button, too! You guys are so #social #media savvy. (Via The White House)
10. Cat of the Week (Via Imgur)
"Oh hey. Wake up. Wake up."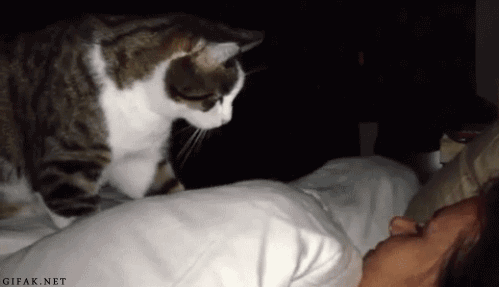 Want your pet to be featured on TheWeek.com? Send your cat, dog, or whatever else is adorable and fuzzy to Gayomali@TheWeek.com for a chance in the spotlight.