Could Grenfell happen again?
More than 300 buildings in England remain wrapped in flammable cladding, new figures show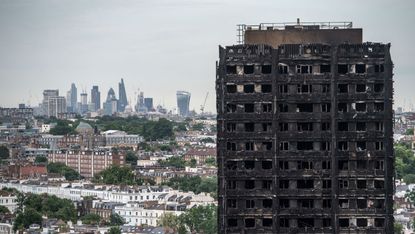 (Image credit: Carl Court/Getty Images)
Grenfell Tower-style flammable cladding is still in place on more than 300 of England's high-rise buildings, according to latest figures released as the nation marks the two-year anniversary of the disaster.
Following the Grenfell blaze, which resulted in the deaths of 72 people, the Government ordered councils to identify all private residential tower blocks with aluminium composite material (ACM) cladding, reports the BBC. Yet despite repeated calls for action by campaign groups, just 105 of 433 such buildings in England had been stripped of ACM as of the end of May.
Of the buildings still covered in the highly flammable cladding, 163 are privately owned, adds HuffPost. The release of the data by the Ministry of Housing, Communities and Local Government comes weeks after the Government pledged £200m to remove ACM from privately owned blocks, following a stand-off with landlords over who should pay for the work.
Subscribe to The Week
Escape your echo chamber. Get the facts behind the news, plus analysis from multiple perspectives.
SUBSCRIBE & SAVE
Sign up for The Week's Free Newsletters
From our morning news briefing to a weekly Good News Newsletter, get the best of The Week delivered directly to your inbox.
From our morning news briefing to a weekly Good News Newsletter, get the best of The Week delivered directly to your inbox.
Meanwhile, Grenfell survivors and victims' relatives have marked the anniversary of the disaster by projecting fire safety warnings onto high-rise blocks of flats in London, Newcastle and Manchester, reports The Independent.
The giant illuminated messages were organised as a guerrilla protest by campaign group Grenfell United, in a bid to highlight the continued danger posed to residents of buildings that fail to meet current safety regulations.
The group's chair, Natasha Elcock, said the survivors "needed to send a strong message", adding: "It's been two years since Grenfell and people are still going to bed at night worried that a fire like Grenfell could happen to them."
Much has been learned about the potential dangers since the 2017 fire, but "when it comes to action there is still a worrying to-do list", social housing magazine Inside Housing warned earlier this year.
So could it happen again?
Uncertain future
Nearly 40,000 people in the UK are still living in tower blocks wrapped in the same type of combustible cladding that covered Grenfell Tower, according to government figures obtained by the Labour Party.
"These figures show the sheer number of residents in private blocks across the country who are still in grave danger," shadow housing minister Sarah Jones told The Independent.
Of 178 private residential blocks known to have Grenfell-style cladding, "remediation work is complete on just ten", says Inside Housing. "The future for residents in many of these blocks remains uncertain," the magazine adds.
In a snapshot survey of almost 200 property owners in 21 high rises, 127 of the respondents told the UK Cladding Action Group that their mental health had been "hugely affected" by the cladding problems, 160 complained of stress, and 50 said they had sought medical help as a direct result of the situation.
The problem remains that "leaseholders are facing bills of tens of thousands of pounds each to fix their homes", says The Guardian. Although Housing Secretary James Brokenshire has repeatedly insisted that freeholders and developers should foot the costs, he has not threatened any specific action if they do not.
Discussions were believed to be taking place within government about setting up a fund to help pay for the changes ahead of the two-year anniversary of Grenfell this June, but housing ministers were said to be facing resistance from the Treasury, the newspaper reports.
"I am in despair at the moment," said Alex Di Giuseppe, one of 450 leaseholders at Manchester's City Gate development, which is built with combustible cladding.
Di Giuseppe may have to pay out £15,000, he told The Guardian, adding: "When I am not busy, my mind wanders to the bill I have no way to pay. If I lose my flat, it would set me back so far it is unfathomable."
New regulations
Although changes to building regulations as a result of Grenfell are expected, they have yet to happen.
"This is partly because of the sheer complexity of the issue, but some of the regulations that need to be implemented are clear," says Konstantinos Daniel Tsavdaridis, an associate professor of structural engineering at Leeds University, in an article on The Conversation.
He writes that, among other measures, "all buildings that are higher than five storeys ought to be provided with alternative evacuation routes such as more (or external) staircases, be equipped with sprinklers, and only be allowed to use fire-retardant materials, such as cementitious boards, ceramics, or glass facades".
"We must start rehabilitating tall residential buildings as soon as possible, before another disaster occurs," Tsavdaridis concludes.
Neglected cladding
The Government's response since Grenfell has focused exclusively on residential blocks clad with aluminium composite material (ACM) - the type of cladding that was used on the west London tower.
But earlier this year, Richard Hull, a professor at the University of Central Lancashire, published the first in-depth study of the combustibility of a variety of cladding materials, in the Journal of Hazardous Materials.
Hull and his fellow researchers found that high-pressure laminate (HPL) cladding materials also posed a risk. And while there are no specific figures for the number of buildings with HPL in Britain, experts believe it could be "three times as popular as ACM", says Inside Housing.
Hull told the magazine: "I think that HPL has been neglected, and shouldn't have been neglected.
"One would fear that because of all the attention that has gone to the ACM buildings, the next disaster is likely to involve HPL rather than ACM - because they haven't had the fire risk assessments and so on."

Continue reading for free
We hope you're enjoying The Week's refreshingly open-minded journalism.
Subscribed to The Week? Register your account with the same email as your subscription.