'The Tories will stick with the devil they know'
Your digest of analysis from the British and international press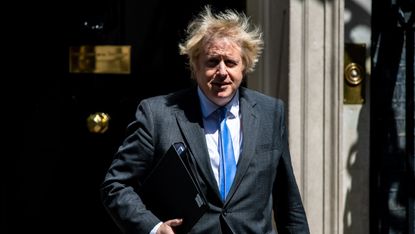 (Image credit: Chris J Ratcliffe/Getty Images)
1. The Tories won't back Boris Johnson, but they aren't ready to sack him either
Fraser Nelson in The Telegraph
On a strange limbo
Boris Johnson "exists in a strange limbo", says Fraser Nelson in The Telegraph, "leading a party that will neither back him nor sack him". The prime minister has seen his "popularity evaporate", he "has been found guilty by the Metropolitan Police of breaking the law", he's "broken a manifesto pledge not to raise taxes" and his party is "bracing itself to lose 800 councillors in local elections". And to top it off he has flown to India, "acting as if there is no great danger and this will all blow over", the editor of The Spectator adds. But "he might well be right". Even with Johnson facing multiple crises, including the cost of living saga, the Tories are still just seven percentage points behind Labour. "David Cameron would have killed for such a close gap," says Nelson. "John Major was 40 points behind at one stage." Many Tory MPs regard Johnson as a "chancer", but a "lucky chancer". Therefore, through the "silence over partygate", this could now be the sound of a party deciding to "stick with the devil it knows".
Subscribe to The Week
Escape your echo chamber. Get the facts behind the news, plus analysis from multiple perspectives.
SUBSCRIBE & SAVE
Sign up for The Week's Free Newsletters
From our morning news briefing to a weekly Good News Newsletter, get the best of The Week delivered directly to your inbox.
From our morning news briefing to a weekly Good News Newsletter, get the best of The Week delivered directly to your inbox.
2. Child obesity is a much meatier issue than smacking
Frank Young in The Times
On overweight toddlers
"Smacking is going out of fashion," writes Frank Young in The Times, with two thirds of Britons objecting to "this form of chastisement" and the number of parents who actually smack their children in sharp decline. England's children's commissioner has called on the government to ban the practice, but the editorial director at Civitas argues that "if our political elite is now willing to tell parents how to do their job" their focus should be on the "far more widespread problem of childhood obesity". We're a "nation of fat toddlers", he says. "One in five four-year-olds start school overweight or obese. This rises to one in every three by the time they leave primary school, with these figures heavily tilted towards poorer families." The UK spends more than £30bn on child benefits and tax credits but we "ask for nothing in return". To receive any state support we "should at least expect every parent to attend parenting classes". Smacking may well soon disappear. "But the number of fat children is increasing."
3. The Tories profited from Labour 'chaos' in the 1970s. Can Starmer do the same now?
Andy Beckett in The Guardian
On a double opportunity
"In a usually stable country like Britain, how periods of crisis are portrayed and remembered is a very powerful political weapon," writes Andy Beckett in The Guardian. "For nearly half a century, the turmoil of the 1970s and the sense that the decade's governments couldn't cope have been used by the Conservatives to argue that Labour is never truly fit for office." And "despite the relative competence of Tony Blair and Gordon Brown's premierships… the association between Labour governments and chaos has never been completely broken". Looking at the cost-of-living crisis, "the resemblance of the Johnson era to modern Britain's supposed nadir presents a double opportunity" for Labour, "not only to neutralise a political negative once and for all, but also to position the Conservatives rather than themselves in voters' minds as the party of disorder". For this, he adds, the leader of the opposition may need to shift his tone. "Starmer is trying to condemn the whole Tory status quo while also presenting himself as a cautious figure," he says. But "as Thatcher's victory in 1979 showed, voters often prefer politicians offering to rescue the country to be radicals".
4. Making a sick joke about Grenfell doesn't merit a jail sentence
Brendan O'Neill in The Spectator
On a small price
"So in Britain in 2022, you can get a jail sentence for making an offensive joke," writes Brendan O'Neill in The Spectator. Paul Bussetti, who admitted sending a "grossly offensive" video of a cardboard model of Grenfell Tower burning on a bonfire in 2018, was given a ten-week jail sentence suspended for two years. "This should give rise to some serious national self-reflection," O'Neill says. "A free, civilised country does not hand out jail time for jokes. What has happened to us?" He suggests that "the vast majority of us will think it deeply immoral to make fun of such a calamity" as Grenfell. "But the idea that sick humour should be an offence, punishable with a jail sentence? To me, that is far more offensive than anything said and done by those bonfire oafs in 2018." He argues that "no one should ever be punished for making a joke, however vile, whatever the subject matter, however many people it offends" because jokes do not "physically harm" people or property. "Feeling offended, angered or even sickened is the price we pay for living in a free society. And what a small price it is!"
5. Love him or hate him? We need people like Piers Morgan on our screens
Nicky Clark on the i news site
On Twitter tolerance
"Just when you thought it was safe to go back into the inviting waters of mainstream media, there is a dark shadow, looming fin and pulsing score," writes Nicky Clark on the i news site. She is referring to the return to our TV screens of Piers Morgan. With his spat with Donald Trump mutating into a row with Caitlyn Jenner, Morgan is "back – bigger, brasher, and seemingly bolder". And "already social media has decided that this is a bad thing". But Clark is "not so sure". She does not agree with everything Morgan says – "far from it" – but she likes him "because he has no interest in whether I do or not". Into the "midst of accusations of virtue signalling, cancel culture, denials of cancel culture, hate as a hashtag and changing your Twitter photo to show solidarity with a cause" arrives Morgan, "armed with a toolkit of dad jokes, 'stuff and nonsense' condemnation and 'get a grip' psychology". In an "evolving world" we "should have tolerance for and an understanding of the fact that we're not all the same." And "Piers Morgan isn't a man known for dithering on the sidelines of any issue, no matter how contentious". Ultimately, she concludes, "we need to make sure there's room for everyone – whether we agree with their views or not".

Continue reading for free
We hope you're enjoying The Week's refreshingly open-minded journalism.
Subscribed to The Week? Register your account with the same email as your subscription.