The last days of Theresa May: the PM's final Brexit options
Ailing premiership appears to be drawing to close with decision to bring forward legislation to ratify a revised deal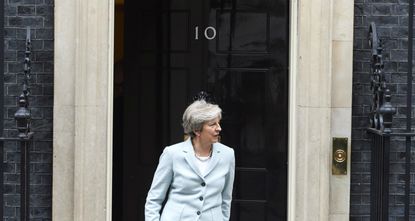 (Image credit: Niklas Hallen/AFP/Getty )
The countdown has begun until the end of Theresa May's rule, after the prime minister announced plans to bring forward legislation to put her Brexit deal into law.
The Commons will vote on the Withdrawal Agreement Bill in the week beginning 3 June. However, there is no clear strategy yet for getting it through Parliament.
In fact, the Cabinet has been "badly split on how to proceed, with Remainers pushing for indicative votes in the Commons and Brexiteers demanding parts of the Withdrawal Agreement Bill be brought forward straight away instead", says Politico's Jack Blanchard. "Neither option looks very likely to succeed, and for Theresa May, time is running out fast," he adds.
Subscribe to The Week
Escape your echo chamber. Get the facts behind the news, plus analysis from multiple perspectives.
SUBSCRIBE & SAVE
Sign up for The Week's Free Newsletters
From our morning news briefing to a weekly Good News Newsletter, get the best of The Week delivered directly to your inbox.
From our morning news briefing to a weekly Good News Newsletter, get the best of The Week delivered directly to your inbox.
The Times also predicts that "the prime minister's next Brexit move is likely to be her last".
So what will that move be? The Week looks at May's options...
Reach an agreement with Labour
The PM's chief Brexit negotiator, Olly Robbins, is back in Brussels this week for talks with his European counterparts, reports The Daily Telegraph. Robbins will be "stress-testing" new Brexit texts that have emerged from more than six weeks of talks with Labour in Westminster, the newspaper says.
But both May and Jeremy Corbyn are under pressure to end the ongoing discussions, with 13 former cabinet ministers writing a letter to The Times this week that warns the PM against any Brexit deal which keeps the UK in a customs union. Meanwhile, shadow chancellor John McDonnell says that the negotiations have stalled and that Labour "are nowhere near what we want".
These interventions "underline the problem - and the essential pointlessness - of the cross-party talks", says the New Statesman's Stephen Bush.
"There is no button that May can press in Downing Street to guarantee the support even of MPs in her cabinet, while there is no lever that Corbyn can pull in Norman Shaw South to secure the backing of enough Labour MPs to compensate for the loss of Tory support that any cross-party deal will bring," Bush writes.
And this divide may become more entrenched if, as looks likely, both parties lose votes to those on the extremes of the Brexit divide in the European Parliament elections on 23 May.
Bring back indicative votes
May has previously said that should no agreement be reached with Labour, she would hold another set of Commons votes similar to the indicative votes in April.
Speaking to BBC Radio 4's Today programme earlier this week, Housing Secretary James Brokenshire described the proposed rerun as "definitive votes".
"The prime minister has been very clear that if we're unable to find that space of compromise then the next step would be to go back to Parliament," Brokenshire said.
"To have almost not a series of indicative votes but actually a series of definitive votes to seek to get to a place of where that sense of where Parliament is, to be able to pass the Withdrawal Agreement Bill, to be able to have that vote to see that we leave – that's the next stage, that would be the next phase."
In the event that, once again, no option gained a majority among MPs, May would ask MPs to rank different Brexit outcomes in order of preference, in a bid to find an option that the majority of them would support, The Daily Telegraph reports.
The Government would not be bound legally by the results, but the PM has said that she would be ready to abide by the conclusion as long as Corbyn agreed to do the same.
However, HuffPost's Paul Waugh warns that getting Labour on board with this plan is looking increasingly unlikely, as opposition MPs' attitudes harden in favor of a second referendum.
"It ain't gonna happen," a Labour source told Waugh. "No minority in a parliamentary democracy could ever sign up to that system, for something where you agree to be bound by an outcome without knowing what it will be."
Keep pushing to pass the Withdrawal Agreement Bill in June
The other option for May would be to wait it out and hope that at least 30 or so "switchers" who voted against the deal last time round - when it was defeated by 58 votes - will be ready to back the deal.
Some in government remain hopeful that if both of the main parties perform poorly in the European elections, Labour MPs in Leave-supporting constituencies will be sufficiently worried by the threat from the Brexit Party to back the Bill and pull the UK out of the EU.
Indeed, the Daily Mirror's Pippa Crerar has spoken to a "senior Labour insider" who said: "Up to two dozen backbenchers have said they won't be able to hold out much longer. They're getting so much grief in their constituencies over the failure to deliver Brexit.
"Some of them have even had death threats."
But even such a swing might not be enough, according to Politico's Blanchard, who claims that insiders who have seen the Bill text describe it as a "political hand grenade" that enshrines in British law "all the aspects of the Brexit deal which Eurosceptics find so abhorrent".
Ultimately, "it's hard to see any way forward for May should the Bill be voted down. And given she's also vowed to quit if the deal is passed, it really feels like we are now entering the final weeks of the Theresa May era," Blanchard concludes.

Continue reading for free
We hope you're enjoying The Week's refreshingly open-minded journalism.
Subscribed to The Week? Register your account with the same email as your subscription.