How Edward Snowden ended up in Russia
Whistleblower granted Russian citizenship after almost a decade in exile from the US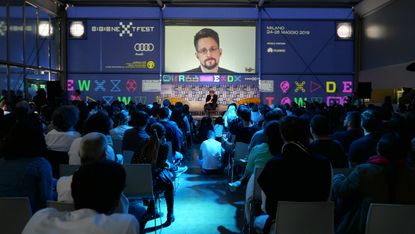 (Image credit: Getty Images)
Edward Snowden has been granted Russian citizenship nine years after the former US intelligence contractor, who leaked classified surveillance data, fled his homeland and settled in Moscow.
According to The Times, the whistleblower's name "appeared on a list of 72 foreigners" granted passports in a decree signed by President Vladimir Putin.
Snowden, 39, is still wanted in the US on spying charges. The move, therefore, "may be intended as a provocation during a low point in relations with the US", added the paper.
Subscribe to The Week
Escape your echo chamber. Get the facts behind the news, plus analysis from multiple perspectives.
SUBSCRIBE & SAVE
Sign up for The Week's Free Newsletters
From our morning news briefing to a weekly Good News Newsletter, get the best of The Week delivered directly to your inbox.
From our morning news briefing to a weekly Good News Newsletter, get the best of The Week delivered directly to your inbox.
Earlier this week, Snowden tweeted: "After two years of waiting and nearly ten years of exile, a little stability will make a difference for my family. I pray for privacy for them – and for us all."
Snowden was granted permanent residency in Russia in October 2020. At the time said he intended to apply for Russian citizenship while also keeping his US nationality.
The former National Security Agency (NSA) contractor became a household name in 2013 after leaking details of extensive internet and phone surveillance by US intelligence agencies worldwide. His actions polarised commentators, with some viewing him as a human rights hero while others called him a traitor to his nation.
Last year, a US appeal court found the surveillance programme Snowden exposed was unlawful, and that intelligence leaders who had publicly defended the programme had lied.
Early years
Snowden was born in Elizabeth City, North Carolina, on 21 June 1983.
He dropped out of high school and studied computers at Anne Arundel Community College in Arnold, Maryland, before spending four months in 2004 in special-forces training in the US Army Reserves.
Snowden told The Guardian in 2013 that he was discharged from the army after he "broke both his legs in a training accident", but an unclassified report published by the US House Intelligence Committee refuted his version of events, stating: "He claimed to have left army basic training because of broken legs when in fact he washed out because of shin splints."
Wired reported that Snowden subsequently landed a job as a security guard at a "top-secret facility that required him to get a high-level security clearance", passing polygraph exams and background checks that would pave the way for jobs at the CIA and later the NSA.
Following a posting in Japan as a technologist, Snowden grew disillusioned about the far-reaching surveillance operations of the US government, particularly in regards to the secret monitoring of mobile phones and browser activity. While working with tech consulting firm Booz Allen, he began digitally storing highly confidential NSA documents, "building a dossier on practices that he found invasive and disturbing", including "vast information on the NSA's domestic surveillance practices", said Biography.com.
He also began anonymously contacting journalists around the world in preparation for a massive leak of the secret documents.
Leak and escape
In spring 2013, Snowden told his NSA supervisor that he had been diagnosed with epilepsy and needed a leave of absence. At this point, he was stationed at the NSA's Hawaii Cryptologic Center, more than 5,000 miles away from the NSA headquarters in Maryland.
For legal reasons, Snowden has never disclosed exactly when or how he smuggled the data out of the facility. However, the 2016 biopic Snowden depicts him embedding a micro SD card in a Rubik's Cube that he hands to a security guard as he passes through a metal detector on the way out of the building.
On 20 May 2013, Snowden boarded a flight to Hong Kong, where he hid out in various locations with the help of activists and lawyers, and held a series of secret meetings with Guardian journalists as well as filmmaker Laura Poitras.
Following a number of extradition attempts, in June 2013 he attempted to fly to Ecuador via first Moscow and then the Cuban capital Havana, but his passport was cancelled midway through the journey. The fugitive was left stranded in Russia, where he successfully applied for asylum.
What was in the leaks?
They contained previously unpublished details of a major global surveillance apparatus run by the NSA with the help of three partners in the Five Eyes security network – Australia's Australian Signals Directorate (ASD), the UK's Government Communications Headquarters (GCHQ) and Canada's Communications Security Establishment (CSEC).
Within this framework was a programme known as Prism, which allows for court-approved direct access to the public's Google and Yahoo accounts without their knowledge. The documents also revealed details of "Tempora", a British black-ops surveillance programme run by GCHQ.
German news magazine Der Spiegel revealed that the NSA kept a spy database on more than 100 world leaders, including Angela Merkel, the German chancellor at the time.
Wired claimed that Snowden was particularly enraged by a document from Keith Alexander, NSA director from 2005 to 2014, that "showed the NSA was spying on the pornography-viewing habits of political radicals", with the accompanying memo suggesting that the agency could use these so-called "personal vulnerabilities" to destroy the reputations of government critics.
Under the law at the time, individuals were to be targeted only if they were accused of plotting terrorism.
Snowden was reportedly "astonished" by the memo. "It's much like how the FBI tried to use Martin Luther King's infidelity to talk him into killing himself," he said. "We said those kinds of things were inappropriate back in the 1960s. Why are we doing that now? Why are we getting involved in this again?"
Living in Russia
On 21 June 2013 – Snowden's 30th birthday – the US Department of Justice unsealed charges against him of two counts of violating the Espionage Act of 1917 and theft of government property.
Snowden fled but ended up stranded at a Moscow airport, where he spent 40 days stuck in the confines of the transit zone. However, on 1 August, he was granted temporary asylum in Russia for one year, and was later granted a residency permit.
In an interview with CBS News in 2019, news anchor Gayle King told Snowden that living in Russia meant the "optics are not good" for him, the Daily Express reported at the time. Snowden said: "Of course it's problematic and of course I would like to return to the United States."
He has previously stated that he feels unsafe living in Russia, and had asked France to grant him asylum.
Nevertheless, he has spent the past nine years living in Moscow, and married his American partner Lindsay Mills in the city in 2017, said The Telegraph. The couple have since had two children.
He tweeted in November 2020: "Lindsay and I will remain Americans, raising our son with all the values of the America we love – including the freedom to speak his mind. And I look forward to the day I can return to the States, so the whole family can be reunited."
His new Russian citizenship has led some to speculate he could be called up to join the Russian military as part of Putin's "partial mobilisation" of more than 300,000 conscripted troops.
The BBC reported that on Monday Snowden's lawyer Anatoliy Kucherena was "quoted by Russian state-run news agencies as saying that his client has never served in the Russian army, and therefore would not be called up" to fight.

Continue reading for free
We hope you're enjoying The Week's refreshingly open-minded journalism.
Subscribed to The Week? Register your account with the same email as your subscription.