10 things you need to know today: July 29, 2014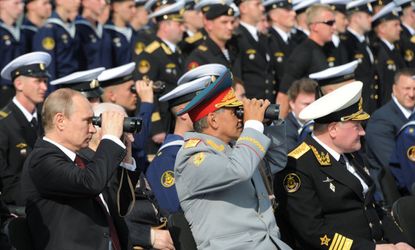 (Image credit: (AP Photo/RIA Novosti Kremlin/Mikhail Klimentyev, Presidential Press Service))
1. Court rules overturns Virginia's same-sex marriage ban
A federal appeals court on Monday ruled that Virginia's same-sex marriage ban was unconstitutional because barring gay couples from marrying amounted to a new form of "segregation." The 2-to-1 decision, upholding a lower court ruling, extended a winning streak for gay marriage advocates in court. After the decision, North Carolina Attorney General Roy Cooper (D) said his state would end its "vigorous" defense of a similar ban.
2. Washington and Europe tighten Russia sanctions
The U.S. and the European Union agreed to intensify sanctions against Russia for allegedly returning troops to the Ukraine border and sending heavy weapons to pro-Russian separatists in eastern Ukraine. The E.U. had been resisting tougher sanctions, but in the aftermath of the downing of Malaysia Airlines Flight 17 over eastern Ukraine, European leaders have rallied behind measures more severe than Washington's.
Subscribe to The Week
Escape your echo chamber. Get the facts behind the news, plus analysis from multiple perspectives.
SUBSCRIBE & SAVE
Sign up for The Week's Free Newsletters
From our morning news briefing to a weekly Good News Newsletter, get the best of The Week delivered directly to your inbox.
From our morning news briefing to a weekly Good News Newsletter, get the best of The Week delivered directly to your inbox.
3. Court says Donald Sterling can't block Clippers' sale
Los Angeles Clippers co-owner Donald Sterling lost a battle to block the team's sale, when a California judge issued a preliminary ruling allowing Sterling's estranged wife, Shelly, to proceed with the sale. Judge Michael Levanas said Shelly Sterling had the authority to negotiate the sale to former Microsoft CEO Steve Ballmer for $2 billion after two doctors found Donald Sterling to be mentally incapacitated.
4. U.S. accuses Russia of violating missile treaty
The Obama administration on Monday accused Russia of violating a 1987 arms control treaty by testing a cruise missile. The State Department said it had attempted to talk to Moscow about the issue for more than a year. Under the treaty, Russia is not supposed to possess or test missiles with a range of 500 to 5,500 kilometers. Moscow said it dismissed the charge after an investigation.
5. Three law enforcement officers wounded in shootout with accused pedophile
Two federal marshals and a New York City detective were wounded Monday in a shootout with a fugitive child molestation suspect in New York's Greenwich Village neighborhood. The suspect, Charles Mozdir, died after being shot seven or eight times. Mozdir, 32, had been on the run for two years since a family friend accused him of molesting her son. Mozdir's girlfriend reported him after seeing the case featured Sunday on John Walsh's show The Hunt on CNN.
6. Israel steps up strikes in Gaza
Israel hit Gaza overnight with the heaviest bombing of the three-week conflict. Israel targeted more than 70 sites, including government offices and other symbols of Hamas' power. Israel also reportedly shelled Gaza's only power plant, shutting it down. Israeli Prime Minister Benjamin Netanyahu warned of a "prolonged" fight, and a Hamas leader whose house was hit said the strikes would not break Palestinians' determination.
7. Texas man charged with sending envelopes with harmless white powder
A Rowlett, Texas, man was accused on Monday of sending more than 500 letters containing white powder to government offices, schools, and other locations since December 2008. The suspect — Hong Minh Truong, 66 — was charged with false information and hoaxes. One batch of the mailings included a letter stating, "Al Qaeda back! Special thing for you. What the hell where are you Scooby Doo."
8. Congress announces $17 billion deal to improve veterans' health care
House and Senate Veterans Affairs committee members unveiled a three-year, $17-billion deal on Monday to fix the veterans health-care system. Senate Democrats wanted $25 billion to reduce wait times for care; House Republicans wanted $10 billion. "The United States Congress is in my view a dysfunctional institution," said Sen. Bernie Sanders (I-Vt.), chair of the Senate committee, "so I'm quite proud of what we've accomplished."
9. Dollar Tree buys Family Dollar for $8.5 billion
Dollar Tree announced Monday that it was buying rival discount retailer Family Dollar for $8.5 billion. The surprising move came three months after Family Dollar announced that it would close 370 stores and slash prices following the latest in a series of disappointing earnings reports. Billionaire activist investor Carl Icahn had pushed for the merger of the No. 2 and No. 3 discounters "a big win" for Family Dollar shareholders.
10. Bad timing killed the dinosaurs
What really wiped out the dinosaurs was a run of terrible luck, according to a new study published in Biological Reviews journal. The dinosaurs might have survived the impact of a six-mile-wide asteroid that paleontologists believe was the biggest factor in their demise if big plant eaters — prey for big carnivores — hadn't just entered a period of decline. "If the asteroid hit five million years later or earlier, the dinosaurs might still be around," one of the researchers said.

Continue reading for free
We hope you're enjoying The Week's refreshingly open-minded journalism.
Subscribed to The Week? Register your account with the same email as your subscription.