10 things you need to know today: July 12, 2014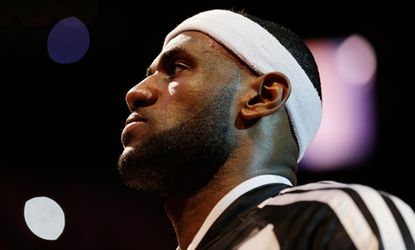 (Image credit: (AP Photo/Lynne Sladky))
1. LeBron James announces return to Cleveland Cavaliers
LeBron James announced his return to the Cleveland Cavaliers in an exclusive essay for Sports Illustrated on Friday. "I always believed that I'd return to Cleveland and finish my career there. I just didn't know when," James wrote. "I looked at other teams, but I wasn't going to leave Miami for anywhere except Cleveland…I'm coming home." James' free agency fueled weeks of rumors, but a return to Cleveland began to seem more likely when Cavaliers owner Dan Gilbert flew down to Florida last weekend, and the team subsequently made a cap-clearing trade on Wednesday. "In Northeast Ohio, nothing is given," James added. "I'm ready to accept the challenge."
2. White House knew of British government's plans to destroy NSA data
Newly declassified documents show that the Obama administration was made aware in advance of Britain's plans to force The Guardian newspaper to destroy data it had obtained on leaked National Security Agency documents. The White House had previously said it would be "very difficult to imagine a scenario in which that would be appropriate" in regard to performing a similar operation on an American media outlet. On Thursday, Obama administration officials said that while the White House had been aware of the plans after all, it had not assisted the British government in forcing the newspaper to destroy the computer data.
Subscribe to The Week
Escape your echo chamber. Get the facts behind the news, plus analysis from multiple perspectives.
SUBSCRIBE & SAVE
Sign up for The Week's Free Newsletters
From our morning news briefing to a weekly Good News Newsletter, get the best of The Week delivered directly to your inbox.
From our morning news briefing to a weekly Good News Newsletter, get the best of The Week delivered directly to your inbox.
3. CDC improperly sent pathogens at least five times in past decade
Anthrax, lethal botulism bacteria, and deadly bird flu virus pathogens all may have wound up in laboratories via improper shipment procedures over the past decade, according to a new report from the Centers for Disease Control and Prevention released on Friday. "These events should never have happened," Tom Frieden, CDC director, said in a conference call. "Frankly, I'm angry about it." The report was released following last month's safety lapse, in which more than 80 workers may have been exposed to live anthrax after other employees mistakenly sent samples of the bacteria to a different CDC lab.
4. U.S. on track for lowest annual deficit since 2008
The Treasury Department announced a $71 billion total June surplus on Friday afternoon, putting the U.S. on track for its lowest annual deficit since 2008. The deficit totals $366 billion in the first nine months of this budget year, down 28 percent from the same amount of time in 2013. Currently, the Congressional Budget Office is forecasting a total deficit of $492 billion, although the actual number will not be realized until the end of the full budget year, on Sept. 30.
5. Dutch Supreme Court blocks U.S. extradition of Al-Qaeda suspect
The Dutch Supreme Court ruled on Friday that Sabir Ali Khan could not be extradited to the United States to face charges of conspiracy to commit murder in support of al-Qaeda. Khan has citizenship in the Netherlands thanks to his mother, who was Dutch. He was arrested by Pakistani forces in 2010, allegedly at the request of the U.S., and he says he was subsequently tortured. When he was released to Dutch officials, the U.S. began trying to arrange an extradition. Khan currently lives freely in the Netherlands, although he told Time in January that he believes he is under constant surveillance.
6. Border Patrol stops migrant flights to San Diego
Following two weeks of protests from activists on both sides of the national immigration debate, the Border Patrol halted transfers of Central American migrants from Texas to San Diego on Thursday. San Diego's U.S. Customs and Border Protection agency had stepped in to handle an influx of immigrants arriving at the Texas border who required processing. But, a spokesman for the Border Patrol said the Texas backlog had been reduced and that location could "handle their own processing on site."
7. Kurdish forces seize Iraq oil fields as ministers halt government roles
Kurdish forces seized two more oil fields on Friday, in northern Iraq, prompting Prime Minister Nuri al-Maliki's government to threaten "dire consequences" if the Kurds did not withdraw. Meanwhile, Kurdish politicians halted their roles in Baghdad's government, although they plan to still attend parliament. "The country is now divided literally into three states," Hoshiyar Zebari, a Kurd and Iraq's current foreign minister, said. "Kurdish, a black state (ISIL) and Baghdad."
8. Death toll rises past 120 in Gaza Strip fighting
More than 120 Palestinians have been killed in fighting between Israel and militants in the Gaza Strip, according to Palestinian sources. The United Nations estimates that more than three-quarters of the dead are civilians. Israel has promised to continue its operations, which are targeting militant and militant facilities housing senior operatives. "The objective is to restore quiet to the cities of Israel, and I intend to achieve this objective," Israeli Prime Minister Benjamin Netanyahu said.
9. Seattle's only legal marijuana shop runs out of pot after three days
Seattle's Cannabis City, the first legal marijuana shop in Washington's largest city, sold out of its pot stock just three days into its state-approved license. While 24 other stores across Washington were also given state approval to retail marijuana this week, Cannabis City was the first in Seattle to begin selling, and its 11 pounds on hand did not last long. Shop owners blamed the shortage on the plants' maturation process, which takes three to four months (pot growers and processors were only issued licenses last week). "We knew it was coming," Cannabis City owner James Lathrop said. "We didn't have any guaranteed additional deliveries."
10. Last living member of the Ramones dies at 65
Tommy Ramone, a co-founder of Rock and Roll Hall of Fame band the Ramones, died on Friday at age 65, according to a business associate. Tommy Ramone, born Erdelyi Tamas in Hungary, started the band in 1974 with singer Jeff Hyman (Joey Ramone), Douglas Colvin (Dee Dee Ramone), and John Cummings (Johnny Ramone). While the Ramones struggled to gain commercial success, the punk group influenced a number of other artists, including Green Day, Nirvana, and even Bruce Springsteen. They are best remembered for classics such as Blitzkrieg Bop.

Continue reading for free
We hope you're enjoying The Week's refreshingly open-minded journalism.
Subscribed to The Week? Register your account with the same email as your subscription.