10 things you need to know today: January 15, 2015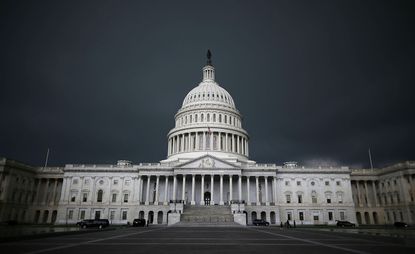 (Image credit: Mark Wilson/Getty Images)
1. Ohio man arrested for alleged plan to attack the U.S. Capitol building
The FBI on Wednesday arrested an Ohio man for allegedly plotting an attack on the U.S. Capitol with guns and pipe bombs. Federal authorities began investigating the suspect — Christopher Lee Cornell, 20 — after he allegedly tweeted statements supporting the Islamic State and violent attacks committed in North America. Lee was arrested after buying a semi-automatic rifle and 600 rounds of ammunition, and making plans to travel to Washington, D.C. Lee's father said the recent Muslim convert was no terrorist, but "one of the most peace-loving people I know."
2. The House votes to rescind Obama's legal protections for undocumented immigrants
The GOP-controlled House voted Wednesday to dismantle President Obama's executive actions on immigration unveiled last November. The legislation, which authorizes $40 billion to fund the Homeland Security Department for the rest of the budget year, would revoke protection against deportation for millions of undocumented immigrants. Democrats in the now Republican-run Senate have threatened to filibuster the bill, and Obama has said he would not sign it into law.
Subscribe to The Week
Escape your echo chamber. Get the facts behind the news, plus analysis from multiple perspectives.
SUBSCRIBE & SAVE
Sign up for The Week's Free Newsletters
From our morning news briefing to a weekly Good News Newsletter, get the best of The Week delivered directly to your inbox.
From our morning news briefing to a weekly Good News Newsletter, get the best of The Week delivered directly to your inbox.
3. France rounds up 54 for alleged hate speech
French authorities said Wednesday they had arrested 54 people for hate speech, anti-Semitism, and glorifying terrorism in a crackdown following the massacre at the satirical magazine Charlie Hebdo. The people rounded up — including controversial comic Dieudonne — were not linked to the attack. Daily Show host Jon Stewart noted that France was cracking down on offensive speech days after a massive rally in which millions held signs saying, "Je suis Charlie," in defense of free speech. "Je suis confused," he said.
4. Boko Haram uses young girls as suicide bombers
Terrorism experts believe Boko Haram has begun coercing young girls to become suicide bombers in Nigeria. Three young female suicide bombers as young as 10 years old carried out attacks last weekend just days after Boko Haram, a militant group fighting to create an Islamic state, raided and torched at least 10 towns in northeastern Nigeria, leaving around 2,000 people missing and feared dead. Terrorism experts said Boko Haram might be indoctrinating kidnapped schoolgirls and using them as bombers.
5. Virginia politician gets out of jail to take oath of office
Jailed Virginia lawmaker Joseph D. Morrissey left his cell on Wednesday to take the oath of office a day after winning reelection. The Democrat-turned-independent is serving a six-month sentence related to his relationship with a 17-year-old former receptionist at his law firm. Morrissey will be spending the night in jail and, wearing an ankle bracelet, reporting to the state capitol by day on work release to serve in the House of Delegates — a first.
6. Obama proposes helping rural communities boost broadband access
President Obama on Wednesday proposed striking laws preventing communities from creating local broadband networks, saying "high-speed broadband is not a luxury, it's a necessity." A White House report found that 25 mbps internet service is available to just 51 percent of Americans in rural areas, compared to 94 percent in urban areas. Nineteen states, supported by cable and phone companies, limit the abilities of municipalities to provide broadband access.
7. Four senior Secret Service officials removed in shake-up
The U.S. Secret Service is removing four senior officials in the latest step in a shake-up over security lapses, including the breach of White House security by a knife-wielding man last September, an agency official said Wednesday. Another high-ranking official has opted to retire. Acting Director Joseph Clancy told the assistant directors in charge of protection, investigations, technology, and public affairs that they would have to leave their jobs and start new assignments.
8. Climbing pair complete first free-climb of El Capitan
Two Americans, Tommy Caldwell and Kevin Jorgenson, became the first people to free-climb to the summit of Yosemite National Park's El Capitan on Wednesday. The pair used ropes and safety harnesses to keep from falling but used only their hands and feet to inch their way up the 3,000-foot vertical granite wall, long been considered the world's most difficult rock climb. Many climbers had thought the unprecedented feat was impossible. It took Caldwell and Jorgenson 19 days, and a number of injuries, to prove them wrong.
9. Dancer pursues sexual assault charges against Cosby
Las Vegas dancer Chloe Goins, 24, met with Los Angeles police on Wednesday to pursue sexual assault charges against embattled comedian Bill Cosby. Goins says she passed out after Cosby gave her a mixed drink at the Playboy mansion in 2008, and awoke naked in a bed, with Cosby licking her toes and masturbating. She says she protested, and he left. A Cosby lawyer said the comic "does not intend to dignify these allegations with any comment." Thirty-two women have accused Cosby of drugging or sexually assaulting them.
10. Oregon star Marcus Mariota announces he will enter NFL draft
Heisman trophy winner Marcus Mariota will give up his final year of college eligibility and enter the 2015 NFL draft, the 6-4 junior from Hawaii said Wednesday. Mariota led the Oregon Ducks to the national title game, where they were upset by underdogs Ohio State, 42-20. Mariota threw for a touchdown in every one of the 41 games he started at Oregon. Mariota thanked the school for "molding me as a person, player, and student-athlete," and his coach, Mark Helfrich, said Mariota would "be the standard by which others are judged."

Continue reading for free
We hope you're enjoying The Week's refreshingly open-minded journalism.
Subscribed to The Week? Register your account with the same email as your subscription.