10 things you need to know today: June 19, 2016
Trump complains Jeb is fomenting revolt, Brexit campaigning resumes, and more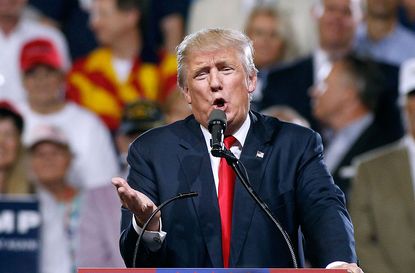 (Image credit: Ralph Freso/Getty Images)
1. Trump complains GOP isn't helping, Jeb is fomenting revolt
Presumptive Republican nominee Donald Trump expressed irritation with his party and its original 2016 frontrunner while speaking in Las Vegas Saturday night. "It would be helpful if the Republicans could help us a little bit," he said, before turning his ire to former candidate Jeb Bush. Speaking of a rumored "revolt" against him in the ranks of GOP delegates, Trump insisted "Jeb is working on the movement, just so you understand." Earlier that day Trump had denied such a revolt existed, calling it a "hoax" from the media.
2. Brexit campaigning resumes following lawmaker's murder
Campaigning for and against Britain's exit from the European Union has resumed following a three-day pause to honor the life of murdered British lawmaker Jo Cox. New polling suggests the decision could still go either way, but public opinion is trending slightly toward staying in the EU, with 45 percent of Britons wanting to remain and 42 percent ready to leave. Cox was a vocal proponent of staying, and the suspect in her killing has made statements suggesting his actions may have been motivated by a pro-Brexit stance.
Subscribe to The Week
Escape your echo chamber. Get the facts behind the news, plus analysis from multiple perspectives.
SUBSCRIBE & SAVE
Sign up for The Week's Free Newsletters
From our morning news briefing to a weekly Good News Newsletter, get the best of The Week delivered directly to your inbox.
From our morning news briefing to a weekly Good News Newsletter, get the best of The Week delivered directly to your inbox.
3. Obama addresses climate change in Yosemite speech
President Obama spoke of environmental concerns and remedies in his Saturday speech to a small crowd of invited guests at Yosemite National Park. "Climate change is no longer a threat; it is a reality," he said, touting conservation efforts of his administration and urging preservation of "our sacred spaces" for the next century. Obama also talked of the park's natural beauty in glowing terms, enthusing, "You can't view this on your iPad or a flat screen. You have to breathe this in yourself."
4. Counter-protesters, 'angels' block Westboro Baptist protest of Orlando memorial
Orlando residents rallied to shield mourners at Saturday's memorial events for the Pulse nightclub shooting from Westboro Baptist Church (WBC) protesters. The Orlando Shakespeare Theater used its costume shop to create giant 'angel wings' for counter-protesters to wear, blocking views of WBC's anti-LGBT signs. Others formed a human chain to divert WBC demonstrators, some holding their own signs with messages like, "Love is stronger than hate."
Orlando Sentinel The Washington Post
5. Russia, U.S. agree to improve strike coordination in Syria
Russia announced Sunday it has agreed to closer cooperation with the United States on airstrikes in Syria, a decision which comes after news that U.S.-supported opposition forces were targeted by Russian bombs. The Pentagon said it questioned Moscow about these strikes, but Russian Defense Ministry spokesman Igor Konashenkov denied his country had damaged American allies. Konashenkov described Saturday's conversation as a "constructive" discussion which will help "avert any incidents during military operations" as the U.S. and Russia continue to back opposite sides of the Syrian civil war.
6. Massive protests of U.S. base in Okinawa after attack on local woman
The rape and murder of an Okinawan woman touched off a huge protest Sunday of the American military base in the Japanese city. A U.S. contractor is the primary suspect in the woman's death, which reminds locals of the 1995 rape of a 12-year-old Japanese girl by three U.S. military personnel. About 65,000 Japanese people attended the rally, many demanding an end to decades of large-scale American military presence in their country.
7. Florida state official suspended for anti-Orlando Facebook rant
Florida Assistant State Attorney Kenneth Lewis was suspended following the discovery that he posted an anti-Orlando rant on Facebook the day of the Pulse nightclub shooting. "Downtown Orlando has no bottom. The entire city should be leveled," Lewis wrote as news of the massacre broke, adding, "It is a melting pot of 3rd world miscreants and ghetto thugs. It is void of culture." A representative of the state attorney said Lewis knowingly violated his office's social media policy.
The Washington Examiner NBC News
8. California heat wave temperatures to top 120 degrees
Southern Californians can expect a severe heat wave Monday, with temperatures in the triple digits in downtown Los Angeles and as high as 121 degrees in Palm Springs. The heat is expected to exacerbate a major wildfire which has shut down Highway 101 two nights in a row. The National Weather Service says Californians should seek shade and air-conditioned spaces, but warns the power could go out.
9. Apple won't support the Republican National Convention because of Donald Trump
The Republican National Convention, which begins July 18 in Cleveland, Ohio, is losing corporate sponsorship, thanks at least in part to the likely nomination of Donald Trump. Two unnamed sources said Saturday that tech giant Apple has decided not to participate as it has at conventions past, making it the latest of a series of companies to pull out of the event. Wells Fargo, UPS, Microsoft, Motorola, JPMorgan Chase, Ford, Walgreens, and HP have all made the same choice.
10. Colorado woman pried open a mountain lion's jaws to save her son
A Colorado mother who heard screaming coming from her front yard rushed out to find a mountain lion attacking her 5-year-old son, Pitkin County Sheriff's Dep. Michael Buglione said Saturday. "She grabbed a paw and lifted it up," Buglione described, "and put her right hand in its mouth to pry the boy out of its mouth so the boy could get free." The child suffered cuts to his face, head, and neck and has been hospitalized.

Continue reading for free
We hope you're enjoying The Week's refreshingly open-minded journalism.
Subscribed to The Week? Register your account with the same email as your subscription.