10 things you need to know today: October 5, 2016
Kaine and Pence clash in VP debate, Hurricane Matthew moves north after slamming Haiti and Cuba, and more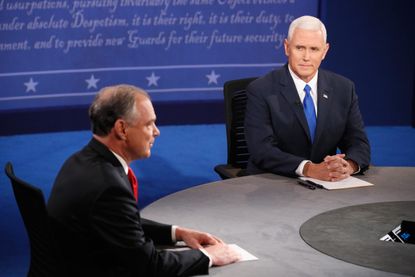 (Image credit: Andrew Gombert - Pool/Getty Images)
Sign up to our 10 Things You Need to Know Today newsletter
A free daily digest of the biggest news stories of the day - and the best features from our website
Thank you for signing up to TheWeek. You will receive a verification email shortly.
There was a problem. Please refresh the page and try again.
1. Kaine, Pence clash in contentious VP debate
Sen. Tim Kaine (D-Va.) and Indiana Gov. Mike Pence (R) hit each other's running mates with attacks on taxes, immigration, Russia, and other key campaign issues in the 2016 vice presidential debate on Tuesday night. Kaine, normally mild-mannered, aggressively went after the Republican presidential nominee, saying, "the thought of Donald Trump as commander in chief scares us to death." Kaine also slammed Trump for saying many undocumented Mexican immigrants were "rapists," and insulting women. Pence, called the debate's winner in a snap CNN poll, said Democratic nominee Hillary Clinton was the one running an "insult-driven" campaign. Pence delivered a calm and formal performance, blaming Clinton's policies for the rise of the Islamic State and saying her supporters want "more of the same." Analysts said neither Kaine nor Pence made errors that would hurt their tickets.
The New York Times The Associated Press
2. Hurricane Matthew heads north after slamming Haiti and Cuba
Hurricane Matthew, the most powerful Caribbean storm in nearly a decade, headed to the Bahamas early Wednesday after pounding the eastern tip of Cuba and southwest Haiti with torrential rains and top sustained winds of 145 miles per hour. Residents of Les Cayes, Haiti, said the storm destroyed many houses and caused some deaths, although it was impossible to immediately assess the extent of the damage because the storm knocked out some cellphone towers and a bridge connecting Haiti's rural southern peninsula from the capital, Port-au-Prince. "The river has overflowed all around us," church pastor Louis St. Germain said. "It's terrible... a total disaster." As of early Wednesday, the storm had caused 11 confirmed deaths, including five in Haiti.
Subscribe to The Week
Escape your echo chamber. Get the facts behind the news, plus analysis from multiple perspectives.
SUBSCRIBE & SAVE
Sign up for The Week's Free Newsletters
From our morning news briefing to a weekly Good News Newsletter, get the best of The Week delivered directly to your inbox.
From our morning news briefing to a weekly Good News Newsletter, get the best of The Week delivered directly to your inbox.
3. Governor urges Floridians to prepare for direct hit from Hurricane Matthew
Florida Gov. Rick Scott (R) on Tuesday told residents of the state to prepare for a direct hit from Hurricane Matthew. The latest forecasts shifted the storm's predicted path slightly to the west, putting Florida in the danger zone as the powerful storm heads north up the Atlantic coast after hitting Haiti, Cuba, and the Bahamas. "There could be massive destruction which we haven't seen since Hurricane Andrew devastated Miami-Dade County in 1992," Scott said. Like Florida, Georgia and South Carolina declared states of emergency, although Matthew is expected to weaken by the time it gets as far north as the Carolinas at the end of the week.
4. Bill Clinton rushes to clarify ObamaCare remarks
Former President Bill Clinton on Tuesday tried to clarify his comment that ObamaCare coverage for people making too much to get insurance subsidies is "the craziest thing in the world." Clinton had said ObamaCare works well for those who qualify for Medicaid or premium subsidies, but leaves some "with their premiums doubled and their coverage cut in half." Explaining his remarks while stumping for his wife, Democratic presidential nominee Hillary Clinton, he said ObamaCare "did a world of good," and that Hillary Clinton simply wants to fix it by letting people who make too much to get subsidies buy into Medicaid coverage. Republican nominee Donald Trump said the former president is "not a very good surrogate."
5. Oklahoma high court calls new abortion requirements unconstitutional
The Oklahoma Supreme Court on Tuesday ruled that a state bill imposing new requirements on abortion providers is unconstitutional. The legislation, Senate Bill 642, passed in 2015 but had not taken effect due to the court challenge. It would have made it a felony to help a minor get an abortion without parental consent. It also would have authorized the state Bureau of Investigation to create new protocols for statutory rape cases, and would have required abortion providers to preserve fetal tissue from abortions on girls under age 14. The court said the bill violated the state constitution and placed "undue burdens on access to abortion under the guise of protecting the health of women."
6. Duterte says Obama can 'go to hell' for criticizing Philippines drug crackdown
Philippine President Rodrigo Duterte, responding to President Obama's criticism of his brutal crackdown on drug dealers, said Obama can "go to hell," and described the U.S. as an unreliable ally. "Eventually I might, in my time, I will break up with America," Duterte said. "I would rather go to Russia and to China." The comments were the latest in a series of broadsides against the U.S. and Obama, and they came as the U.S. and the Philippines began joint military exercises. Duterte also slammed the European Union, another critic of his policies, saying the E.U. "better choose purgatory, hell is filled up."
7. Yahoo searched email accounts for intelligence officials
Yahoo last year created custom software to search customers' incoming email for information described by U.S. intelligence officials, according to a Reuters investigation published Tuesday. Reuters, citing people familiar with the matter, said Yahoo scanned hundreds of Yahoo Mail accounts. Two former employees said Yahoo Chief Executive Marissa Mayer made the decision, angering some other senior executives and leading to the departure of Chief Information Security Officer Alex Stamos in June 2015. Yahoo declined to comment beyond saying it is "a law abiding company, and complies with the laws of the United States."
8. Google announces new smartphone line in hardware push
Google on Tuesday unveiled the Pixel and Pixel XL smartphones, the first handsets entirely designed by the internet giant. The phones, aimed at challenging Apple's smartphone dominance, feature an ultra-sophisticated camera, unlimited photo storage, built-in tech support, the ability to connect with a virtual reality headset, and voice-controlled AI software capable of understanding context unique to each user. Google also introduced specifics about Home, a smart-home device that can answer questions, play music, give traffic reports, and communicate with other smart-home gadgets. Home will cost $129, and the Pixel phones will range from $649 to $869.
9. Afghan forces repel Taliban assault on Kunduz
The governor of Afghanistan's Kunduz province said Tuesday that government forces, backed by NATO, had driven Taliban attackers out of the provincial capital. Taliban forces easily penetrated the northern city on Monday, sending thousands of residents fleeing as conditions in the city rapidly deteriorated. "There is no electricity, no water, and no food. Many shops are closed," said the provincial governor, Asadullah Amarkhel. Fighting reportedly continued on Wednesday, although the Taliban suffered severe casualties as it was forced out of the city's center.
10. 3 scientists win chemistry Nobel for work on molecular machines
Jean-Pierre Sauvage, J. Fraser Stoddart, and Bernard L. Feringa were awarded the Nobel Prize in Chemistry on Wednesday for their work on molecular machines. These molecules with controllable movements — "the world's smallest machines" — are 1,000 times thinner than a human hair, but can be used to build new materials, operate microscopic sensors, and perform other tasks. "In terms of development, the molecular motor is at the same stage as the electric motor was in the 1830s, when scientists displayed various spinning cranks and wheels, unaware that they would lead to electric trains, washing machines, fans, and food processors," the Royal Swedish Academy of Sciences said in announcing the prize.
The New York Times The Washington Post
Continue reading for free
We hope you're enjoying The Week's refreshingly open-minded journalism.
Subscribed to The Week? Register your account with the same email as your subscription.
Sign up to our 10 Things You Need to Know Today newsletter
A free daily digest of the biggest news stories of the day - and the best features from our website
Harold Maass is a contributing editor at TheWeek.com. He has been writing for The Week since the 2001 launch of the U.S. print edition. Harold has worked for a variety of news outlets, including The Miami Herald, Fox News, and ABC News. For several years, he wrote a daily round-up of financial news for The Week and Yahoo Finance. He lives in North Carolina with his wife and two sons.