10 things you need to know today: October 17, 2016
Iraq launches offensive to drive ISIS from Mosul, Trump doubles down on "rigged" election claim, and more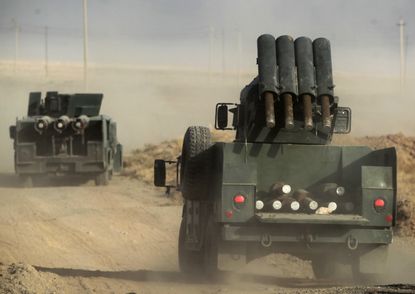 (Image credit: AHMAD AL-RUBAYE/AFP/Getty Images)
Sign up to our 10 Things You Need to Know Today newsletter
A free daily digest of the biggest news stories of the day - and the best features from our website
Thank you for signing up to TheWeek. You will receive a verification email shortly.
There was a problem. Please refresh the page and try again.
1. Iraq launches assault on ISIS in Mosul
Iraqi government forces and Kurdish peshmerga fighters launched their long-anticipated U.S.-backed offensive to drive the Islamic State out of the northern city of Mosul, Iraqi Prime Minister Haider al-Abadi said early Monday. The U.S.-led coalition is providing air support. More than one million civilians reportedly remain trapped in the city, Iraq's second largest and ISIS' de facto capital in Iraq. Thousands of Iraqi troops massed near the city in recent weeks in preparation for the battle, and ambulances were lined up by the dozens waiting to ferry out casualties.
2. Donald Trump doubles down on 'rigged' election claim
Republican presidential nominee Donald Trump broadened his claim that the Nov. 8 presidential election was being "rigged" by the media in favor of his Democratic rival, Hillary Clinton, tweeting Sunday that cheating was also underway "at many polling places — SAD." Trump's own running mate, Indiana Gov. Mike Pence, countered Trump's rhetoric on vote-rigging. Trump has urged supporters to monitor polling places, and critics have warned this could lead to violence. Pence said the national media was biased, but that, "We will absolutely accept the result of the election"
Subscribe to The Week
Escape your echo chamber. Get the facts behind the news, plus analysis from multiple perspectives.
SUBSCRIBE & SAVE
Sign up for The Week's Free Newsletters
From our morning news briefing to a weekly Good News Newsletter, get the best of The Week delivered directly to your inbox.
From our morning news briefing to a weekly Good News Newsletter, get the best of The Week delivered directly to your inbox.
3. Hillary Clinton's lead grows in 3 new national polls
Three polls released in the last 24 hours confirmed that Democrat Hillary Clinton still leads her Republican rival, Donald Trump, among likely voters nationally, the question is by how much. Clinton led Trump by 8 percentage points in a George Washington University Battleground Poll released Monday. The same poll in early September put Clinton up by just 2 points. Clinton led by 11 percentage points in a new Wall Street Journal/NBC News poll. She held just a 4-point lead in a Washington Post/ABC News poll, a difference within the survey's margin of error. Statistical guru Nate Silver at FiveThirtyEight said his site's forecast model placed Clinton's lead in the middle, at 6 to 7 percentage points.
George Washington University FiveThirtyEight
4. Local North Carolina GOP headquarters firebombed
Somebody threw a bottle of flammable liquid through a window into a North Carolina Republican Party office on Saturday night. Nobody was injured, but furniture, campaign signs, and supplies were destroyed. Someone also spray painted a swastika and the words "Nazi Republicans get out of town or else" on an adjacent building. Gov. Pat McCrory (R) called the firebombing "an attack on our democracy," and Republican presidential nominee Donald Trump blamed "Animals representing Hillary Clinton and Dems in North Carolina." Clinton, the Democratic presidential nominee, called the attack "horrific and unacceptable."
5. U.S., U.K. call for Yemen ceasefire
The U.S. and Britain on Sunday called for a ceasefire as soon as possible between Iranian-supported Houthi rebels and government forces in Yemen. A Saudi-led coalition supporting the government has faced heavy criticism since launching an airstrike that killed as many as 140 people at a funeral in Yemen's capital, Sanaa. Since then, U.S. ships in the Red Sea have been targeted twice by rebel-fired missiles, and the U.S. has responded by returning fire three times in a week at rebel targets. U.S. Secretary of State John Kerry said an unconditional ceasefire should start "as rapidly as possible, meaning Monday, Tuesday," followed by peace negotiations.
6. Trump calls SNL spoof a 'hit job'
Donald Trump on Sunday accused NBC's Saturday Night Live of airing a "hit job" against him. The Republican presidential nominee has appeared numerous times on the show, often poking fun at himself, including as a guest host last November. He apparently felt that Saturday's spoof of the second presidential debate went too far. In the sketch, actor Alec Baldwin, portraying Trump, was asked whether he likes kids, and he responded, "I love the kids, OK? I love them so much I marry them." Baldwin-as-Trump also called a black questioner in the town hall audience "Denzel," and called for jailing Hillary Clinton, saying, "She's committed so many crimes, she's basically a black." Trump tweeted that the show is "boring and unfunny." "Alec Baldwin portrayal stinks. Media rigging election!"
7. Tim Kaine encourages Hispanic voter turnout efforts
Democratic vice presidential candidate Tim Kaine delivered a speech at a church entirely in Spanish on Sunday — a first in presidential campaigning, according to Democratic nominee Hillary Clinton's campaign. Kaine, speaking in Miami, urged Hispanic evangelicals to vote in the November election. "When I lived in Honduras it was during a military government — a dictatorship — and no one could vote during that time," he said. "I'm thankful that this church is working to get people registered."
8. European spacecraft starts descent to Mars
The European Space Agency's Mars lander detached from its mothership on Sunday and began its three-day descent to the red planet's surface. The Schiaparelli spacecraft will collect images and take scientific measurements of Mars' surface, and test technology for a future European Mars rover. Schiaparelli's mothership, the Trace Gas Orbiter, will orbit the planet and analyze methane and other gases in the atmosphere to help assess whether Mars can or has sustained life.
The Associated Press Space.com
9. Nigerian families reunite with 21 schoolgirls freed by Boko Haram
A group of Nigerian parents were reunited on Sunday with 21 schoolgirls kidnapped by Boko Haram more than two years ago, and freed last week. The former captives were the first among the 276 kidnapped girls to be freed thanks to negotiations organized by the government and the Islamic extremist group. A video obtained by The Associated Press showed the families embracing when they were reunited. "I never expected I will see my daughter again and I pray that those girls still left behind, that God will bring them out safely the way our own daughter came out alive," said a mother of one of the released girls, Raha Emmanuel.
10. Olympic sprinter's daughter killed in crossfire
The 15-year-old daughter of U.S. Olympic sprinter Tyson Gay was killed Sunday when she was caught in the middle of a gunfight between people in two vehicles outside a Cook Out restaurant in Lexington, Kentucky. Trinity Gay was rushed in a private vehicle to a hospital, where she was pronounced dead. "She didn't make it. I'm so confused," Gay said. "She was just here last week for fall break. It's so crazy." Three suspects in the shooting were arrested hours later. Tyson Gay, 34, was born in Lexington and lives outside Orlando, Florida. He won a silver medal in the 4x100 meters relay at the 2012 Games in London, but lost it after testing positive for a banned substance in 2013.