10 things you need to know today: February 20, 2017
Defense secretary says the U.S. won't seize Iraq's oil, Sweden demands explanation for Trump's terror comment, and more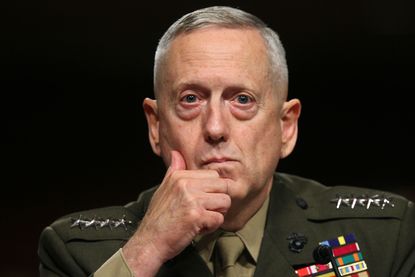 (Image credit: Alex Wong/Getty Images)
1. Defense Secretary James Mattis: U.S. won't seize Iraq's oil
Defense Secretary James Mattis on Monday said that the U.S. would not try to seize Iraq's oil, an idea President Trump floated last month that has upset Iraqi leaders. Some local lawmakers have been pressuring Prime Minister Haider al-Abadi to cut back on the country's cooperation with the U.S. due to Trump's oil threat and his travel ban, which included Iraq and six other predominantly Muslim countries but has been blocked by courts. "We're not in Iraq to seize anybody's oil," Mattis told reporters after arriving in Iraq on an unannounced visit.
2. Sweden demands explanation for Trump's terror comment
The Swedish government on Sunday demanded an explanation from the State Department on what President Trump meant when he said a day earlier, "You look what's happening last night in Sweden. Sweden, who would believe this?" Trump's comment about the challenges involved in keeping America safe was widely interpreted to mean that some kind of attack had taken place this weekend in Sweden, but Swedish authorities said nothing happened that night, or any other recent night. "Sweden? Terror attack? What has he been smoking? Questions abound," Carl Bildt, a former Swedish prime minister, wrote on Twitter. Trump responded on Twitter, saying he was referring to a Fox News report he had seen about Sweden and immigration. Fox News ran a report Friday night on alleged migrant-related crime in Sweden.
Subscribe to The Week
Escape your echo chamber. Get the facts behind the news, plus analysis from multiple perspectives.
SUBSCRIBE & SAVE
Sign up for The Week's Free Newsletters
From our morning news briefing to a weekly Good News Newsletter, get the best of The Week delivered directly to your inbox.
From our morning news briefing to a weekly Good News Newsletter, get the best of The Week delivered directly to your inbox.
3. Pence tells EU leaders U.S. wants to 'deepen' relationship
Vice President Mike Pence told European Union officials on Monday that the Trump administration wants to "deepen our relationship" with the 28-nation trading bloc. The comment, which came in a meeting with EU foreign policy chief Federica Mogherini in Brussels, was seen as an attempt to reassure EU leaders' concerns over President Trump's support for Britain's decision to leave the EU. Pence also sought to reassure European officials in Germany over the weekend at the Munich Security Conference, but some participants left the conference still worried about comments Trump has made, such as calling NATO "obsolete." "People were not reassured," said Daniela Schwarzer, director of the German Council on Foreign Relations. "They think that Trump is erratic and incalculable."
4. North Korea says it doesn't trust Malaysian investigators
North Korea said Monday that it did not trust Malaysia to properly investigate last week's murder of Kim Jong Nam, the half-brother of North Korean leader Kim Jong Un, at Kuala Lumpur's airport. Pyongyang is calling for a joint investigation. South Korea has said it was "certain" that North Korea was behind the killing, which Seoul called an "act of terrorism." CCTV footage released Monday showed Kim Jong Nam, 45, going to a check-in kiosk and being ambushed by two women. Authorities say the women applied a deadly poison. North Korea has grown increasingly angry over the case, accusing Malaysia and South Korea of conspiring to pin the killing on Pyongyang.
5. Kraft Heinz withdraws proposal to merge with Unilever
Kraft Heinz has scrapped its $143 billion merger proposal with Unilever, the companies announced Sunday. The companies said the decision had been made amicably. Kraft Heinz made the surprise offer on Thursday, proposing a price that marked an 18 percent premium on Unilever's Thursday closing price, but Unilever, which makes Dove soap, Ben & Jerry's ice cream, and Hellmann's mayonnaise, said the offer "fundamentally" undervalued the British-Dutch company. Kraft Heinz promptly said it was ready to keep pushing, but a Heinz spokesman said Unilever made it clear that it "did not wish to pursue a transaction."
6. Iraqi forces make gains in western Mosul offensive
Iraqi government soldiers took control of several villages near Mosul on Sunday in the first day of an offensive aiming to drive the Islamic State out of the city, ISIS' last major stronghold in Iraq. Government forces took over the eastern side of the city last month. The latest attack, announced Sunday by Iraqi Prime Minister Haider al-Abadi, could prove tougher, as the area is laced with narrow, winding streets providing ISIS militants with ready cover. Two of the villages taken by government forces on Sunday put the advancing troops in a position to attack the city's airport. Forces on the government-controlled east side can't easily push into the western side because all bridges joining the two sides of the Tigris River have been destroyed.
7. SpaceX launches rocket after delay
SpaceX launched a rocket carrying cargo to the International Space Station on Sunday, a day after an unexpected reading from the rocket's second stage forced a delay 13 seconds before liftoff. Sunday's launch was the first from Florida's Kennedy Space Center since the last space shuttle launch more than five years ago, and SpaceX's first from the historic Launch Pad 39A that Apollo 11 used in 1969 on the way to the moon. The Dragon cargo capsule, carrying 5,500 pounds of supplies, experiments, and other cargo, reached orbit on schedule 11 minutes after liftoff, and is expected to link up with the Space Station this week. The Falcon 9 rocket's first stage returned to Earth, successfully landing at Cape Canaveral Air Force Station, an important step in SpaceX's recovery from the explosion of a rocket on a launchpad last September.
8. Suicide bombing kills 30 in Somalia
A suicide bombing killed at least 30 people at a busy market near the center of Mogadishu, Somalia's capital, on Sunday. "The market was full of blood," said Fa'izo Shimbir, a shopper who was near the market and saw dead bodies scattered around. The attack, which officials blamed on the Islamist extremist group al-Shabab, underscored the intense security challenges facing Somalia's new president, Mohamed Abdullahi Mohamed, who was selected by the country's parliament this month and hours before the attack had announced a new offensive against al-Shabab.
9. Uber chief vows investigation of sexual harassment allegations
Uber CEO Travis Kalanick said Sunday that the ride-hailing company would conduct an "urgent investigation" into sexual harassment accusations made by a former employee in a blog post. The former Uber software programmer, Susan Fowler, said that her manager propositioned her in chat messages. She said she took screenshots of the messages and showed them to human resources, but was told that her boss was a "high performer" and senior managers didn't want to punish him for something they saw as an "innocent mistake." Kalanick said the behavior Fowler described was "abhorrent and against everything Uber stands for and believes in."
10. Trump interviews national security adviser candidates
President Trump on Sunday met with four potential replacements for retired general Mike Flynn, who was ousted as national security adviser last week. The candidates for the job reportedly included Trump's acting adviser, retired Army Lt. Gen. Keith Kellogg, as well as former United Nations ambassador John Bolton, Army Lt. Gen. H.R. McMaster, and Lt. Gen. Robert Caslen, the superintendent of the U.S. Military Academy at West Point. White House spokeswoman Sarah Huckabee Sanders said Trump might meet with more candidates. Trump, spending the weekend at his private club, Mar-a-Lago, in Palm Beach, said he wanted to make his pick in the next few days.

Continue reading for free
We hope you're enjoying The Week's refreshingly open-minded journalism.
Subscribed to The Week? Register your account with the same email as your subscription.