10 things you need to know today: February 25, 2017
Trump bashes press and appeals to patriotism at CPAC, White House slams 'indefensible' reports on FBI-Russia investigation interference, and more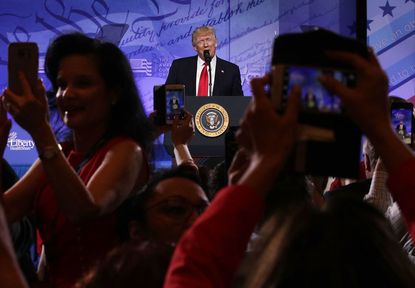 (Image credit: Alex Wong/Getty Images)
1. Trump bashes press and appeals to patriotism at CPAC
President Trump opened his speech Friday at the Conservative Political Action Conference with a tirade against the media, which he labels the "enemy of the American people." He suggested banning anonymous sources, noting a nine-source story by The Washington Post that accurately detailed former National Security Adviser Michael Flynn's discussions with a Russian ambassador. Returning to campaign themes, Trump promised he'll repeal and replace ObamaCare while rounding up "the gang members, the drug dealers, and the criminal aliens and throwing them the hell out of our country." He closed with a rallying cry of "America First," dismissing globalism with a reminder that there is "no such thing as a global anthem, a global currency, or a global flag."
2. White House slams 'indefensible' reports on FBI-Russia investigation interference
White House Press Secretary Sean Spicer on Friday denied reports that White House Chief of Staff Reince Priebus pressured the FBI to publicly refute news reports that were critical of the White House. "What you guys have done is indefensible and inaccurate," Spicer told the media. On Thursday, CNN and The Associated Press reported Priebus asked the bureau to dispute stories about President Trump's campaign aides' alleged contact with senior Russian intelligence officials during the election, and that the FBI apparently denied Priebus' request. The White House claims that while Priebus did ask the FBI to debunk the reports, it was the FBI that first approached the White House with concerns about the reports' veracity; officials claim the FBI declined to weigh in publicly, but "gave Priebus the go-ahead to discredit the story." The FBI has still not commented publicly.
Subscribe to The Week
Escape your echo chamber. Get the facts behind the news, plus analysis from multiple perspectives.
SUBSCRIBE & SAVE
Sign up for The Week's Free Newsletters
From our morning news briefing to a weekly Good News Newsletter, get the best of The Week delivered directly to your inbox.
From our morning news briefing to a weekly Good News Newsletter, get the best of The Week delivered directly to your inbox.
The Washington Examiner The Associated Press
3. White House blocks The New York Times, Politico, CNN from press gaggle
The White House blocked several major news organizations from attending an informal, off-camera briefing Friday in White House Press Secretary Sean Spicer's office. CNN, The New York Times, Politico, the Los Angeles Times, BuzzFeed, and much of the foreign press were not allowed in the room, although conservative outlets including Breitbart, The Washington Times, and One America News Network were allowed to attend. Networks such as NBC, ABC, CBS, and Fox were also included. Reporters from The Associated Press and Time boycotted the press gaggle in protest of their colleagues' exclusion.
4. Democrats set to choose new DNC chair
The 447 members of the Democratic National Committee will meet in Atlanta on Saturday to choose a new DNC chair, an important step of self-definition for a party seeking new direction after its unexpected loss of the White House in November. Seven candidates are in contention for the position, but the two favorites are Rep. Keith Ellison (D-Minn.), who is backed by progressives like Sen. Bernie Sanders (I-Vt.) and Sen. Elizabeth Warren (D-Mass.), and former Labor Secretary Tom Perez, who has the support of Former Vice President Joe Biden as well as other high-ranking officials from the erstwhile Obama administration and Hillary Clinton campaign. The previous DNC chair, Debbie Wasserman Schultz, resigned in 2016 after leaked emails suggested she inappropriately favored Clinton over Sanders in the Democratic primaries. Donna Brazile stepped in as an interim chair in July.
5. Iraq launches first airstrike against ISIS in Syria
The Iraqi air force on Friday carried out its first airstrike against the Islamic State in Syria, Iraqi Prime Minister Haider al-Abadi confirmed. "We are determined to chase terrorism that tries to kill our sons and citizens wherever it is found, so we gave orders to the air force command to strike Islamic State positions in [the towns of] Hosaiba and Albu Kamal inside Syrian territory as they were responsible for recent bombings in Baghdad," Abadi said in a statement. The Joint Operations Command said the strikes "destroyed Islamic State headquarters in Albu Kamal." The strike, reportedly carried out in "complete coordination" with the Syrian government, follows several ISIS-claimed car bombings in Iraq and comes amid Iraqi troops' final push into western Mosul, the terrorist group's last major stronghold in Iraq.
6. Trump signs executive order creating regulatory reform task forces
On Friday, President Trump signed an executive order placing "regulatory reform" task forces within federal agencies to help identify "costly and unnecessary regulations." The watchdog groups will have 90 days to examine existing regulations and identify which ones "can be repealed or modified," The Hill reported. Trump signed the order shortly after reiterating his pledge to nix "75 percent of the repetitive, horrible regulations that hurt companies [and] hurt jobs" during his speech at the Conservative Political Action Conference. At a meeting with business executives last month, Trump suggested he might cut even more than 75 percent of existing regulations. Trump has already signed an executive order that aims to slash two existing regulations for every new regulation introduced.
7. 'CloudBleed' leak compromises passwords for services including Uber, FitBit, and OKCupid
A security breech dubbed "CloudBleed" because of its link to cybersecurity company Cloudflare compromised some 3,400 websites, including popular services like Uber, FitBit, and OKCupid. News of the bug broke Thursday and Friday after it was discovered by a Google researcher named Tavis Ormandy, and users are encouraged to change their passwords on affected sites even though the problem has now been fixed. Ormandy's report indicated he was able to find "private messages from major dating sites, full messages from a well-known chat service, online password manager data, frames from adult video sites, hotel bookings," though Cloudflare says it has "not discovered any evidence of malicious exploits of the bug or other reports of its existence."
8. Muhammad Ali Jr. detained by immigration agents at airport
Muhammad Ali Jr., the son of legendary boxing champion Muhammad Ali, was detained by immigration agents on Feb. 7 at the Fort Lauderdale-Hollywood International Airport in Florida, his family reported Friday. Ali Jr. was traveling with his mother, Khalilah Camacho-Ali, on his way home from speaking at a Black History Month event in Jamaica. The family's lawyer, Chris Mancini, said both were pulled aside by immigration officials asking questions like, "Where did you get your name from?" and "Are you Muslim?" Ali Jr. was held and questioned for two hours. U.S. Customs and Border Protection declined to comment on the situation, which the Ali family believes is tied to President Trump's now-suspended immigration executive order.
9. Baseball returns with exhibition games in Florida, Arizona
Major League Baseball returned Friday with the first spring training exhibition games of the season. The pre-season games started a week earlier than normal this year due to the World Baseball Classic, which begins next month. Kicking off the action Friday afternoon were the Baltimore Orioles and Detroit Tigers, the New York Mets and the Boston Red Sox, and the Philadelphia Phillies and the New York Yankees, with more clubs taking the field throughout the day. Regular season baseball kicks off April 2, with 29 teams seeking to dethrone the reigning World Series champions, the Chicago Cubs.
10. Obama cheered on Broadway outing in New York
Former President Barack Obama was spotted Friday afternoon with his elder daughter, Malia, in New York City, where the pair took in a showing of Arthur Miller's The Price on Broadway. The Obamas were attended by a large security contingent, as well as a cheering crowd of onlookers screaming "I love you." The show stars actors Danny DeVito, Mark Ruffalo, and Tony Shalhoub in a story of brothers who reunite to dispose of their deceased father's possessions.
The Associated Press NBC New York

Continue reading for free
We hope you're enjoying The Week's refreshingly open-minded journalism.
Subscribed to The Week? Register your account with the same email as your subscription.