10 things you need to know today: February 28, 2017
Presidential budget proposal faces opposition, Trump aims to steady presidency with address to Congress, and more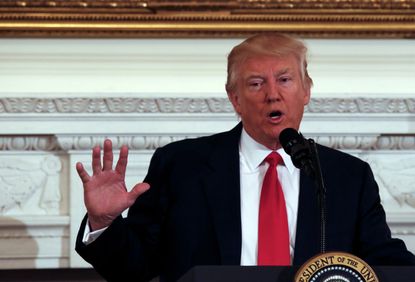 (Image credit: Getty Images)
1. Trump budget boosts military spending, requires others to do 'more with less'
President Trump will submit a budget calling for a $54 billion — or 10 percent — increase in defense spending, White House officials said Monday. Trump said that he was proposing to pay for the increase with large cuts to other federal programs, making them do "more with less." Trump vowed to put "America first" by shifting money previously spent overseas to focus on defense, law enforcement, and veterans. "We are going to do more with less and make the government lean and accountable to the people," Trump said. "We can do so much more with the money we spend." Some Republicans criticized the budget, saying it didn't raise defense spending as much as claimed, while Democrats said Trump's bid to slash social programs was unacceptable and a group of retired generals urged Congress to reject Trump's proposed cuts to the State Department and foreign aid, saying such spending is key to national security.
2. Trump has chance to steady presidency in first address to Congress
President Trump makes his first address to a joint session of Congress on Tuesday night, giving him an opportunity to jumpstart his political agenda after a turbulent beginning to his presidency. White House advisers say Trump will use the speech, scheduled to start at 9 p.m., to touch on his early accomplishments, such as withdrawing from the Trans-Pacific Partnership, which he criticized during the campaign, and spell out his plans for realizing legislative priorities that include replacing ObamaCare and boosting the economy with infrastructure spending. "We spend billions in the Middle East, but we have potholes all over the country," Trump told the nation's governors on Monday.
Subscribe to The Week
Escape your echo chamber. Get the facts behind the news, plus analysis from multiple perspectives.
SUBSCRIBE & SAVE
Sign up for The Week's Free Newsletters
From our morning news briefing to a weekly Good News Newsletter, get the best of The Week delivered directly to your inbox.
From our morning news briefing to a weekly Good News Newsletter, get the best of The Week delivered directly to your inbox.
The Associated Press The New York Times
3. Trump supporters hold rallies to counter opposition
Supporters of President Trump held rallies in cities across the nation on Monday in a bid to counter what participants described as unfair criticism at protests against Trump at airports, town-hall meetings, and public squares. About 150 people attended a gathering in Denver. "I'm getting a lot of comments from the leftists about, 'Your crowd's not going to be as big as our crowd,'" said retired teacher Betty Blanco. "I didn't know it was a contest." The pro-Trump crowds in several cities praised the president for many of the same policies that have angered his opponents, such as his crackdown on immigration and dismantling of Obama-era environmental regulations on businesses.
4. George W. Bush calls free press 'indispensable to democracy'
Former President George W. Bush said Monday that a free press is "indispensable to democracy," taking a stand contrasting sharply with President Trump's recent declaration that leading mainstream news outlets were "fake news" and "the enemy of the people." "We need the media to hold people like me to account," said Bush, who appeared on NBC's Today show to promote his new memoir, Portraits of Courage: A Commander in Chief's Tribute to America's Warriors. "I mean, power can be very addictive... and it's important for the media to call to account people who abuse their power." Bush said he tried to get Russian President Vladimir Putin to respect "an independent press," but that it's hard to "tell others to have an independent free press when we're not willing to have one ourselves."
5. SpaceX to fly two space tourists around moon
SpaceX plans to fly two private citizens on a trip around the moon in its Dragon spacecraft next year, the company's founder and CEO, Elon Musk, said Monday. SpaceX said it would identify the space tourists, who have already paid large deposits for their spots on the week-long flight, after initial health and fitness tests. The passengers will be the only people on board the fully autonomous flight. The mission will occur after SpaceX makes its first manned flight, sending NASA astronauts to the International Space Station. "I hope this gets people really excited about sending people into deep space again," Musk said.
6. South Korean intelligence officials say Kim Jong Un ordered half-brother's killing
South Korean intelligence officials believe that North Korean leader Kim Jong Un was the one who "ordered" the murder of his estranged half-brother, Kim Jong Nam, at the airport in Kuala Lumpur, Malaysia, South Korean lawmaker Kim Byung-kee said Monday. "The assassination of Kim Jong Nam was an act of systematic terror ordered by Kim Jong Un," Kim Byung-kee said in a televised address. Malaysian investigators said two women smeared VX, an outlawed nerve agent, on Kim Jong Nam's face, causing him to die within 20 minutes. North Korea insists it had nothing to do with the killing, and that if the women had VX on their hands they would have died, too.
7. Abu Sayyaf video claims to show beheading of hostage
The governments of the Philippines and Germany said Monday that a video released by the Philippine militant group Abu Sayyaf showed the beheading of a German man, Jürgen Kantner, 70. Abu Sayyaf had warned the two countries that it was holding Kantner, and would kill him if it didn't receive $600,000 by Monday. Kantner and his partner, Sabine Merz, were captured in November as they sailed their 53-foot-yacht, Rockall, in southern Philippines waters controlled by Abu Sayyaf. Merz was found dead on the boat. Abu Sayyaf said its militants shot her dead after she fired on them.
8. Bomb threats force evacuations at more Jewish institutions
Bomb threats forced the evacuation of Jewish community centers in New Jersey, Pennsylvania, and Delaware on Monday, the latest evidence of a wave of anti-Semitic threats and vandalism across the nation in recent weeks. No bombs were found, but the Monday threats compounded concerns already heightened over the weekend when vandals toppled more than 100 headstones at a Philadelphia Jewish cemetery, the second such recent incident in the country. The Anti-Defamation League urged Jewish institutions to increase security, saying there have been 90 threats against Jewish institutions since January.
9. Missouri shooting suspect told bartender he shot two 'Iranians'
The suspect in the shooting of two Indian men in a Missouri bar admitted to the attack but described the victims as Iranians, the bartender at another restaurant told a 911 dispatcher. Witnesses said the suspect, Adam Purinton, yelled "get out of my country" before opening fire at Austin's Bar and Brill in a Kansas City suburb. One of the Indian men, Srinivas Kuchibhotla, was killed, and the other, Alok Madasani, was injured. Both came to the U.S. as students, and stayed to work as engineers at GPS-maker Garmin. A third man, Ian Grillot, was wounded trying to intervene. After the shooting, Purinton drove to an Applebee's restaurant 70 miles away, telling the bartender there he had done something "really bad" and needed to hide, the bartender said in the 911 call.
10. Justice Department drops claim Texas voter ID law targeted minorities
The Justice Department on Monday filed a motion to withdraw a key objection to a 2011 Texas voter ID law that is one of the toughest in the nation, dropping the Obama administration's claim that the legislation is intentionally racially discriminatory. Civil rights groups plan to keep the challenge going on their own. The Obama Justice Department sued to block the law, and a federal appeals court ruled last year that the legislation would have to be revised because it discriminated against minority voters, who were more likely to lack the required identification cards than white voters. Opponents of the law said the state's Republican-led legislature chose IDs favoring GOP-leaning white voters, including driver's licenses and passports, while excluding government-employee and public university IDs that are more accessible to some Democratic-leaning minority and young voters.
The Washington Post The New York Times

Continue reading for free
We hope you're enjoying The Week's refreshingly open-minded journalism.
Subscribed to The Week? Register your account with the same email as your subscription.