10 things you need to know today: March 18, 2017
Trump meets Merkel, NCAA Round 1 ends with few upsets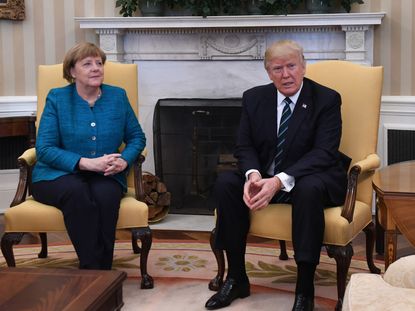 (Image credit: Pat Benic-Pool/Getty Images)
Sign up to our 10 Things You Need to Know Today newsletter
A free daily digest of the biggest news stories of the day - and the best features from our website
Thank you for signing up to TheWeek. You will receive a verification email shortly.
There was a problem. Please refresh the page and try again.
1. Trump meets with Germany's Merkel
President Trump held his first face-to-face meeting with German Chancellor Angela Merkel on Friday. In the joint press conference after their discussion, Trump stressed the importance of NATO allies paying "their fair share," saying "many nations owe vast sums of money." Merkel said she was "gratified to know" Trump believes NATO is "important," given the president's past criticisms of the alliance. Though Trump championed a "stronger America" and emphasized prioritizing U.S. citizens at the start of the press conference, he later called a German reporter's suggestion that he is an isolationist "fake news." Prior to the news conference, the two leaders endured an uncomfortable sit-down in the Oval Office, during which Trump apparently declined to shake Merkel's hand.
2. Trump administration files appeal over revised travel ban
The Trump administration filed paperwork Friday to fight a ruling by a federal court in Maryland that imposed a temporary restraining order against President Trump's revised travel ban. The judge ruled the executive order violated the First Amendment, and claimed statements made by Trump during the campaign proved "animus toward Muslims." The Maryland decision against the ban is narrower than a similar ruling made in Hawaii; however, if the Justice Department were to appeal the Hawaii ruling, the case would be sent to the same San Francisco appeals court that shot down the first version of Trump's travel ban last month. Trump has suggested he would take the case as far as the Supreme Court.
Subscribe to The Week
Escape your echo chamber. Get the facts behind the news, plus analysis from multiple perspectives.
SUBSCRIBE & SAVE
Sign up for The Week's Free Newsletters
From our morning news briefing to a weekly Good News Newsletter, get the best of The Week delivered directly to your inbox.
From our morning news briefing to a weekly Good News Newsletter, get the best of The Week delivered directly to your inbox.
3. China advises Tillerson to take a 'cool-headed' approach to North Korea
Secretary of State Rex Tillerson and his Chinese counterpart Wang Yi met Saturday in Beijing to discuss North Korea's nuclear and ballistic missile programs. Wang pushed Tillerson to take a "cool-headed" approach after Tillerson on Friday warned a military response was "on the table" if North Korea further threatened South Korean or U.S. forces. Earlier Friday, President Trump tweeted China "has done little to help" the U.S. deal with North Korea. After a two-hour talk Saturday, Tillerson said he and Wang agreed to work together to get North Korea to "make a course correction and move away from the development of their nuclear weapons."
4. Trump blames Fox News for wiretap confusion, Fox pushes back
On Thursday, the U.S. Senate Intelligence Committee said there are "no indications" President Trump was wiretapped by former President Barack Obama. Nevertheless, White House Press Secretary Sean Spicer alleged later Thursday that Obama was able to get intelligence on Trump through the British spy agency GCHQ — a theory first floated by former judge Andrew Napolitano on Fox News. When asked Friday about spreading the baseless allegation, Trump said: "All we did was quote a very talented legal mind ... So you shouldn't be talking to me, you should be talking to Fox." In response, Fox anchor Shep Smith said the network "cannot confirm [Napolitano's] commentary" and "knows of no evidence of any kind" that Trump was surveilled.
5. Man fatally shot at Paris' Orly Airport after attempting to seize soldier's gun
Paris' Orly Airport temporarily suspended all flights Saturday after security officers fatally shot a man who had reportedly wrestled a soldier to the ground at the airport in an attempt to grab the soldier's gun. No bystanders were injured, but 3,000 were evacuated from Paris' second-largest international airport. Prior to the airport incident on Saturday morning, the man reportedly shot at police officers during a traffic stop, wounding one officer in the face, before fleeing and stealing a woman's car. Interior Minister Bruno Le Roux said the man's identity, which has yet to be revealed, is "known to police and intelligence services." France's anti-terrorism division is handling the investigation.
6. Fired U.S. Attorney Preet Bharara was reportedly investigating Tom Price
Former U.S. Attorney Preet Bharara was reportedly investigating Health and Human Services Secretary Tom Price when he was fired by the Trump administration last week. Price traded over $300,000 worth of health-related shares while he was voting on related legislation as a Georgia congressman in the House of Representatives. Price has argued his trades were lawful, while critics say he was using his office to make money. The U.S. Attorney's Office for the Southern District of New York was reportedly investigating Price at the time of Bharara's dismissal, a person familiar with the investigation said. Bharara met with Trump shortly after the election and at the time, announced he had agreed to stay on under the incoming administration.
7. Secret Service agent's laptop containing Trump Tower floor plan stolen
The U.S. Secret Service confirmed Friday that an agent's laptop was stolen from her car in New York City. The laptop, which has yet to be recovered, apparently did not hold classified information and officials said the laptop is protected by "multiple levels of security." However, the highly encrypted laptop reportedly does contain Trump Tower floor plans and the building's evacuation protocol, as well as details on the ongoing criminal investigation into Hillary Clinton's use of a private email server. "There's data on there that's highly sensitive," a police source said. "They're scrambling like mad."
8. Poll finds 90 percent of Americans are open to path to citizenship
A majority of Americans don't support President Trump's hard line stances on immigration, a CNN/ORC poll released Friday revealed. While Trump has pledged to build a U.S.-Mexico border wall and strictly enforce U.S. immigration laws, nearly two-thirds of Americans say the nation's top priority should be offering undocumented immigrants a path to legal citizenship. Just 26 percent say stopping illegal border crossings should be a top priority, while 13 percent say the main concern should be deporting undocumented immigrants. A notable 90 percent support offering undocumented immigrants who "hold a job, speak English, and are willing to pay back taxes" a path to legal citizenship, CNN reported. Trump has floated the idea of an immigration reform compromise, but has offered few details.
9. Monopoly to replace the boot, thimble, and wheelbarrow with three new tokens
Hasbro announced Friday that it will replace the boot, the thimble, and the wheelbarrow tokens in the upcoming version of Monopoly with a rubber ducky, a penguin, and a T. rex. The toy company's decision was based on an online survey of more than 4.3 million Monopoly fans from around the world. Other proposed replacement tokens were a smiley-face emoji, a monster truck, and a cell phone. With these changes, the only original tokens remaining in the upcoming version will be the top hat and the racecar, after the iron was replaced in 2013; the new tokens will join the existing battleship, cat, and Scottie dog pieces. The next edition of Monopoly is due out this fall.
The Huffington Post The Associated Press
10. USC defeats SMU in a buzzer-beater, marking one of few NCAA first round upsets
The first round of the NCAA men's basketball tournament came to an end Friday with few upsets or surprises. An exception was the game between No. 11 USC and No. 6 SMU. USC rallied from a 15-point deficit at halftime to win by 1 point in a buzzer-beater, 66-65. Though No. 7 South Carolina and No. 10 Marquette were close for most of the game, South Carolina pulled out a win, 93-73. No. 3 UCLA sailed to a win over No. 14 Kent State, 97-80, and No. 2 Kentucky rallied after a tight first half to defeat No. 15 Northern Kentucky, 79-70. No. 9 Michigan State beat No. 8 Miami (Fla.), 78-58; No. 10 Wichita State bested No. 7 Dayton, 64-58; and No. 7 Michigan defeated No. 10 Oklahoma State by 1 point, 92-91.
Continue reading for free
We hope you're enjoying The Week's refreshingly open-minded journalism.
Subscribed to The Week? Register your account with the same email as your subscription.
Sign up to our 10 Things You Need to Know Today newsletter
A free daily digest of the biggest news stories of the day - and the best features from our website