10 things you need to know today: May 18, 2017
The Justice Department appoints special counsel to lead Russia investigation, Trump says he's treated worse than any politician ever, and more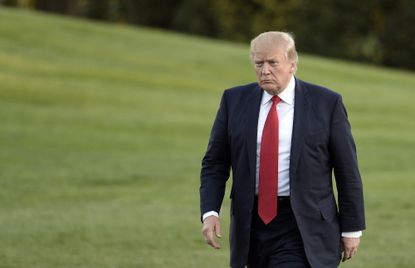 (Image credit: Olivier Douliery-Pool/Getty Images)
Sign up to our 10 Things You Need to Know Today newsletter
A free daily digest of the biggest news stories of the day - and the best features from our website
Thank you for signing up to TheWeek. You will receive a verification email shortly.
There was a problem. Please refresh the page and try again.
1. Justice Department appoints special counsel to head Russia investigation
The Justice Department on Wednesday appointed former FBI Director Robert Mueller III as special counsel to lead the investigation into possible ties between President Trump's campaign and Russian officials. Deputy Attorney General Rod Rosenstein made the decision he after pressure for an independent investigation grew louder on Capitol Hill due to a series of unexpected revelations. First, Trump fired James Comey as FBI director, then news reports, citing a memo written by Comey, said that Trump had asked Comey in February to drop the investigation into the Russia ties of former National Security Adviser Michael Flynn. Rosenstein said his decision did not mean he had determined that crimes had been committed, but that the public interest "requires me to place this investigation under the authority of a person who exercises a degree of independence from the normal chain of command." Trump responded by saying that "a thorough investigation will confirm what we already know — there was no collusion between my campaign and any foreign entity. I look forward to this matter concluding quickly."
2. Trump says 'no politician in history' has been treated so unfairly
President Trump said Wednesday that "no politician in history" has been treated "worse or more unfairly" than he has by the media and political opponents. Trump, speaking at a Coast Guard Academy commencement ceremony, made the statement as he faced harsh criticism following reports that he had asked then-FBI Director James Comey to drop an investigation into the Russia ties of former National Security Adviser Michael Flynn. "You will find that things are not always fair," Trump said, framing his political troubles into a lesson for graduates. "You have to put your head down and fight, fight, fight." The White House has denied that Trump pressed Comey to stop looking into Flynn. On Wednesday, The Washington Post reported that last June, House Majority Leader Kevin McCarthy (R-Calif.) told GOP leaders he believed Russian President Vladimir Putin was paying Trump, then a presidential candidate. A spokesman for House Speaker Paul Ryan (R-Wis.) initially denied the report, but, when told the Post had heard an audio recording of the comment, said it was "clearly an attempt at humor."
Subscribe to The Week
Escape your echo chamber. Get the facts behind the news, plus analysis from multiple perspectives.
SUBSCRIBE & SAVE
Sign up for The Week's Free Newsletters
From our morning news briefing to a weekly Good News Newsletter, get the best of The Week delivered directly to your inbox.
From our morning news briefing to a weekly Good News Newsletter, get the best of The Week delivered directly to your inbox.
The Associated Press The New York Times
3. Stocks plunge as Trump's troubles scare investors
Global stocks dropped on Thursday, with several key Asia indexes down about 1 percent and the Stoxx Europe 600 Index losing 0.5 percent in early trading after the Justice Department appointed a special counsel to investigate ties between President Trump's campaign and Russia. U.S. stock futures edged down, too, early Thursday, after the main indexes plunged on Wednesday after reports that Trump might have asked then-FBI Director James Comey to drop the investigation into former National Security Adviser Michael Flynn's Russia ties. Critics said the news could expose Trump to allegations of obstruction of justice, raising doubts he will be able to follow through on promised policies to stimulate the economy. The Dow Jones industrial average fell by 372 points, or about 1.8 percent, its biggest loss since September. The S&P 500 lost about 1.8 percent, too, while the Nasdaq composite dropped by 2.6 percent.
4. Flynn told Trump transition team he was under investigation
Former National Security Adviser Michael Flynn told President Trump's transition team before Trump's inauguration that he was the subject of a federal investigation, two people with knowledge of the case told The New York Times on Wednesday. During the campaign last year, Flynn secretly worked for a Turkish businessman, but he did not register as a foreign agent, as required by law. On Nov. 30, the Justice Department let Flynn know they were looking into his lobbying work, and on Jan. 4 Flynn informed White House counsel Don McGahn, then the transition team's chief lawyer. Two days later, Flynn's attorney alerted transition lawyers. Trump still chose Flynn as his national security adviser, giving him access to almost every state secret. Flynn was fired after 24 days on the job, after misleading Vice President Mike Pence about the nature of discussions he had with the Russian ambassador to the U.S. Weeks before he was fired, Flynn blocked a proposal to arm Syrian Kurdish rebels fighting the Islamic State, a plan Turkey opposed but Trump recently approved.
The New York Times The Miami Herald
5. Russian bank helped finance Trump partner in hotel project
The Russian bank VEB, which has direct ties to Russian President Vladimir Putin, provided hundreds of millions of dollars in critical financing to President Trump's one-time partner on a Toronto hotel project, The Wall Street Journal reported Wednesday. At the time of the deal, Putin sat on the supervisory board of the state-run bank, which the Journal says the Russian government uses to finance politically important projects. Trump's partner, Russian-Canadian developer Alexander Shnaider, financed the hotel after selling his company's share in a Ukrainian steelmaker for $850 million. The unknown buyer, backed by VEB, was reportedly acting on behalf of the Russian government. The payment came through at a time when the project was "financially troubled," the Journal said.
6. White Tulsa officer acquitted in fatal shooting of unarmed black man
An Oklahoma jury on Wednesday acquitted Betty Shelby, a white Tulsa police officer, in the fatal 2016 shooting of Terence Crutcher, an unarmed black man. The verdict sparked renewed protests, with dozens of people chanting "No justice, no peace, no racist police" outside the courthouse. "Let it be known that I believe in my heart that Betty Shelby got away with murder," Crutcher's father, the Rev. Joey Crutcher, said. The case attracted national attention and protests by the Black Lives Matter movement. Shelby said she had ordered Crutcher to lie on the ground, and fired fearing for her own safety when he failed to do as she said he reached into his vehicle for what she thought was a gun.
7. Immigration arrests soar by 40 percent under Trump
Arrests of suspected illegal immigrants increased by nearly 40 percent in President Trump's first 100 days, according to government data released on Wednesday. Trump issued executive orders directing immigration officials to target a broader range of people with immigration violations. The acting director of Immigration and Customs Enforcement (ICE), Thomas Homan, said the agency arrested 41,318 people between Jan. 22 and the end of April, up from 30,028 in a similar period last year. Nearly two thirds had criminal convictions, but the number of people arrested with no past convictions rose to 10,800 in Trump's first 100 days, up from 4,200 in the same period last year, a 150 percent increase, although Homan noted that crossing the border illegally is a "criminal act."
8. Milwaukee sheriff who backed Trump says he's taking Homeland Security job
Conservative Milwaukee County Sheriff David Clarke, who was known for his strong support for President Trump and was one of the few African-American speakers at last year's Republican convention, said Wednesday that he had accepted a job as an assistant secretary of Homeland Security. "I'm both honored and humbled to be appointed to this position," Clarke said in an interview with WISN-AM. Clarke said he would serve in the Office of Partnership and Engagement as a liaison to state and local law enforcement agencies. DHS spokeswoman Jenny Burke declined to confirm the appointment, saying that high-ranking personnel appointments are announced by the department, but no such announcement about Clarke had been made. Clarke's aggressive policing tactics and criticism of other officials have made him a polarizing presence in his home state, where he faces several lawsuits, including one filed by a man who died of dehydration in a jail Clarke oversees.
9. Brazilian president denies approving hush money payment
Brazilian President Michel Temer endorsed a hush money payment to a potential witness in the biggest corruption investigation in the country's history, Brazil's O Globo newspaper reported Wednesday. Temer denied the allegations. O Globo said it had obtained a recording, made by a food company executive as part of his plea bargaining, in which Temer discussed a payment to politician Eduardo Cunha, who was jailed in March for corruption, money laundering, and tax evasion. Police reportedly later filmed Cunha receiving $143,000. The news that Temer may be pulled into Brazil's corruption scandal sent Brazilian assets plummeting in foreign markets.
10. Soundgarden singer Chris Cornell dies at 52
Chris Cornell, the lead singer of Soundgarden and Audioslave, died Wednesday night in Detroit, a representative told The Associated Press early Thursday. He was 52. Cornell's representative, Brian Bumbery called the death "sudden and unexpected." He asked for privacy. Soundgarden was scheduled to play a show in Detroit Wednesday night. Cornell was a key figure in the Seattle grunge scene in 1984 when he founded Soundgarden, which some see as the first band from the area to land a major record deal because Soundgarden joined A&M Records in 1989, two years before Nirvana's breakthrough Never Mind was released. Soundgarden followed with its first major hit album Superunknown, which launched in March 1994 at the top of the Billboard 200 album chart.