10 things you need to know today: July 18, 2017
The Senate GOP health bill dies as two more Republicans oppose it, grandparents are exempted from Trump's travel ban, and more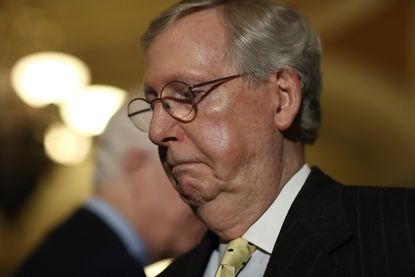 (Image credit: Win McNamee/Getty Images)
Sign up to our 10 Things You Need to Know Today newsletter
A free daily digest of the biggest news stories of the day - and the best features from our website
Thank you for signing up to TheWeek. You will receive a verification email shortly.
There was a problem. Please refresh the page and try again.
1. Two more defections kill Senate GOP health bill
Two more Republican senators, Mike Lee of Utah and Jerry Moran of Kansas, announced Monday that they would oppose the GOP plan to repeal and replace key elements of ObamaCare, leaving Senate Majority Leader Mitch McConnell (R-Ky.) at least two votes short of the 50 needed to pass it, or even begin debate. With four solid Republican "no" votes, McConnell said "the effort to repeal and immediately replace the failure of ObamaCare will not be successful." He said the Senate will next look at repealing the Affordable Care Act first and working out a plan to replace it later, but moderates don't like that idea because it could leave millions more Americans uninsured. President Trump tweeted: "Republicans should just REPEAL failing ObamaCare now & work on a new Healthcare Plan that will start from a clean slate. Dems will join in!" Senate Minority Leader Chuck Schumer (D-N.Y.) said Republicans should abandon their plans to kill ObamaCare and work with Democrats to strengthen it. "This second failure of Trumpcare is proof positive that the core of this bill is unworkable," he said.
2. Grandparents added to list of relatives exempt from travel ban
Grandparents of U.S. citizens are eligible to receive new visas under revised instructions on enforcing President Trump's temporary travel ban on people from six Muslim-majority countries, according to a State Department memo seen by Reuters. The cable from Secretary of State Rex Tillerson went out to U.S. diplomatic posts after U.S. District Judge Derrick Watson in Hawaii said that the Trump administration couldn't block grandparents, grandchildren, and other close relatives under the Supreme Court ruling that allowed parts of the ban to take effect after lower courts blocked them. Watson did not put his ruling on hold pending appeal, so it took effect immediately, obligating the government to broaden the exemptions to the ban, which affects people from Iran, Libya, Somalia, Sudan, Syria, and Yemen.
Subscribe to The Week
Escape your echo chamber. Get the facts behind the news, plus analysis from multiple perspectives.
SUBSCRIBE & SAVE
Sign up for The Week's Free Newsletters
From our morning news briefing to a weekly Good News Newsletter, get the best of The Week delivered directly to your inbox.
From our morning news briefing to a weekly Good News Newsletter, get the best of The Week delivered directly to your inbox.
3. Report: Tillerson closing war crimes office
Secretary of State Rex Tillerson is shutting down the State Department office that has focused on war crimes for the last two decades, Foreign Policy reported Monday. Citing several former U.S. officials, Foreign Policy said that Tillerson's office recently informed Todd Buchwald, the special coordinator of the Office of Global Criminal Justice, that he would be reassigned to the State Department's office of legal affairs, and his remaining staff may be shifted over to the State Department's Bureau of Democracy, Human Rights, and Labor. The move comes as Tillerson reorganizes the State Department to focus on boosting economic opportunities for U.S. businesses and expanding American military power. Critics say the changes are weakening efforts to promote human rights and reduce poverty around the world.
4. U.S. to offer 15,000 more visas for seasonal workers
The Department of Homeland Security announced Monday that it would grant an additional 15,000 visas for low-wage seasonal workers this fiscal year. The news, which came at the start of the White House's "Made in America Week," marked a shift from Trump's call for hiring Americans to fill U.S. jobs. The extra visas amount to a 45 percent increase over the number of H-2B visas normally issued in the second half of a year. The visas go to people taking temporary work in seasonal industries, such as seafood, tourism, and construction, but not on farms. The move came after Trump faced intense lobbying from industries that rely on temporary foreign workers.
5. Spicer: 'Nothing' indicates Trump Jr. meeting was not about adoption
White House Press Secretary Sean Spicer returned to the briefing room podium Monday for the first time since June 26, and delivered a defense of Donald Trump Jr.'s June 2016 meeting with a Kremlin-linked Russian lawyer. Spicer insisted at the press briefing that "there was nothing as far as we know that would lead anyone to believe" that Trump Jr.'s meeting was not focused on Russian adoption policies. Last week, Trump Jr. published his emails with publicist Rob Goldstone setting up the meeting, in which Goldstone explicitly said the Russian lawyer claimed to have compromising information on Hillary Clinton that would help his father's chances in the presidential election. Earlier Monday, President Trump tweeted that his son "attended in order to get info on an opponent."
6. Poll: Most Americans find Trump actions 'unpresidential'
A new Washington Post/ABC News poll revealed that 70 percent of Americans think President Trump has acted in an unpresidential manner in his first six months in office, while just 24 percent of Americans described Trump's behavior as "fitting and proper." Sixty-eight percent of Americans said they do not view Trump as a positive role model; 67 percent disapprove of his use of Twitter; 57 percent said the more they hear about Trump the less they like him; and 56 percent said Trump's behavior is "damaging to the presidency overall." The poll also found that for the 58 percent of Americans who disapprove of Trump, their top grievance is "everything," matched only by the "way he talks/acts." Out of the 36 percent of Americans who approve of Trump, 30 percent approve of his overall leadership and personality traits the most, while 11 percent cite his strong leadership and speaking his mind, and 9 percent most appreciate him for not being politically correct.
7. Sessions calls for increasing property seizures from criminals
Attorney General Jeff Sessions said Monday that he would issue a directive to increase police seizures of cash and property from criminals, "especially for drug traffickers." Asset forfeiture is a controversial practice in which law enforcement agencies are allowed to take money and goods from suspects, and often keep the assets even if the person is never convicted, or even charged under federal and some state forfeiture laws. The Obama administration moved to reduce the frequency of the seizures. Sessions said it was time to make them more common. "No criminal should be allowed to keep the proceeds of their crime," he said in prepared remarks for a speech to the National District Attorney's Association in Minneapolis.
8. 'Threatening' message found at Sen. Dean Heller's office
A "threatening" note to Sen. Dean Heller (R-Nev.) was found outside the lawmaker's Las Vegas office, police said Monday. Officers were notified at around 9 a.m. Sunday that a burglary alarm had gone off at the office building where Heller has an office. Responding officers found no sign of a break-in, but they did discover the note addressed to Heller taped near the door to his office. Police are investigating the note, but said they will not release what it says, as the incident is under investigation. Heller was an undecided vote on the Senate health-care proposal, and a person in law enforcement said the note stated that the writer would lose his health care if Heller voted in favor of the Republicans' bill to repeal ObamaCare, and if he was going to die, he would take Heller along with him.
The Nevada Independent NBC News
9. Russia warns of retaliation if U.S. doesn't return diplomatic compounds
Russia said Monday that it was ready to retaliate against the U.S. if Washington doesn't return two Russian diplomatic compounds the Obama administration shut down last year. Then-President Barack Obama ordered the properties seized last year and expelled 35 Russian diplomats in December over Russia's hacking during the 2016 presidential election campaign. Russia denies the allegations. "We have repeatedly said that we think any conditions are unacceptable. We think that the diplomatic property must be returned without any conditions and talks," Kremlin spokesman Dmitry Peskov told CNN Monday. "What is happening is — de facto and de jure — a violation of international law."
10. Family of Australian women killed by Minnesota police demands answers
Relatives of an Australian woman, Justine Damond, who was fatally shot by a Minneapolis police officer over the weekend demanded information on why she was killed. Damond, a yoga and meditation teacher, had called 911 to report what she thought was a sexual assault in an alley near her home, and an officer shot her, reportedly as she stood next to the squad car in her pajamas. "We've lost the dearest of people, and we're desperate for information," her fiancé, Don Damond, said. "Piecing together Justine's last moments before the homicide would be a small comfort as we grieve this tragedy."
Continue reading for free
We hope you're enjoying The Week's refreshingly open-minded journalism.
Subscribed to The Week? Register your account with the same email as your subscription.
Sign up to our 10 Things You Need to Know Today newsletter
A free daily digest of the biggest news stories of the day - and the best features from our website
Harold Maass is a contributing editor at TheWeek.com. He has been writing for The Week since the 2001 launch of the U.S. print edition. Harold has worked for a variety of news outlets, including The Miami Herald, Fox News, and ABC News. For several years, he wrote a daily round-up of financial news for The Week and Yahoo Finance. He lives in North Carolina with his wife and two sons.